ALICE COLTRANE
These pages were begun years ago before Alice's passing. Though obviously not much will be changing, I intend to keep these online as a resource as hopefully more fans of good music come across her work. I'll do my best to add any news I find out and hopefully rotate some of the sound clips periodically as well as adding relevant links as I come across them.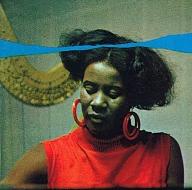 Alice Coltrane (also known as Turiyasangitananda) was a stellar pianist/harpist/composer/sage whose recorded works are far too few. Born Alice McLeod in Detroit, Alice came from a musical family. Brother Ernie Farrow in particular was an accomplished bassist. Alice honed her talents in the churches of Detroit playing both piano and organ. Her recorded career began with vibraphone player Terry Gibbs whom she toured the world with. In addition to playing piano with Gibbs, he tells the story of Alice being a quick study of the vibraphone and performing duets together. It was through Gibbs that Alice was introduced to John Coltrane.
The connection was supposedly immediate. Within a fairly short time, John and Alice (and Alice's daughter from another marriage - Michelle) became a family were married and had three children together - John Jr., Ravi and Oranyan. John Coltrane, ever searching and reaching for new musical heights started experimenting with adding more players to his 'classic quartet'. When McCoy Tyner gave up the piano chair in the group, John asked Alice to step in. Apparently hesitant at first, Alice was emboldened by the faith John had in her abilities and became part of what would be his last group, along with Rashied Ali and Pharoah Sanders.
Tragically, John passed away in 1967 leaving Alice to raise their children and continue John's legacy. Over the next decade or so (along with taking care of the business affairs of Jowcol Music), Alice released a number of classic albums, first through Impulse! and then Warner Bros. Increasingly becoming steeped in Eastern mysticism and Yoga, Alice studied under renowned Yogi Swami Satchidananda. Her works reflected this effort in tone and song-writing in general. By 1980, Alice all but retired from performing in public to lead a small group of followers at her own Ashram in California, making only infrequent appearances perofrming. Over the course of the '80s and '90s, Alice release some devotional music through her own label (Avatar), wrote (or chaneled as the case may be) a few volumes chronicling her spiritual growth and had a cable access show for a brief time.
In 2004, her son Ravi convinced Alice to get back in the studio and make a new recording along with Ravi and some other musicians, including old friends Charlie Haden and Jack DeJohnette. Sadly in January 2007 after a few shows across the country and while working on a new recording with a more spiritual bent, Alice passed away at the age of 69. Though for some period of time, her work was quite hard to come by, Impulse! as well as Warner Bros. and Sepiatone Records had re-released much of her catalog on CD. The status of her almost finished final work however is up in the air...