AXIOM FUNK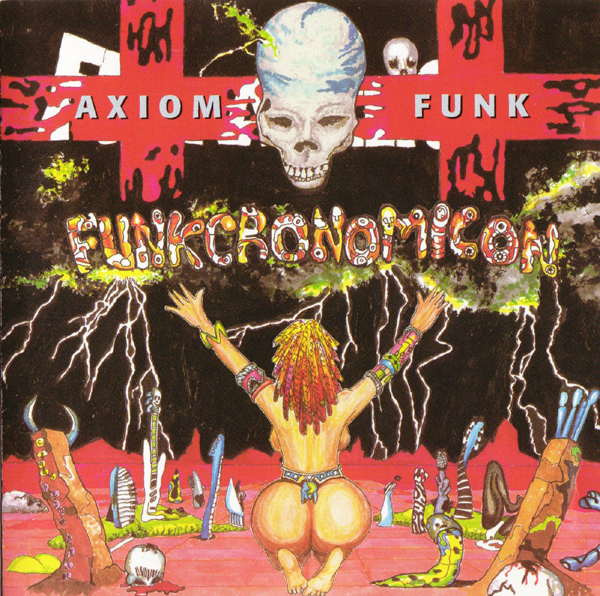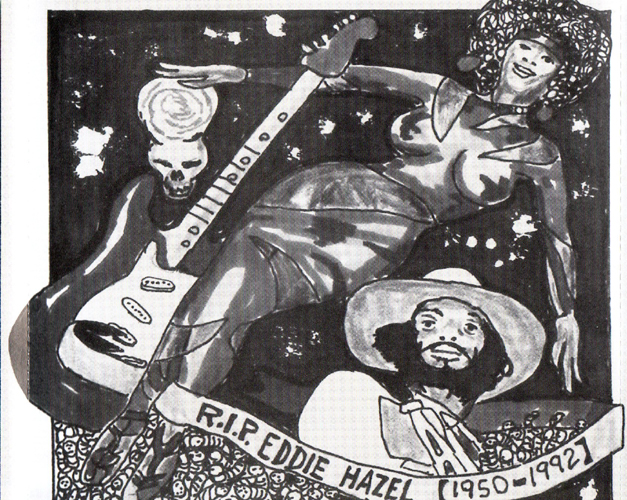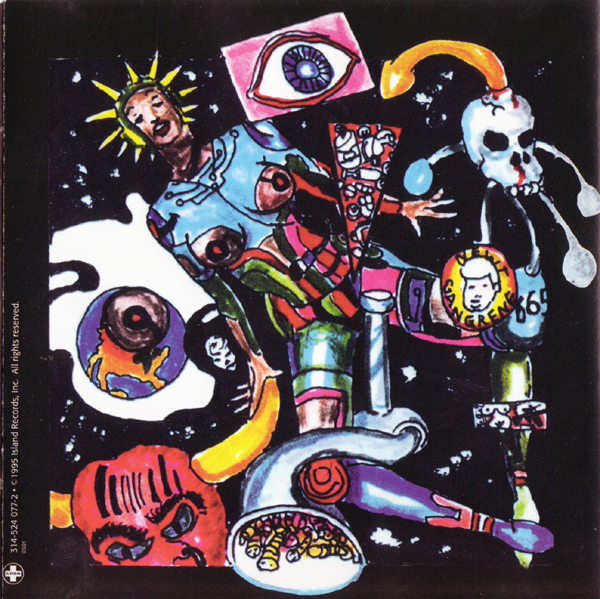 FUNKRONOMICON

 Disc one:
  1/  Order Within the Universe                  (Worrell,Laswell,DXT)         3.17
        featuring Bernie Worrell, Bill Laswell and DXT
  2/  Under the Influence (Jes Grew)             (Clinton,Laswell,BC,SD,RS)    5.45
        featuring George Clinton, Bootsy Collins and Sly & Robbie
  3/  If 6 Was 9                                 (Hendrix)                     6.00
        featuring Bootsy Collins
  4/  Orbitron Attack                            (Cook)                        12.29
        featuring Eddie Hazel
  5/  Cosmic Slop                                (Clinton,Worrell)             5.15
        Material
  6/  Free-Bass (Godzillatron Cush)              (Laswell,Collins,Weeden)      5.43
        featuring Bootsy Collins and Menace
  7/  Tell the World                             (Collins,Parker,Stewart)      3.53
        Maceo Parker
  8/  Pray My Soul                               (Cook)                        5.08
        featuring Eddie Hazel

 Disc two:
  1/  Hideous Mutant Freekz                      (Clinton,Collins,Worrell,BL)  7.25
        featuring George Clinton, Bootsy, Bernie Worrell and Buckethead
  2/  Sax Machine                                (Bootsy,Parker,Byrd)          7.47
        Maceo Parker
  3/  Animal Behavior (Edit)                     (Laswell,Collins,Buckethead)  7.09
        Praxis
  4/  Trumpets and Violins, Violins              (Hendrix)                     3.38
        featuring Abiodun Oyewole
  5/  Telling Time                               (Skopelitis)                  4.57
        Nicky Skopelitis
  6/  Jungle Free-Bass                           (Laswell,Collins)             5.38
        featuring Bootsy Collins and Bill Laswell
  7/  Blackout                                   (McKnight)                    3.44
        Blackbyrd McKnight
  8/  Sacred To the Pain                         (Cook,Hassan)                 4.54
        featuring Eddie Hazel and Umar Bin Hassan

          Studios: B.C. Studio, Platinum Island, The Hit Factory, Greenpoint Studio
          Engineers: Jason Corsaro, Robert Musso, Oz Fritz, Martin Bisi, Steve
            Rinkoff, Howie Weinberg
          Created and compiled at Greenpoint Studio, Brooklyn, New York
          Engineering: Robert Musso
          Assistant: Layng Martine
          Produced by Bill Laswell

Disc one:
(1) Bernie Worrell: Hammond B-3 organ; DXT: turntable; Bill Laswell: bass, beats, sound EFX; (2) George Clinton, Gary "Mudbone" Cooper, Michael "Clip" Payne, Deborah Barsha & Zhana Saunders: vocals; Bootsy Collins: vocals, guitar; Herbie Hancock: piano; Robbie Shakespeare: bass; Sly Dunbar: drum programming; Anton Fier: drums; Daniel Ponce: congas; Aiyb Dieng: cowbells, percussion; Edwin Rodriguez: tuba; Joe Daly: baritone horn, euphonium; Ted Daniel: trumpet, flugelhorn; Janet Grice: bassoon; J.D. Parron: flute, tenor saxophone; Horns arranged and conducted by Henry Threadgill; (3) Bootsy Collins: lead vocals, Space Bass; Blackbyrd McKnight & Nicky Skopelitis: guitar; Robert Musso: backwards guitar; Buckethead: intro guitar; Lili Haydn: violin; (4) Eddie Hazel: guitar; Bootsy Collins: Space Bass; Bernie Worrell: Hammond B-3 organ; Jerome "Bigfoot" Brailey: drums; (5) Garry Shider: vocals, guitar; Gary "Mudbone" Cooper: vocals; Bootsy Collins & Michael Hampton: guitar; Bernie Worrell: Hammond B-3 organ; Nicky Skopelitis: fairlight; Robbie Shakespeare: bass; Sly Dunbar: drums; Aiyb Dieng: congas; Material strings arranged and conducted by Karl Berger; (6) Zillatron: free-bass; Menace (the Dawg of the C): stun guitar; (7) Maceo Parker, Bobby Byrd & Godmomma: vocals; Sly Stone: voice, keyboards; Bootsy Collins: other music; (8) Eddie Hazel: guitar; Bernie Worrell: Hammond B-3 organ.

Disc two:
(1) George Clinton, Garry Shider & Gary "Mudbone" Cooper: vocals; Bootsy Collins: vocals, guitar, Space Bass; Buckethead : guitar solo; Bernie Worrell : Arp synthesizer; Anton Fier: drum loops; (2) Maceo Parker: vocals, alto saxophone; Bobby Byrd: vocals; Fred Wesley: trombone; Bootsy Collins: vocals, guitar, bass; Bill Laswell: low bass; Bernie Worrell: string synthesizer; T-Bone: percussion; (3) Bootsy Collins: lead vocals, Space Bass; Bernie Worrell: Hammond B-3 organ; Buckethead: guitar; Af Next Man Flip: turntables; Bill Laswell: samples; (4) Abiodun Oyewole: voice; Blackbyrd McKnight & Nicky Skopelitis : guitar; Robert Musso: guitar, processing; Buckethead: intro guitar; Lili Haydn: violin; (5) Nicky Skopelitis: 6 and 12 string guitars; Amina Claudine Myers: Hammond B-3 organ; Bill Laswell: bass; Joseph "Zigaboo" Modeliste: drums; Guilherme Franco : congas; (6) Bootsy Collins: jungle bass; Bill Laswell: dub bass; Torture: vocal sounds; (7) Blackbyrd McKnight: guitar, bass, drums; (8) Eddie Hazel: guitar; Bernie Worrell: Hammond B-3 organ; Umar Bin Hassan: voice.

          1995 - Axiom/Island (USA), 314-524 077-2 (2CD)
          2016 - Bill Laswell Bandcamp (digital)



---



REVIEWS :
Initially, Axiom Funk had to be a Funkadelic tribute album. With the tragicdeath of Ed Hazel, in 1992, this project could also be a tribute to the P.Funkformer guitarist. But he became rapidly obvious in Laswell mind, that onereason of the success of Funkadelic was not only their compositions, but also the high personality of each members of the group (George, Bootsy, Bernie, EdHazel, Bigfoot ...). So, Axiom Funk is more a compilation of P.Funk tracksproduced by Laswell than a P.Funk tribute by non P.Funk people.

What is really surprising in this double CD is the complete lack ofhomogeneity. The tracks came from different years, with different musicians,and with different styles. It is also, of course, its strength.

My favorite tracks are :

After a short intro, with DXT and Bernie, you can find 'Under the influence'asong that must surely come from Material 'The 3rd Power' sessions, with GeorgeClinton on vocals and Sly and Robbie on the riddim. Extremely funky, this is agreat track. Note that the cover version of Funkadelic 'Cosmic slop', alsorecorded for 'The 3rd power', is also featured on this album, but this is notan unreleased track. You can hear also some recent funk, with 'Hideous mutant freaks', recorded initially for a movie, a collaboration between the mythic Worrell/Collins/Clinton trio, and that is for me the best song of this compilation. It's total P. ! A must for any P.Funk fan, and we should thank Mr Laswell for that. Other great moment, another cover version, this time of Jimi Hendryx 'If 6 was 9' and that features Bootsy's trademark voice and spacebass, with violin by Lili Haydn. Also, and this is perhaps the best exciting trackfor a P.Funk fan, 'Orbitron attack', with Bootsy, Bernie, Bigfoot and Ed Hazel! A long funk rock track, heavy as funky, that remember us the FunkadelicWestbound period. This is, surely, the most beautiful tribute that Laswellcould do for the late Eddie. Peace to his mind ...

You can find also in Axiom Funk less interesting tracks. A few come from otherAxiom or Island productions, like Maceo (in fact, 'Sax machine' and 'Tell theworld' are here in demo versions, but not really different from the originalones), Praxis, Material or Nicky Skopelitis. Good, but not new...

Also, two spacebass variations from Bootsy, one track from Blackbyrd, a bluesfrom Eddie ... the rest is not so high as my favorite songs, but they aregreat and funky anyway!

In order to conclude, I would like to say that Axiom Funk is a classic foreach P.Funk fan, as well as for people that like Laswell funky (be sure thathere he is !). The sleeve, designed by P.Funk veteran Pedro Bell (responsible for a lot of P.Funk sleeves, like One nation ... ) features a silly funky comix(with Laswell killed by Miss Lucifer !) and contribute to the spirit of the P.contained in this CD.

Alain Haas

..................................................

Avant-garde rocker Bill Laswell's Axiom label, distributed by Polygram, was founded to distribute world-music, ambient, and other experimental music produced by Laswell and partners like Nicky Skopelitis (his bandmate in theGolden Palominos), Bootsy Collins and Bernie Worrell (P-Funk alumni), Liu Sola (Chinese folk/blues singer), and "world music" experimentalists like The Master Musicians of Jajouka.

The Axiom Funkonomicron is a follow-up to last year's Axiom Ambient Lost inthe Translation, (see Consumable 2/6/95), a two-disc collection of remixes ofpast Axiom releases. This two-CD set, though, concentrates on the hip-hop and funky dance music released by the label, but the filler is kept to a minimum(three album tracks from releases by Material, Praxis, and Skopelitis) -- for this set, Bill Laswell brings in Maceo Parker, Fred Wesley, Gary "Mudbone" Cooper, and George Clinton himself. Herbie Hancock (who became a household name long before US3 with the dancey, Laswell-produced 80s classic "Rock-It"),among others, also appears on the set.

Longtime Funkadelic cover artist Pedro Bell drew all the booklet art (including an amusing mini-comic in which the voluptuous Lucy IV is sent to kill Laswell and Bell and bring them to Hell -- unfortunately, this cartoon is reproduced almost too small to read in the CD booklet). Even guitarist Eddie Hazel, on tape, makes a posthumous appearance. The project is dedicated jointly to Hazel (Laswell joins Ween, Mike Watt, and the Beastie Boys in dedicating recent projects to Hazel, who died in 1992) and to Jimi Hendrix, whose "If Six Was Nine" is sung by Bootsy Collins.

The first disc includes the aforementioned "If Six Was Nine," Hazel's twelve minute "Orbitron Attack," and Collins' acid alter-ego Zillatron's "Free-Bass (Godzillatron Cush.)" Clinton appears on "Under the Influence (Jes Grew),"dissing the unfunky parts of his current base of operations, Southeast Michigan.

Sly Stone co-wrote and sings on the sweet soul ballad "Tell The World." This is, unfortunately, the only Sly Stone material on the set -- it's a great song, but it may not justify the $25-30 purchase price if you don't like the controversial Laswell's ways with ambient, dub, or P-funk style. Most funkateers either love or hate Laswell.

The strongest track may well be "Hideous Mutant Freekz", disc two's opener,which recalls the wacko subject matter and addictive vocal hooks of Parliament's heyday. Besides featuring the harmonies of Clinton, Garry Shider,Cooper, and Collins, features a prominent (and ironic) old-school Public Enemysample.

"Sax Machine" is a nod toward the James Brown style of dance music. Although essentially a Maceo Parker (alto sax) vehicle, it also spotlights Laswell'sbass and Bobby Byrd's vocals. They even invoke Brownisms like "Get into it, get involved!"

"Animal Behavior" is a rerun from Praxis' major-label sojourn (the funk-metalensemble has recorded two other albums for Laswell's indie label Subharmonic) spotlighting Bootsy's "ain't nothin' but a pah-ty, baby" persona.

Umar Bin Hassan and Abiodun "Doon" Oyewole, the Laswell-friendly faction of the Last Poets, contribute vocals to two tracks on disc two. Of them, Doon fares better, sitting in for Hendrix on "Trumpets and Violins, Violins."

Overall, I'd recommend looking for this set on sale, if you're interested in what Bootsy and Bernie have been doing between P-Funk All-Stars tours, or are curious about Bill Laswell's funk experiments but were afraid Axiom was too "spacey."

Britain Woodman (courtesy of the Consumable Online website)

..................................................

This is a compilation of assorted rare, unreleased & previously released P.Funk songs from the Axiom label. The previously released tracks include "Cosmic Slop" (from Material's The Third Power), "Pray My Soul" & "Sacred To The Pain" (from the Axiom Ambient collection), "Sax Machine" & "Tell The World" (from Maceo Parker's For All The King's Men) "Animal Behavior" (from Praxis' Transmutation) and "Telling Time" (from Nicky Skopelitis' Ekstasis). Also, "Hideous Mutant Freaks" was recorded for the film Freaked, but nosoundtrack was released for that film. Lastly, I believe "Order Within The Universe" is taken from the first part of a Praxis song called "Seven Laws Of Woo". All in all, this is an excellent, coherent collection of songs that are pretty heavy in the funk department, with a touch of the Laswell ambient/noise effect.

"Order Within The Universe" is an odd intro, touching on hip-hop, noise and good ol' funk from Bernie Worrell. The title refers to the liner notes of Standing On The Verge... from Funkadelic. "Under The Influence" sounds like an outtake from around the Smell My Finger era of George Clinton. It's an excellent song that tackles Clinton's 'Martial Law' concept much more coherently than the song on the SMF album. The horn hooks keep the thang funky, and Clinton's vocals are excellent. The whole thing is pretty mellow, with the 'Funk em just to see the look on their face' chant used extensively. "If 6 Was 9" is a wacked-out cover of the Hendrix tune, featuring Bootsy Collins on vocals. It's very weird and ambient sounding, with subtle Space Bass work. "Orbitron Attack" is a hardcore Eddie Hazel guitar assault that features the hardest riff I've ever heard from Mr. Hazel. Despite the intensity, it's still a groove, and it features a majestic organ intro from Bernie Worrell. The title is another reference to the liner notes of Standing On The Verge.... "Cosmic Slop" is a truly bizarre cover, featuring Garry Shider once again doing vocals and guitar, but made amazingly strange by the use of the Material Strings. This is an extremely successful ambient-funk experiment. "Free-Bass" is a sort of dull Bootsy jam, done much better later on the album. "Tell The World" is reviewed elsewhere, but while it sounds good, it also sounds clearly like an outtake. "Pray My Soul" may be the best thing here, a brilliant duet with Eddie Hazel and Bernie Worrell, summoning the original spirit of Funkadelic. Eddie's long solo ranks up there with "Maggot Brain" and "Good Thoughts, Bad Thoughts". Bernie matches up with him perfectly. "Hideous Mutant Freekz" is a great song that would have been better with acoustic drums. Still, Bootsy's Space Bass is so deep that it matters little. The lyrics and singing are all great here, and it's just a lot of fun to see the Clinton-Collins-Worrell reunion at work. "Sax Machine" is reviewed on the Maceo album, For All The King's Men and "Animal Behavior" is reviewed on the Praxis album, Transmutation, but both work extremely well here, almost better than on the original albums. Whoever did the song sequence on this album is a genius. "Trumpets and Violins" falls a little flat musically, despite the empassioned reading. "Telling Time" is the sole track with no P.Funk connection, and it's mildly interesting though not essential. "Jungle Free-Bass" is a great Bootsy freak-out, along Zillatron lines, but still in a straight groove. The pace is frantic, almost hardcore. "Blackout" is a good one-man showing from Blackbyrd, who concentrates on his guitar soloing but spaces it well. "Sacred To The Pain" is basically the same track as "Pray My Soul", only Umar Bin Hassan does a great poetry reading over it. Overall, this has lots of funk goodies collected in one convenient place. Any Funkateer who doesn't have the source materials already, or is dying to hear some interesting unreleased material, should definitely pick this one up.

The album features a great cover from Pedro Bell, punning on the album's title (Funkcronomicon/Necronomicon, the book mentioned by H.P. Lovecraft as summoning the evil elder gods). A high priestess type is looking to the storm-filled skies, where the old Funkadelic logo has been crossed out with "Axiom Funk". Inside, there's a hilarious cartoon about a female demon devouring assorted members of Axiom.

Rob Collough (courtesy of the Motherpage website)

..................................................

Lately funk has enjoyed a second coming spearheaded by the hip-hop revolution. The sounds of finger-popping bass lines and snarled, superfly vocals now prop up careers from rap to indie rock. The style pioneered by James Brown and George Clinton has also inspired a contemporary retro movement and prompted record labels to wade knee-deep through their back catalogs. But far from being strictly a revivalist thang, uncut funk is very much alive and well in 1995. In fact, it's thriving at producer Bill Laswell's Greenpoint Studios, in Brooklyn, N.Y. That's the lab where Funkcronomicon (not to be confused with H.R. Giger's Necronomicon) was conjured during the last three years. It's a return trip to the deepest, darkest reaches of funkadelia.

Besides boasting some of the genre's prime practitioners – George Clinton, Bootsy Collins, Maceo Parker and Sly Stone, to name a few – this two-CD set spans black-music sources from the sanctified to the stinky. Take "Order Within the Universe," which opens the selection: Vintage Hammond-organ chops à la Bernie Worrell give way to a bouncing bottom and the scratch-and-burn turntable tactics of DXT (formerly Grandmixer DXT). Meanwhile, "Jungle Free-Bass" features Laswell and Bootsy trading low-end transmissions over a hyperkinetic break beat.

But Funkcronomicon also finds much inspiration in the spirits of Jimi Hendrix and original Funkadelic guitar hero Eddie Hazel, to whom the set is dedicated. Bootsy's haunting wordplay perfectly complements a spacey, ambient treatment of Hendrix's "If 6 Was 9," while Last Poet Abiodun Oyewole breathes new life into the recently uncovered Hendrix poem "Trumpets and Violins." On some of the last material recorded before his death in 1992, Hazel displays a talent much underappreciated during his time. "Pray My Soul" is a feedback ballad as pure and stunningly beautiful as his legendary solo on Funkadelic's "Maggot Brain," and Hazel flips the script for the crunching electric assault of "Orbitron Attack."

Other jewels on this record include "Hideous Mutant Freaks," an all-out P-Funk reunion, with George Clinton, Garry Shider and Gary "Mudbone" Cooper sharing the mike, and "Tell the World," which features JBs vets Bobby Byrd and Maceo Parker alongside the inimitable Sly Stone on keyboards and ad-libs. With such a galaxy of stars, a tight selection of tracks and the inspired cover scribblings of P-Funk artist Pedro Bell, this opus brings funk into the future with a vengeance. (RS 712/713)

S.H. Fernando Jr.
---