AXIOM DUB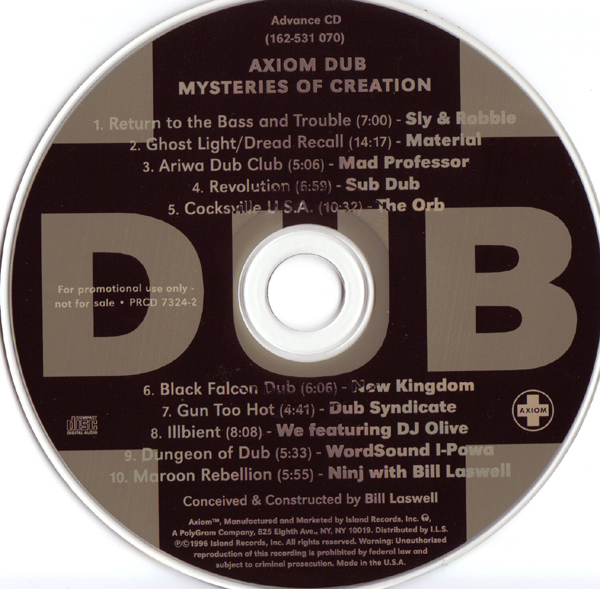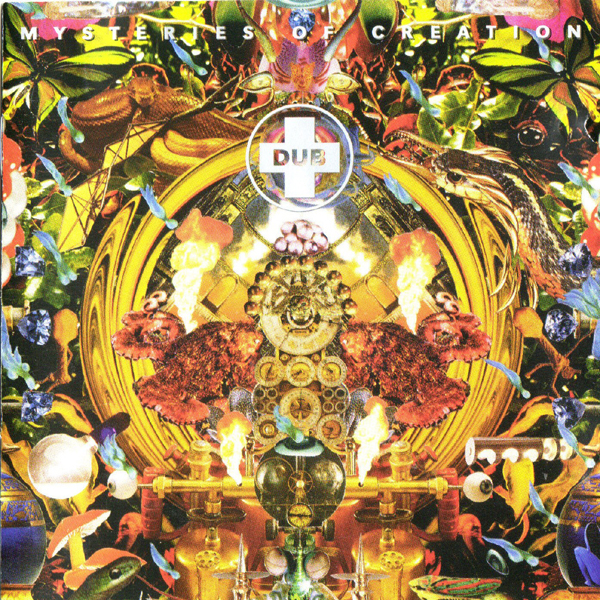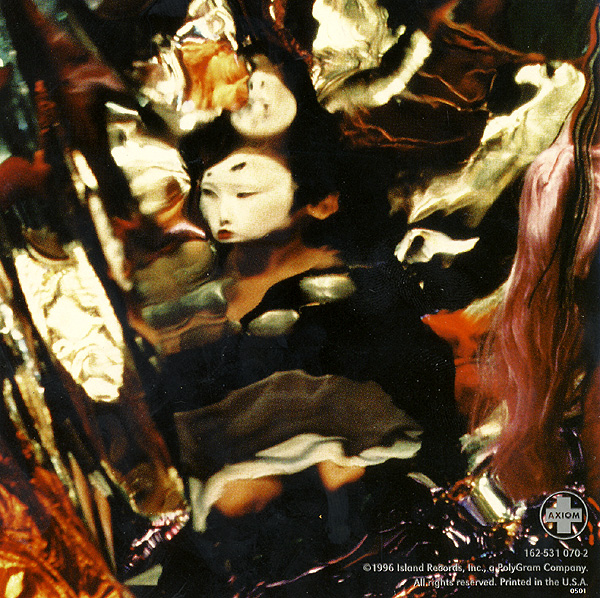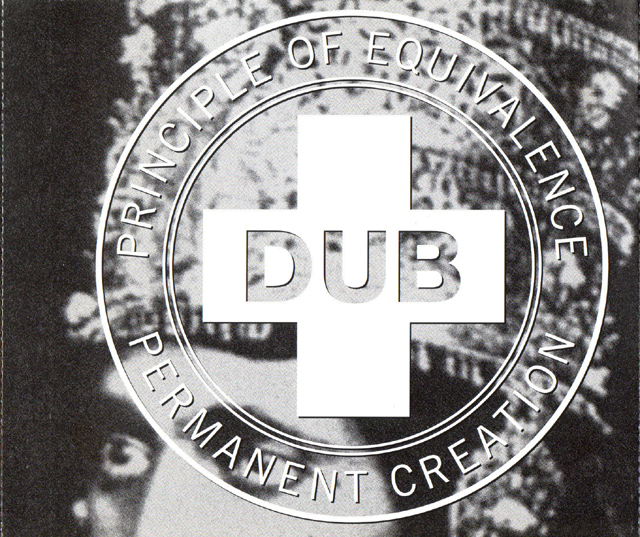 MYSTERIES OF CREATION

 Disc one:
  1/  Maroon Rebellion                           (Laswell,Ninj)                5.55
        Bill Laswell/Ninj
  2/  Return to the Bass and Trouble             (Dunbar,Shakespeare)          7.00
        Sly & Robbie
  3/  Revolution                                 (Mesinai,Ward)                6.59
        Sub Dub
  4/  Cocksville U.S.A.                          (NB,AH,KN,AP,SP)              10.32
        The Orb
  5/  Illbient                                   (We)                          8.08
        We (DJ Olive, Loop and Once 11)
  6/  Ghost Light/Dread Recall                   (Laswell)                     14.17
        Material
  7/  Dungeon of Dub                             (Fernando)                    5.33
        WordSound I-Powa

 Disc two:
  1/  Ariwa Dub Club                             (Fraser)                      5.06
        Mad Professor
  2/  Beta One/Assyrian Dub                      (Laswell,Katz,Wobble)         11.12
        Automaton
  3/  Gun Too Hot                                (Scott,Maxwell,Alexander)     4.41
        Dub Syndicate
  4/  Nev 12                                     (Wobble,Murray)               6.08
        Jah Wobble with Jaki Liebezeit and Neville Murray
  5/  Cybord Dread                               (Bennett,Broadrick,Martin)    5.39
        Techno Animal
  6/  Black Falcon Dub                           (Harding,Laws,Furlow)         6.06
        New Kingdom
  7/  Fall of the Towers of Convention-          (Fernando,Ghari)              7.39
        Scarab
  8/  Anansi Abstrakt                            (Miller)                      11.37
        DJ Spooky

          Each track produced and performed by it's respective writer(s)
          Disc one, tracks 1,2 and 7 and disc two, track 2 recorded at Greenpoint
            Studio, Brooklyn, New York
          Disc one, track 3 programmed,recorded and mixed live in traditional dub 
            style by Sub Dub
          Disc two, track 1 recorded at Ariwa Studios
          Disc two, track 3 recorded at Leggo Recording Studio, Kingston, Jamaica
            and On-U Sound, London
          Disc two, track 5 recorded at Avalanche Studios and remixed at Wolf Studios
          Disc two, track 8 recorded at Stereo Society, New York City
          Disc one, tracks 1,2 and disc two, track 2 produced by Bill Laswell
          Disc one, track 5 produced by Olive and Loop
          Disc one, track 7 produced by the I
          Disc two, track 1 produced by Mad Professor
          Disc two, track 3 produced by Style Scott and Adrian Sherwood
          Disc two, track 6 produced by Scott Harding and New Kingdom
          Disc two, track 7 produced by Scarab and The Mystic
          Compiled at Greenpoint Studio, Brooklyn, New York
          Engineering: Robert Musso
          Conceived and compiled by Bill Laswell

Disc one:
(1) Ninj: beats; Bill Laswell: bass; (2) Sly Dunbar: drums; Robbie Shakespeare: bass; Bill Laswell: Sound FX; (3) John Ward: bass; Raz Mesinai a/k/a the Bedouin: percussion; Tony Buzzeo: guitar.

Disc two:
(2) Jah Wobble & Gabe Katz: bass; Nicky Skopelitis: guitar; (3) Akuba & I Roy: backing vocals; Flabba: bass; Skip McDonald: guitar; Bubbler Waul: keyboards; Dean Fraser: sax; Keith Sterling: piano, synthesizer; Bubblers Ogilvie: piano, organ, synthesizer; Style Scott: drums, percussion; Scully: percussion; (4) Jah Wobble: bass; Jaki Liebezeit: drums; Neville Murray: percussion; (7) Skiz Fernando & Sassan Ghari: sounds.

          1996 - Axiom/Island (USA), PRCD 7324-2 (Promo CD)
          1996 - Axiom/Island (USA), 162-531 070-0 (2CD)
          2016 - Bill Laswell Bandcamp (digital)

Note: The Promo CD was an advance, which culled 10 tracks from AXIOM DUB.
From disc one - tracks 1,2,3,4,7,8 and 9, and from disc two - tracks 1,3 and 6.



---



REVIEWS :
The impact of dub on new musical genres such as jungle, down tempo and ambient is clear and as the distance between their respective categories shrinks we start to find collections such as Mysteries of Creation. Bill Laswell and his genre-busting Axiom label bring together tunes from a wide range of artists such as Ninja, Sly and Robbie, and Jah Wobble, exploring everything from classic dub to far-out soundscapes. The most successful pieces seem to come from the time tested masters here such as Dub Syndicate, The Mad Professor, and The Orb who, despite staying close to the familiar, still manage to push the form with some solid and innovative work. From here Laswell moves to the edges of the dub map with some tracks that explore less familiar territory which vary from deep and trancey to drawn out and boring. Overall the album covers the story of dub with a clear statement of it's roots and there are some interesting suggestions as to where it may be headed in the future.

Mike Bernard (courtesy of the Taxi Online website)

..................................................

Two zoned-out subgenres — dub and ambient — blend together on the disquieting double disc Axiom Dub: Mysteries of Creation, featuring new tracks by vets (Jah Wobble, Sly & Robbie) and new bloods (DJ Spooky, the Orb) alike. With their sandpaper-on-wood percussion and disembodied voices, DJ Spooky's ''Anansi Abstrakt'' and New Kingdom's ''Black Falcon Dub'' make you feel like you've wandered into the creepy back alley behind a world-music club. Mood music for The X-Files crowd.

B+

David Browne (courtesy of the Entertainment Weekly website)

..................................................

An experimental 2 Disc Dub-derived journey, via the composition of Dub & downbeat artists "Sly & Robbie/Lee "Scratch" Perry/The Orb/Mad Professor/King Tubby". With exceptional contributions from "Jah Wobble/Bill Laswell/Nicky Skopelitis". Obviously those expecting a fusion of traditional reggae-tinged Dub, with the more World music fusion/Space Dub end of things are going to have a hell of a time listening to this, as the music balances precariously between the two styles of Dub, never fully committing to either....and yet managing to be more than the sum of it parts, with a uniquely cutting edge sound. In fact this album feels more concerned in presenting the listener with the many facets of Dub. Be it the Ambient Dub of "DJ Spooky's - Anansi Abstrakt" or the reggae Dub of "Dub Syndicate's - Gun Too Hot", a wide variety of Sub Genres of Dub are expertly explained here via music. But, the utter standout track with an album full of exceptional tracks has to be "Beta One/Assyrian Dub" is a 11 minute cosmic space Dub journey, with Bass guitar, and bongo drums mixed with what can only be described as reverberating synths twisting and turning the sound inside out, with a inescapable Asia sound. That is not only exceptional for it's compositions but for it's extremely well orchestrated instrumentals. And fleshes out an album that is arguably a far more substantial proposition than the popular "Buddha Bar" series of albums.

5 stars out of 5

fetish 2000 (courtesy of the Amazon.com website)
---