AISHA KANDISHA'S JARRING EFFECTS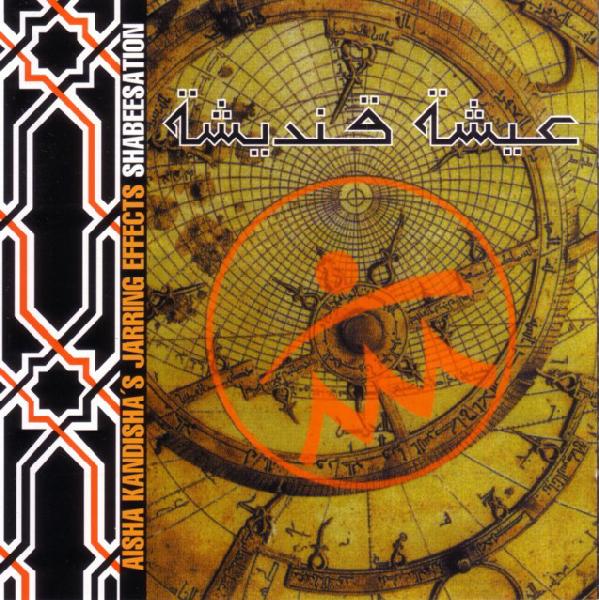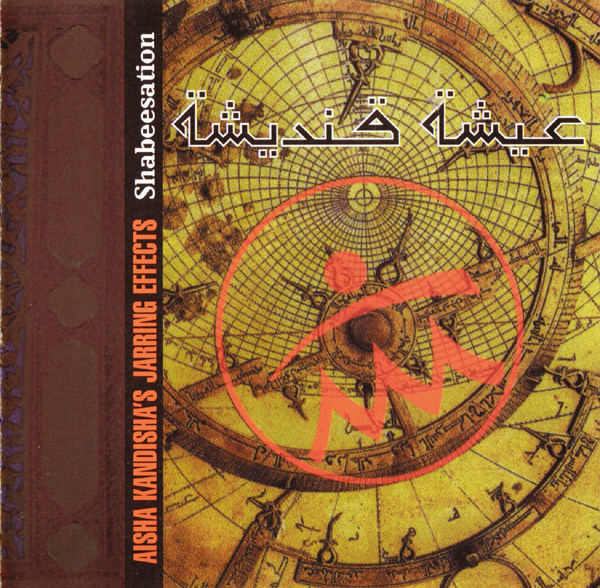 SHABEESATION

  1/  A Muey A Muey                              (A.K.J.E.)                    5.12
  2/  Dunya                                      (A.K.J.E.)                    2.16
  3/  Fin Roh                                    (A.K.J.E.)                    7.29
  4/  Nbrik                                      (Hamadi,Mami,AKJE,Laswell)    5.46	
  5/  Nbrik Dub                                  (Hamadi,Mami,AKJE,Laswell)    3.04
  6/  Lahbab                                     (Traditional)                 7.52
  7/  Nenzak                                     (A.K.J.E.)                    8.09
  8/  Zin                                        (A.K.J.E.)                    5.53
  9/  El Harb                                    (A.K.J.E.)                    5.28

          Recorded at Bouaza, Casablanca 1991,1992 and at Secret Laboratory,
            Basel 1992,1993
          Engineering Toufiq: Fido K.
          Additional production on tracks 1-5 & 9 at Greenpoint Studio, Brooklyn,
            New York
          Engineering on tracks 1-5 and 9: Robert Musso
          Assistant on tracks 1-5 and 9: Imad Mansour
          Tracks 1-5 & 9 produced by Bill Laswell and Pat Jabbar El Shaheed
          Tracks 6-8 produced by Pat Jabbar El Shaheed
          Material administration: Tracy McKnight
          Mastered at Masterdisk by Howie Weinberg

MY. Cheb Ahmed: lead voice; Cheb Qchatar: electric & acoustic guitar, bass, voice; El Habib El Malak: electric guitar, voice; S'Mohamed Kbirr: violin, mandolin, flutes, voice; Omar Jar & MY. Mansour: darbuka, percussion, voice; Pat Jabbar El Shaheed: synth, sampler, guitar noises, voice; Bill Laswell (except 6,7,8): bass, loops, sound effects; SHABEESATION-POSSE - Bernie Worrell (4,5): Hammond organ, voice; Umar Bin Hassan (3): voice; Fido K. (6): synth, General Check King; Abdou El Shaheed (9): vibes; MC O-Khan Antifa (4): vox; Funbox Crew: additional drum sounds and loops.

Tracks 1, 2, 3 and 9 arranged by A.K.J.E. and Bill Laswell
Tracks 4 and 5 arranged by A.K.J.E., Bill Laswell and Bernie Worrell
Track 6, 7 and 8 arranged by A.K.J.E.

          1993 - Barbarity (Switzerland), BARBARITY 005 (CD)
          1995 - Rykodisc (USA), RCD 10336 (CD)
          2021 - Bill Laswell Bandcamp (Bassmatter Subscription exclusive)



---



REVIEWS :
To my ears the first album was an interesting, but often confused/confusing blend of modern dance music trickery & traditional music which seemed at times too often a chimera. Here they have found the elements they were searching for & have forged themselves new golden fighting spirit, a monster both handsome & awe-inspiring. To assist with attaining this sound, they have been joined by BILL LASWELL who plays bass on five of the nine tracks and contributes loops on three. "AMuey A Muey", after an initial scurry of found street musicianship, settles into a pumping, driving Reggae thing built on LASWELL's bass over which a variety of different instruments are played with a very definite Eastern flavour - a strange hybrid which this reviewer's pulsing body wouldn't allow his brain to contemplate for too long. "Dunya" again combines several 'found' Eastern sounds before settling into a slowly pulsating dance track which fails to fall into any obvious Western style, yet it's clearly a hybrid. "Fin Roh" splinters off again using their enjoyable blend of traditional Moroccan music cut into the thumping beat of a sort of light Techno/Funk hybrid, the song itself full of steely-strong hook, both physically driving & listenable. Switchback FX & religious outbursts add to it's addictive powers. "Nbrik" is a simple Reggae rhythm over which a thin, more echoing sound, with organ & violin most prominent, combines with the busy vocalists. I can only guess what they are singing about (the opening mentions something about Racism). "Nbrik Dub" seems to speak for itself, but is somehow a deeper, more driving rhythm which almost takes the breath away by it's sheer force. Lots of dubby FX make this actually more enjoyable than the original. "Lahbah" captures the tense, atmospheric feel of an African night with flute flying in & out of the other shimmering instruments & the shaking voice before setting into a medium-paced thing with busy violin providing much of the tune & simple bass pulsating in body-gyrating rhythm. It is a complicated enough piece, despite it's face-value simplicity. "Nenzak" builds upon a fast electronic bassline, with thumping bass drum & acoustic guitars surging it along. Another catchy song, which, even if you cannot speak the language (and I imagine for most of us, this is the case) you can still enjoy it & even sing along (in the way you might sing along with LIZ FRAZER - or is that just me). "Zin" follows very much in the format of earlier AKJE tracks - a simple 4/4ish structure with an underlying electronic elements over which traditional instruments are played & various noises echo off into the dry warm night. "El Harb" is a slow, dark thing built on a 'wet' electronic foundation over which a variety of instruments clash more in effect than musical structure. This is the darkest thing on the album, the closest track to Industrial music with SPRUNG AUS DEN WOLKEN, a viscid portrayal of a native jungle scene by someone who has only read of such things in books. I much prefer this to the first album - its full of catchy tunes yet countered by a complexity of instrumentation which hides certain elements away for you to discover every time you play it.

Antony Burnham (courtesy of Metamorphic Journeyman website)

..................................................

This underground Moroccan band's choice of name is kind of like an American band calling itself the Dead Kennedys: in a word, taboo. Aisha Kandisha is a mythological spirit who bewitches men, driving them mad and even to suicide, hence her "jarring effects". Careful Moroccans hold nights of leelas to ward off the dangerous Aisha with trance-like music and whirling dervish dances. The band takes shabee, Morocco's pop dance music, and adds some leela-type sounds to come up with 'Shabeesation'. For your money, you get some of the most fun and danceable exotic music I've heard in years. If I were getting married, I'd want this band to play for my wedding. It's downright joyous—I actually started dancing at 8 a.m. while brushing my teeth. And believe me, folks, that is saying a lot!

PJR (review courtesy of the Napra website)

..................................................

Starting in the late '80s as a traditional Shabee dance band, this Moroccan quintet became one of the few North African acts to successfully merge traditional and modern sounds and technology on their electrifying 1990 debut. In addition to haunting violins, mandolins, guitars, and mesmerizing Arabic vocals and chanting, the album utilized electronic tinkering and turntable DJing, aided by the post-production work of the Swiss producer Pat Jabbar. Their 1992 follow-up, Shabeesation, was produced by Bill Laswell (who also contributed bass), and featured appearances by Omar Ben Hassen of the Last Poets and Parliament-Funkadelic keyboardist Bernie Worrell.

Richie Unterberger (review courtesy of the All Music Guide website)
---