BOOTSY COLLINS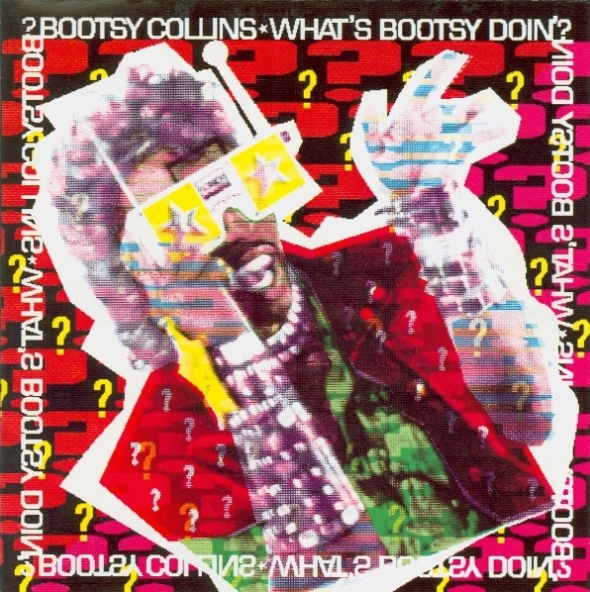 WHAT'S BOOTSY DOIN'?

  1/  Party On Plastic (What's Bootsy Doin' ?)   (Bootsy,Vee)                  3.57
  2/  Subliminal Seduction (Funk-Me Dirty)       (Boatman,Clinton,Bootsy)      3.31
  3/  Leakin'                                    (Stone,Clinton,Bootsy)        4.16
  4/  Shock -It-To-Me                            (Bootsy,Laswell)              4.57
  5/  1st One 2 the Egg Wins (The Human Race)    (Boatman,Bootsy)              4.21
  6/  Love Song                                  (Stone,Harris,Clinton,Collins)3.33
  7/  (Iwannabee) Kissin' You                    (Mico Wave,Cooper,Bootsy)     4.18
  8/  *-ing the 'Luv Gun'                        (Cooper,Boatman,Collins)      3.45
  9/  Yo-Mama-Loves Ya                           (Mama Collins,Bootsy)         5.22
  10/ Save What's Mine For Me                    (Bootsy)                      4.17

          Recorded at Pearl Sound Studios, Canton, MI
          Additioanl recording at RTG Studio, Cincinnati, Ohio
          Engineered by Ben Grosse
          Assistants: Chris Andrews, Mark Childrens and Matt King
          Engineer at RTG: Robin Jennings
          Assistant at RTG: GREG
          Produced by Bootsy Collins
          Track 4 produced by Bootsy Collins and Bill Laswell
          Prepared for Compact Disc by Joe Gastwitt at CBS Records Studio

Axe molesters & guitar slayers: Ron 'Attitude' Jennings, Catfish, Stevie 'No Wonder' Salas & Bootsy; Computer smashers & keyboard slashers: Trey 'Goldfish' Stone, Wes Boatman, Mico Wave & Bootsy; Un-Fairlight sample wars: Bootsy; Skin thrashers & bun smashers, drum beaters & rythm cheaters: Bootzilla & Bootsy; Still 'Horny Horns': Fred Wesley, Maceo Parker, Kush Griffith & Rick Gardner; All drum programming: Bootsy, Wave-U-Later, Mico Wave; Computer talk: Boot-tron; The space basses & low end chasers: Bootsy, Casper & Bootzilla; Lead vocalization & heavy metal aluminum conversation: Casper, Luv-Gun, Bootzilla, Sugar Crook, Baby LeRoy and occasionally Bootsy; Front ground vocal improv: Gary 'Mudbone' Cooper, Sly Fox; Additional vocals and musicians: P-Nut Johnson, Vicky Vea, Tony Feldman, George Clinton, Taka Boom, Malia Franklin, Carolyn Stanford, Anita Walker, Cynthia Gurty (Godmama), Bernard Fowler, Eddie Martinez, Nicky Skopelitis, Bernie Worrell; Extra rappers, clappers & finger snappers: Billy 'J' William Johnson, 'Oounchworm' Sharir Forman, 'Pretty Fatt', Yolanda Frazier, Mico Wave, Yo-Mama Collins, Uncle Tom & Uncle Al, on DAT S--T

          1988 - Columbia/CBS (USA), C 44107 (Vinyl)
          1988 - CBS (USA), 462918-1 (Vinyl)
          1988 - Columbia/CBS Records (USA), CK 44107 (CD)
          1999 - Columbia (UK), COL 494187-2 (CD)

Note: Bill Laswell does not play on this album.



---



REVIEWS :
Bootsy's first record in six years showed he hadn't wasted his time out of the spotlight - the wide variety of his intervening session gigs seems to have expanded his conception of what a Bootsy Collins record could sound like.His vocals come and go, while the choruses and many of the lead vocals are turned over to a host of singers including Mudbone Cooper, P-Nut Johnson, Vickie Vee, Taka Boom and Godmoma. The music isn't stuck in the Seventies (the high-tech "I Wanna Be Kissin' U") but isn't self-consciously up-to-date either: drum machines and synth are used to add interest and excitement ("Leakin'"), not as a crutch, and there's plenty of live guitar (by StevieSalas, Ron Jennings, Catfish and Bootsy) and the Horny Horns. The Space Bass is present on several tracks ("Party On Plastic (What's Bootsy Doin'?)") but always subordinate to the needs of the tune. Even the lyrics are smart, to the point ("First One To The Egg"), and occasionally even sentimental ("Yo-Moma-Loves Ya" featuring Mama Collins).

3 1/2 stars out of 5

David Bertrand Wilson (courtesy of the Wilson and Alroy's Record Reviews website)

..................................................

This was Bootsy's big comeback album after several years of laying low, mostly doing production & session work. The late 80's were the beginning of the funk comeback, with this album and Clinton's The Cinderella Theory being the works that kicked it off. Both albums also saw their artists return to touring, with Bootsy playing with most of the regular Rubber Band members, playing a mix of new and old material. What's Bootsy Doin'? was filled with good ideas and good intentions, but restrictions applied by the record company severly hampered the final result. The production was way too slick, drum machines were used too often and were too high up in the mix, and you had to really strain to hear Bootsy's bass playing over the amped-up synthesizers. Combine that with the dull heavy-metal screechings of guitarist Stevie Salas, and you have a very disappointing work.

There were some high points, however. "Party On Plastic" is a bit of electronic funk that works, with a nice fuzz bass effect. The 'Boot-Tron' talk box also works well. Bootsy's vocals are in top form all over the album, but this song is one of the very best. "Kissin' U" is a bit of bubblegum that's actually kind of engaging, mostly thanks to Mudbone Cooper. "Save What's Mine For Me" is an excellent ballad that features more fuzz bass from Bootsy, and talks tenderly about his family. Lyrically, the album really has its moments. Bootsy talks about his family and his children, which is unusual since he rarely talked about anything personal on past records. There were also some clever ideas that were hampered by the production, like sperm racing in "1st One To The Egg Wins"; being shot by the Love Gun, which resolves all differences ("*ing The Love Gun"); and a mostly clever sequel to Funkadelic's "Electro-Cuties" ("Shock-It-To-Me"). Godmoma can be heard doing vocals on a few songs.

It's great to see Bootsy all the way back, but the whole synth-funk thing never did much for me. Things would get more interesting once his label changed.

Rob Clough (courtesy of the Motherpage website)
---