COLLECTION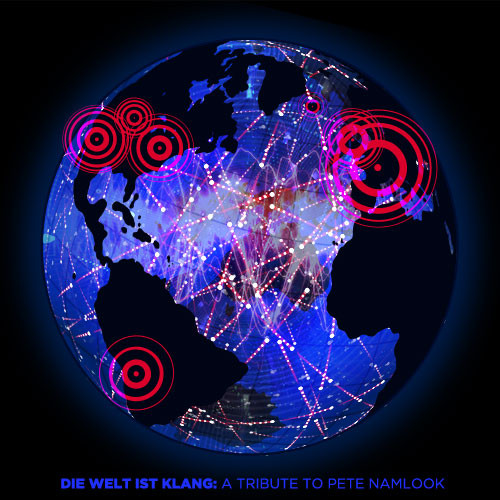 DIE WELT IST KLANG
Following the untimely passing of Pete Namlook, Dave @ Ear/Rational started a new label in the spirit of FAX. The first release was this compilation. It consists of 8 CDs in custom wooden box included a 24-Page Booklet. The first 4 CDs will contain tracks from FAX +49-69/450464 alumni, and the remaining 4 CDs will contains tracks from fans. Proceeds from the sale of this release will go to Namlook's family. The first run was 500 copies only; then there was a 2nd run of 100 copies; and finally a third run of 100 copies.

Disc one:
  1/  By a River (For Peter) -                   (Laswell,Worrell)             7.52
        Bill Laswell & Bernie Worrell
  2/  Regentropfen (Variation 01) -              (Moufang)                     7.30
        David Moufang
  3/  She Came Dancing Across The Water -        (Bernocchi)                   7.50
        Eraldo Bernocchi
  4/  Floyd (Pink Mix) -                         (Atmo,Silencio)               6.41
        Dr. Atmo & Miss Silencio
  5/  Praxis XIII -                              (Stoll)                       5.18
        Steve Stoll
  6/  Opaque 10 -                                (Pemberton)                   3.48
        Opaque/Daniel Pemberton
  7/  Public Transformation -                    (Reininger)                   5.29
        Blaine L. Reininger 
  8/  Saving A Space (For Wherever You Are) -    (Beail,Newman)                10.26
        Daimon Beail & Autistici
  9/  Universal Cubensis Afterglide -            (Norris,Hillier)              7.49
        Ishqamatics
  10/ Carocell -                                 (Hawtin)                      7.23
        F.U.S.E.
  11/ Subway (Outtake 1993) -                    (Sharp)                       8.18
        Spacetime Continuum

Disc two:
  1/  Goodbye PK -                               (Norris,Chillage)             11.13
        Autumn Of Communion 
  2/  Farväl -                                   (Benisch)                     5.55
        Peter Benisch  
  3/  Your Angel -                               (Vivona)                      8.23
        Massimo Vivona 
  4/  Sagittarian -                              (Ruello)                      10.50
        Material Object   
  5/  Lunar Patchouli -                          (Gaudi)                       5.16
        Gaudi 
  6/  Secret Path -                              (Montana,Namlook)             5.46
        Lorenzo Montanà/Pete Namlook 
  7/  Love What You Do -                         (Shek)                        4.21
        Krystian Shek  
  8/  41 -                                       (Wild,Esswein)                7.08
        Benjamin Wild & Daniel Esswein 
  9/  Conundrum -                                (Fanger,Siebert)              7.57
        Fanger & Siebert 
  10/ Sky One -                                  (Bird)                        6.41
        Higher Intelligence Agency  
  11/ Electric Universe -                        (Ellis)                       6.19
        Future Research Technology 

Disc three:
  1/  Ode To A Friend (Edit) -                   (Heckmann)                    5.45
        Thomas P. Heckmann  
  2/  Energy To Earth -                          (Jenssen)                     4.59
        Biosphere 
  3/  Sax On Dub -                               (Pascal FEOS)                 4.50
        Pascal FEOS
  4/  Klangschale -                              (Lieb)                        6.21
        Oliver Lieb   
  5/  Jazzy Mid-On -                             (Le Mar)                      6.10
        Gabriel Le Mar  
  6/  The Light That Burns                       (Chillage)                    6.56
        Mick Chillage 
  7/  See Beyond -                               (Rother)                      8.59
        Anthony Rother  
  8/  Acidbob -                                  (Schopf,SOl)                  4.11
        XJacks 
  9/  Boraz -                                    (Schopf)                      5.50
        Dandy Jack And The Soul Architect 
  10/ A Wayward Angel -                          (Lerner)                      6.16
        Dag Lerner 
  11/ Kick The Habit -                           (Stadelman,Nigrin)            8.50
        Glitch 
  12/ Acid Spray -                               (Motte,Le Mar)                8.23
        Dr. Motte & Gabriel Le Mar 

Disc four:
  1/  Some Filter For Namlook (Edit) -           (Wild,Shamlou)                10.09
        Pino & Wildjamin 
  2/  Cloud 2 -                                  (Sol,Heyduck)                 8.05
        Aerial Service Area 
  3/  Pink Pearl -                               (Rehberg)                     2.38
        Ludwig Rehberg 
  4/  Sodbrennen -                               (Spyra)                       2.56
        Spyra  
  5/  Dazwischen -                               (Hane)                        8.05
        Hane  
  6/  The Ache -                                 (Bassanini,Bierman)           3.55
        Gate Zero feat. LaMeduza  
  7/  Seyh'in Rüyasi (The Sheikh's Dream) -      (Öçal)                        5.54
        Burhan Öçal 
  8/  Sarasvati -                                (Eisenring,Vivanco)           9.09
        Bardo Thodol 
  9/  Lago Largo -                               (Heyduck)                     6.12
        Nikolaus Heyduck
  10/ Gong #1 -                                  (Sol)                         5.07
        Victor Sol 
  11/ Anwendung Elektronischer Musik Für -       (Sala)                        5.15
          Den Film Von Oskar Sala
        Oskar Sala   
  12/ A Compilation For Pete (Best Of Transonic) (Musso)                       5.40
        Robert Musso  
  13/ Regentropfen (Reprise) -                   (Moufang)                     6.51
        Move D  

Disc five: 
  1/  Day Stretch -                              (Underwood,Newman)            8.33
        Jacob Newman & Devin Underwood 
  2/  Ashes -                                    (Sobocan)                     7.16
        Bubble 
  3/  Sea Of Transcendence (Edit) -              (Basden)                      8.52
        Veil Of Alchemy 
  4/  Caterpillar Dance (Edit) -                 (Coleman)                     8.32
        Bing Satellites 
  5/  Principles Of Life -                       (Šimunic)                     5.54
        Illuminum 
  6/  So Long And Thanks For All The Chill... -  (Manassis)                    4.22
        Mamonu  
  7/  Just In A .... -                           (Ech-Charif,Green,Sheppard)   2.25
        Ecoutez 
  8/  With My Octopus Friend -                   (Röttger,Reynolds)            3.29
        Ray Rod In Sun Age 
  9/  Flood -                                    (Seel)                        8.08
        Guides 
  10/ Tongue -                                   (Davis)                       8.47
        Tha Silent Partner 
  11/ Songs (Forever) -                          (Raisbeck,Somfay)             13.33
        Sense & Jesse Somfay 3 

Disc six:
  1/  Soils -                                    (Loretucci,Frosoni)           10.10 
        Commodity Place
  2/  Coreshine -                                (Hissong)                     10.50
        Jason Hissong 
  3/  Polarwind -                                (Abert,Dahlke,Zobel)          5.34
        Drøn  
  4/  Spin Cycle -                               (Warren)                      8.53
        Mark T. Warren  
  5/  Bardo Dub -                                (Kyryluk)                     8.08
        Within Reason  
  6/  Freefloating -                             (Hanlon)                      5.23
        Steve Hanlon  
  7/  Syzgy -                                    (McGuinness)                  4.17
        VAAST 
  8/  Travels -                                  (Rischmann)                   3.50
        Mia Rischmann   
  9/  Dreamcatcher -                             (Ely,Taylor)                  6.17
        Michael And Spider  
  10/ Liberation Through Hearing -               (Zonneveld)                   5.19
        Ben Zonneveld 
  11/ 081112 (Departure) -                       (Roberts)                     11.03
        Tom Roberts

Disc seven:
  1/  Sleeps In Elysium -                        (Dunlop,Beeston)              12.58
        Ultraviolet  
  2/  Sync Polarity -                            (Matthews)                    10.58
        Si Matthews  
  3/  Music Hypnotizes -                         (Parrini,TwoPlusOne)          8.13
      (Twoplusone And Gianni Parrini 3 Hands Re-dream) 
        Gianni Parrini & TwoPlusOne 
  4/  Passage -                                  (Duran,Penton)                4.52
        Luis Duran & Thomas Penton  
  5/  The Bilderberg Gate -                      (Suit & Tie Guy)              7.38
        Suit & Tie Guy   
  6/  Ambient Robot Dance -                      (Agebjörn)                    8.44
        Johan Agebjörn 
  7/  Back To Living -                           (Kössler)                     8.39
        Sven Kössler 
  8/  Day 1 -                                    (Sirros,Zobel)                3.53
        Interconnected  
  9/  Close To You -                             (Wolfe)                       3.54
        Autumus 
  10/ Agens (Disciplined Mix Short Edit) -       (Brückner)                    9.55
        Michael Brückner 

Disc eight: 
  1/  Le Soleil A Ton Cœur -                     (Henriques)                   4.56
        Aqob   
  2/  Everyone Has It Now -                      (Roman)                       3.03
        Mass Roman   
  3/  Rolled Over -                              (Taylor,Marotta)              5.43
        Eric "The" Taylor/Jerry Marotta 
  4/  Moog Model D aC Final (Live Take #6) -     (Cederholm)                   6.10
        Ceder  
  5/  Galene -                                   (Kesalidis)                   7.12
        Spinnet 
  6/  Rune -                                     (Konstantios,Kesalidis)       6.44
        One Arc Degree  
  7/  Unfertig Ohne Sie -                        (Kowal)                       6.33
        Terra Ambient  
  8/  Eternal Return -                           (Berlin,Marko)                4.35
        Metasonica  
  9/  Solar -                                    (Waring)                      7.58
        The Garwin Project  
  10/ Piap-Bai -                                 (Taiga,3Music)                6.57
        Boreal Taiga And 3Music  
  11/ Drone 05 -                                 (Lewin)                       7.50
        James Lewin  
  12/ Snowdrift (Edit) -                         (Spence)                      12.03
        Stormloop   

          Disc one, Track 1 recorded at Orange Music, West Orange, New Jersey
          Disc one, Track 1 engineered by Robert Musso
          Disc one, Track 1 second engineer: James Dellatacoma
          Mixed by Daniel Schlett at Strange Weather
          Disc one, Track 1 produced by Bill Laswell
          Compilation producer and sequencer: Dave
          Mastered by Barry Gardner 

Disc one, track 1 - Bill Laswell: bass; Bernie Worrell: electric piano.

          2013 - Carpe Sonum Records (USA), SEIZE-I (8xCD)



---



REVIEWS :
Truly phenomenal in scope, content and diversity, Die welt is Klang lives up to its ambitious attempt to document an almost translucent, organic world of sound.
Die Welt ist Klang is something altogether special. Produced in memoriam for the death of the ambient composer and producer Pete Namlook (AKA Peter Kuhlmann), musicians, colleagues and fans have teamed together to curate a truly diverse, physically immense collection of tributes which range, liltingly, exploratively, across eight CDs and 91 tracks.
Its strength is its variety and reach. The first four CDs cover the work of FAX+49-69/450464 alumni, the German label founded by Namlook in 1992 whose early focus on trance and techno would segue into a leading source for talented ambient and drone musicians. As such, the collection has an enormous and continually surprising range—from turbulent, industrial drone, through sine-waves of gentle organic field recording, to busier works inspired by synth loops and strings (e.g., Commodity Place – "Solis").
It would be impossible to give a blow-by-blow reaction to each track, but it is easier—more manageable—to pick out the handful that stood out. There are a number of very strong pieces which explore and push at the edges of organic ambience (Bill Laswell & Bernie Worrell—By a River (for Peter)) and arrhythmic samples (Drøn – Polarwind). Eraldo Bernocchi's "She came dancing across the water," with its harmonic, dramatic drone that walks along the edge between sentimentality and darkness, is a particularly outstanding piece—with slow clusters and synths which blend between foreground and background. Differently good is Burhan Öçal's "Seyh'in ruyasi (the sheik's dream)," a gloriously rich electronic and string track with a core of middle eastern oud and drum, high tempo beats and complex layers. Similarly, "Rune" by One Arc Degree offers a haunting and melancholic construction of drone and echoing synths, underpinned by rising and falling keys which build throughout the track into its many dense layers. The slow build and emerging, wavering keys of Illuminum's "Principles of Life" is another outstanding piece of this enthralling whole.
To find coherence—a single, running method—in all of this would of course be unproductive. Die Welt ist Klang strength, its great and monumental achievement, is precisely its surprising range, the sense that we are exploring a great, ancient tree whose roots lead back to a single source, yet expand into many different worlds.
Perhaps it is redundant to say it, but there is no doubt that ambient fans will find something in here among its many and varied treasures. While the arrangement doesn't hint at any primary theme, it is rewarding to dip in and out, to shuffle and pare apart the collection—listening to musicians and fans in the same session. Truly phenomenal in scope, content and diversity, Die Welt ist Klang lives up to its ambitious attempt to document an almost translucent, organic world of sound.
Owen Vince (courtesy of the Igloo Magazine website)
..................................................
(first disc only)
After what must have been a tremendous amount of work for Dave at Carpe Sonum Records, not to mention all of the artists involved, the physical version of Die Welt ist Klang, a mammoth eight disc tribute to Pete Namlook is almost upon us. Four discs of sounds from Fax alumni - those who recorded for the label and four discs of music by the fans, all housed in beautiful digipak CDs, featuring diagrams/photographs etc. of the synths so beloved to Namlook. These will sit in a sumptuous wooden box with sliding lid. So what does it actually sound like? Well, eight CDs of music is a lot to take on board but here's a review of the first disc. I will add both extra text and images to this post as I review the rest of the CDs and when I receive my copy I will try to post a few images of the packaging as well.
The tribute begins with By a River (for Peter) by Bill Laswell and ex-Parliament/Funkadelic keyboard player Bernie Worrell. On this occasion Worrell is playing the Fender Rhodes electric piano and helping to create some beautiful atmospheres. Ambient with more than a hint of jazz and gradually a gently played fretless bass is also introduced. This could have very comfortably sat on a fusion-era Miles Davis album but I am referring to the reflective, rather than turbulent side of that phase of the jazz master's journey. Perhaps the jazz element pays subtle tribute to Pete's musical background but this is a suitably stunning opener with the Fender Rhodes evoking trickling water.
Speaking of which, David Moufang's Regentropfen (Variation 1) is next. This starts with the sound of dripping water, as piano somnambulistically and almost metronomically sways backwards and forwards between two chords. This becomes quite hypnotic, the sound of water droplets splashing and falling rain abruptly appearing, as if out of nowhere, and disappearing just as quickly - the aural equivalent of sticking pieces of paper together to create a collage. The piano parts also sound as if they have been cut and pasted - a clever and rather unique approach.
The liquid theme continues with Eraldo Bernocchi's She Came Dancing Across the Water. This reminds me a little here and there of Maurice Jarre's beautiful soundtrack for the film Witness. It also wouldn't sound out of place alongside the very best releases from Brian Eno's classic period. Along with the previous offering, this track underscores the fact that this box set is an epic requiem for an absent friend. A very (very) slow lead guitar part is played over a haunting guitar drone....yes: you may not guess it but I am reliably informed that everything on this track comes from treated guitars. Intensely beautiful but also slightly unsettling (a mood that understandably returns time and time again over the course of this box set).
Miss Silencio and Dr. Atmo's Floyd (Pink Mix) is actually a different mix of the track Wolkeweich from their recent collaborative album Hush! What sounds like (but probably isn't) very soft swells of guitar, harp and layers of ethereal sound are joined by keyboards, seemingly played as softly as possible and to listen is like being carried off to the clouds. Possibly the track that the word 'ethereal' was invented for?
Next up, Steve Stoll has chosen to contribute what is probably the most tender moment from his excellent recent analog synth odyssey Praxis. Unless this reviewer is mistaken Part XIII, a lovely theme is extended here and it is great to have a longer version that stretches out a little.
Daniel Pemberton's Opaque 10, one of the tracks from an unreleased album recorded in the late '90s reminds this writer a little of those amazing Cluster and Eno collaborations from the late '70s - no bad thing, of course. Perhaps a little darker than some of that material, this pensive, wistful and suitably sombre piece begs the question: will we ever hear the full work? On the strength of this track we can only hope so.
Public Transformation by Blaine L. Reininger (who appeared on Sound of Heaven by U V O I I) suggests dust blowing up desert roads with its swells of slow, echoing guitar and plaintive violin, while Saving a Space (for Wherever You Are) by Audio man Daimon Beail and Autistici (David Newman) presents ten minutes plus of drones that underscore the diversity and magic of this compilation. The sound seems to shimmer and this is akin to watching sunrise glowing on a city from the top of a skyscraper.
Universal Cubensis Afterglide by Ishqamatics (Lee Anthony Norris & Matt Hillier) could be described as a slice of weightless, cosmic travel and continues in the tradition of their excellent recent album Spacebound.
Carocell by F.U.S.E. (aka Richie Hawtin) is a recording from the same era as the first couple of From Within albums. Previously included on volume three of the compilation series Blueprints for Modern Technology this piece has largely remained hidden for twenty years. It's great to have it back. The track fades in with multiple, layered sequencer patterns: fast/slow. In the tradition of Hawtin's music this is glacial and yet possesses an unusual beauty. Basically it fits perfectly alongside those Namlook collaborations. Genius.
Subway by Spacetime Continuum (aka Jonah Sharp) presents an outtake from the classic 1993 album Sea Biscuit. Fax fans are probably going to find this icy and slightly menacing sonic portrait, suggesting urban alienation to be essential stuff.
Christian Wheeldon courtesy of the Namlook/FAX blog)
---