COLLECTION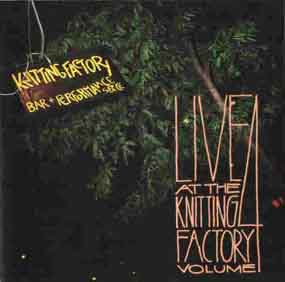 LIVE AT THE KNITTING FACTORY VOLUME 4
This compilation of tracks recorded live at the Knitting Factory, featuring Last Exit, X-Legged Sally, Bob Holman, Spanish Fly, Framework, Miniature and others.

  1/  Rai-Hop                                    (Rothenberg)                  7.21
        Ned Rothenberg Double Band (7/28/90)
  2/  Freight Train                              (Biaza,Gorodetsky)            3.52
        Universal Congress of (8/1/90)
  3/  The Sprawl                                 (Last Exit)                   9.01
        Last Exit (2/3/90)
  4/  Strom                                      (Bittova,Fajt)                3.05
        Iva Bittova and Pavel Fajt (10/11/90)
  5/  Erghen Diado                               (Traditional)                 5.56
        Framework (7/23/90)
  6/  Cave Man                                   (Bernstein)                   4.51
        Spanish Fly (7/9/90)
  7/  Jersey Devil                               (Roberts)                     11.22
        Miniature (2/21/90)
  8/  Fast Forward                               (Vermeersch)                  4.52
        X-Legged Sally (2/4/90)
  9/  1990                                       (Holman)                      9.13
        Bob Holman (6/9/90)
  10/ Farm Life                                  (Driscoll)                    7.56
        New & Used (4/24/90)

          Recorded live at The Knitting Factory, New York City
          Engineered by Bob Appel
          Tracks 7 and 8 engineered by Jonathan Nelson
          Track 10 engineered by Douglas Rice
          Produced by Robert Appel
          Executive Producer: Michael Dorf
          Digital Sequencing by Dave Collins
          Mastered at A & M Studios by Mike Reese

(1) Jerome Harris: electric bass guitar (right); Gregory Jones: electric bass guitar (left); Pheeroan akLaff: drums, percussion (right); Samm Bennett: drums, percussion (left); Thomas Chapin: alto saxophone (right); Ned Rothenberg: alto saxophone (left); (2) Joe Biaza: guitar, vocals; Steve Moss: tenor saxophone, background vocals; Bob Fitzer: bass; Paul Lyons: drums; (3) Peter Brotzmann: reeds; Ronald Shannon Jackson: drums; Bill Laswell: bass; Sonny Sharrock: guitar; (4) Iva Bittova: violin, voice; Pavel Fajt: drums, special metals; (5) Erik Friedlander: cello; Kevin Norton: drums, samples; Laura Seaton: violin; (6) Steve Bernstein: cornet, slide trumpet; Marcus Rojas: tuba; Dave Tronzo: slide guitar; (7) Joey Baron: drums, percussion; Tim Berne: alto saxophone; Hank Roberts: vocal, cello, electronically modified cello; (8) Peter Vermeersch: tenor saxophone; Eric Sleichim: alto saxophone; Michel Mast: baritone saxophone; Jan Weuts: trumpet; Pieter Lamotte: trombone; Michel Delorie: electric guitar; Bruno Deneuter: bass guitar; Danny Van Hoek: drums; (9) Bob Holman: voice; (10) Dave Douglas: trumpet; Kermit Driscoll: bass; Mark Feldman: violin; Andy Laster: reeds; Tom Rainey: drums.

Track 5 is a traditional Bulgarian song, arranged by Laura Seaton.

          1990 - Enemy Records (Germany), EMCD 118 (CD)
          1990 - A&M Records (USA), 75021 5332 2 (CD)



---