COLLECTION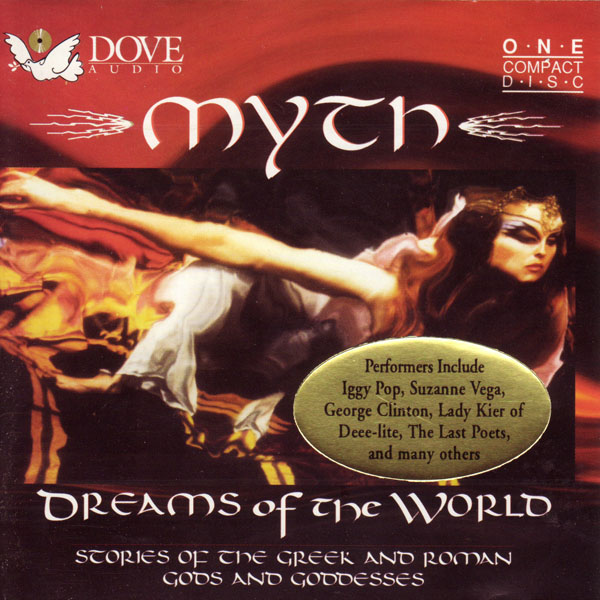 MYTH - DREAMS OF THE WORLD
This album is a collection of stories of Greek and Roman Gods and Goddesses, featuring readings by Nicky Skopelitis, Peter Lamborn Wilson, Lori Carson, Umar Bin Hassan, Suzanne Vega, Abiodun Oyewole, Wallace Shawn, Lady Kier, Iggy Pop, George Clinton and more. It also features music by Automaton, Anton Fier, Material, Cypher7, Painkiller, Divination, Jaron Lanier, Buckethead, Liu Sola, Bootsy Collins and Bernie Worrell.

  1/  Introduction                               (Sabin,Automaton)             1.02
        Nicky Skopelitis/Automaton
  2/  Zeus, King of the Universe                 (Sabin,Fier)                  1.19
        Peter Lamborn Wilson/Anton Fier
  3/  Hera, Queen of the Universe                (Carson,Fier)                 3.37
        Lori Carson/Anton Fier
  4/  Hermes, The Messenger God                  (Sabin,Material)              4.01
        Umar Bin Hassan/Material
  5/  Apollo, The Sun God                        (Oyewole,Material)            3.02
        Abiodun Oyewole/Material
  6/  Athena, The Goddess of Wisdom              (Sabin,Bova,Haas)             3.43
        Suzanne Vega/Cypher 7
  7/  Pan, The Playful God                       (Crowley,Laswell)             4.10
        of the Country  
        Wallace Shawn/Bill Laswell
  8/  Hades, The God of the Underworld           (Sabin,Zorn,Laswell,Harris)   3.22
        Iggy Pop/Painkiller
  9/  Aphrodite, The Goddess of Love             (Sabin,Divination)            3.06
        Lady Kier/Divination
  10/ Eros, Aphrodite's Son                      (Sabin,Automaton)             0.36
        Likkle Jerr/Automaton
  11/ Vulcan, The God of Inventions and Metal    (Oyewole,Lanier)              3.25      
        Jaron Lanier
  12/ Poseidon, The God of the                   (Mortensen,Buckethead)        4.21
        Ocean & Amphitrite  	
        Viggo Mortensen/Buckethead
  13/ Mars, The God of War                       (Lemmy,Skopelitis)            1.52
        Lemmy/Nicky Skopelitis
  14/ Artemis, The Goddess of the Hunt           (Sabin)                       1.55
        Amina Claudine Myers/Liu Sola
  15/ Cassandra, The Unheeded Prophet            (Blackman,Laswell)            3.47
        Nicole Blackman/Divination
  16/ Dionysis, The God of Spirits               (Sabin,Collins,Worrell)       2.55
        George Clinton/Bootsy Collins and Bernie Worrell
  17/ Prometheus, Brought Fire to Man            (Sabin,Automaton)             3.13
        Ira Cohen/Automaton

          Recorded at Greenpoint Studio, Brooklyn, New York, Shelter Island Sound,
            California, KCRW, Santa Monica, California, KUER, Salt Lake City, Utah
            and Studio 56, Los Angeles, California
          Location recordings: Robert Musso, Bill Laswell, Layng Martine and
            Janet Rienstra
          Studio recordings: Robert Musso at Greenpoint Studio, Steve Addabbo at Shelter
            Island Sound, Liza Richardson at KCRW, Larry Holt at KUER and Len Del Rio
            At Studio 56
          Mixed and mastered at Greenpoint Studio
          Engineering: Robert Musso
          Engineering assistance and editing: Layng Martine
          Digital Editing: Steven Miller, Cacophony Productions, NYC
          Produced by Janet Rienstra
          Music produced by Bill Laswell
          Executive Producers: Michael Viner and Deborah Raffin

(6) Jeff Bova and Alex Haas: keyboards, sounds; (8) John Zorn: saxophones, vocals; Bill Laswell: bass, samples; Mick Harris: drums, vocals, samples; (12) Viggo Mortensen: effects; Buckethead: guitars; (13) Nicky Skopelitis: guitar; (14) Liu Sola: vocals.

          1996 - Dove Audio (USA), 0-7871-0734-4 (CD)

Note: All text from 'Classical Myths That Live Today', by Frances E. Sabin, unless otherwise indicated (by the first name in parenthesis).
Note: Track 7 is a reading of Aleister Crowley's "Hymn To Pan".



---