COLLECTION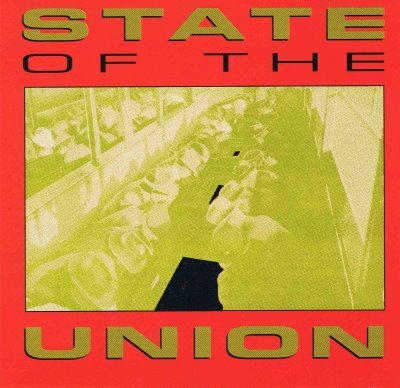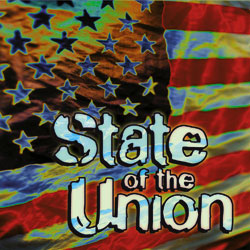 STATE OF THE UNION
This record features three sets of musicians, one from 1982 which was available on the original LP, one from 1992 available on the initial CD release and one from 1996 containing all three sets.

1982: John Lurie, Felipe Orrego, Peter Blegvad/John Greaves, Diana Meckley, Bill Obrecht, Pulsallama, Bartok Lieberman, Michael Boom, Squat Theatre, A.C. Chubb, Gerry Lindahl, Arto Lindsay/Toni Nougueira, Social Climbers, Sonorexia, Tim Wright, Spalding Gray, Thi-Linh Le, Christian Marclay, Adele Bertei, Ivan Kupala, Charles K. Noyes, Chris Vine, Tuli Kupferberg, Sue Hanel, Butch Morris/Jessica Hagedorn, F.A. Nettleback/Wayne Horvitz, Martin Bisi/Victoria Galvez Bisi, Melody Sumner, Marina La Palma, Bob Holman/Vito Ricci, Artless Time Band, Fred Frith/Tina Curran, Patrick Sumner, Hi-Sheriffs of Blue.

1992: David Garland, Barbara Barg, Borbetomagus/Voice Crack, Soldier String Quartet, Margot Mifflin, Krackhouse, Ikue Mori, Anthony Coleman, God Is My Co-Pilot, Lois V. Vierk/Ngoneni Cele, Marc Ribot, Vicki Stansbury, GenKen Montgomery, John Zorn/Yamatsuka Eye, David Fulton, Nicholas Collins, Marc Sloan, Syd Straw, David Linton, Pamela Z, Grafted Media Devil, Mofungo, Henry Kaiser, Mad Arab, David Shea, Alex Noyes, Wanda Phipps/M. Doughty/Jonathan Maron, Michelle Kinney, Brian Karl, Lee Ann Brown/Sarah Boyd Blair, A Thousand Tiny Fingers, Leslie Ross, Hal Willner, Shelley Hirsch.

1996 : John Duncan, Tricia Worden, Ui, Queen Esther, PainKiller, Penny Arcade, Chris Haskett, Anne Elliott, Bard/Evans/Pugliese, Steve Piccolo, Circuit Redux, Jaron Lanier, Maggie Estep, Frank Rothkamm, Happy Boy, J.F. Coleman, Rebecca Moore, Allen Ginsberg, Paul deMarinis, Lenny Kaye, Norman Yamada, DJ Spooky, Mark Helias, Matthew Ostrowski, Mark De Gle Antoni, Pharmacy Loungs, Tracie Morris, Andrea Parkins, Hakim Bey, Reed Ghazala, Sim Cain, Cameron Allen /Ahrin Mishan, Machine Gun, Ebon Fisher, The Hound, Lauren Weinger, DJ Olive, Lucius Sheppard, Zeena Parkins, Babytooth, Edwin Torres, Meimlich Maneuver, Bad Behavior, Lukas Ligeti, Chris Cochrane, Joseph Trump, Jack Womack, Gary Hinesley, Judy Dunaway, F.I.B, Run On, Lynne Tillman/Dave Hofstra, Michael Lowenstern, Cyrnai, David Greenberger, Seven Kings, Theo Bleckmann, Katie O'Looney, Kurt Ralske, Annie Gosfield, Minus, Peter Sherer, Frank Pahl, Mark Trayle, Jenifer Berman, Digitalis, Christina Wheeler, Jon Gibson, Dim Sum Clip Job, Tom Schmidt, Mars Williams/Ken Vandermark, Tony Maimone/Yuval Gabay, Michael Puliese, Twisted Tutu, Timber, Philorene, Roger Kleier, Karthik Swaminathan.

 Disc one:
  5/  Ayurveda                                    (Zorn,Laswell,Harris)         1.00
        Painkiller
  71/ No Regrets                                  (Le,BL,Skopelitis,Beinhorn)   1.00
        Thi-Linh Le

          Track 71 recorded live at OAO Studio
          Produced by Elliott Sharp

(5) John Zorn: saxophone; Bill Laswell: bass; Mick Harris: drums; (71) Thi-Linh Le: vocals; Bill Laswell: bass; Nicky Skopelitis: guitar; Michael Beinhorn: synthesizer.

          1982 - Zoar Records (USA), ZOAR 10 (Vinyl)
          1992 - Arrest Records (USA), AR 003 (CD)
          1993 - MuWorks Records (USA), MUW 1016 (CD)
          1996 - Atavistic (USA), ALP69CD (2CD)



---



REVIEWS :
Comprehensive compilation action from this excellent Chicago label, highly-regarded for its well-chosen reissues, consistently chaseable new releases, and multiple Glenn Branca titles. State Of The Union compiles one-minute efforts from 147 different contributors (very few of them on Atavistic), divided into three time periods - 1982, 1992 and 1996. All proceeds go to the National Coalition Against Censorship; all artists were handpicked by Elliott Sharp 'himself', so naturally the whole thing reeks a little of extreme dilettantism, NY dickhead style - if you're the kind of person who can't possibly live another decade without hearing Jaron Lanier playing his contrabass flute built from a sewer pipe, then make sure you bring in the new millenium in style. But some film and literature identities do make surprising guest appearances, and even E# couldn't fluff so many chances to pick some non-duds - for every Syd Straw there's a Zeena Parkins, for every Ui there's a Christian Marclay, and for every Marc Ribot there's a Krackhouse.

Nick Cain (courtesy of the Oppro Magazine website)
---