COLLECTION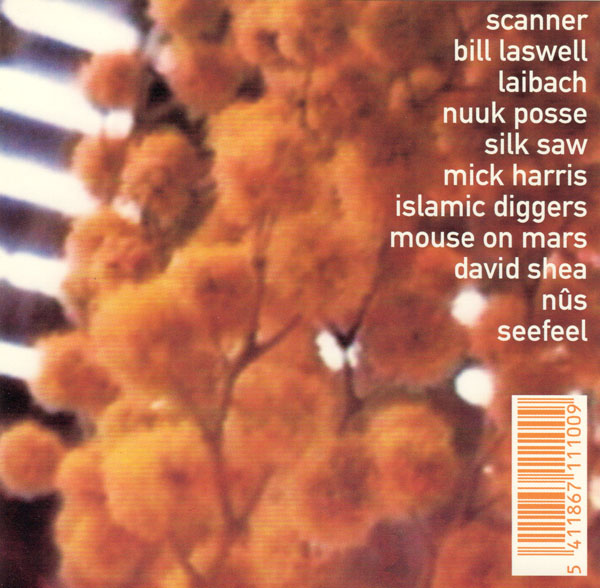 UNDERWOOD
This is a collection of songs released on the Belgian label, Sub Rosa, including Bill Laswell, Mick Harris, David Shea and others.

  1/  Lament - Nus
  2/  Faktura - Bill Laswell
  3/  Flaneur Electronique - Scanner
  4/  As Tracks - Seefeel
  5/  Blood of My Blood (Remnant Remix) - Silk Saw
  6/  Crtomir - Laibach
  7/  Tap - Mick Harris
  8/  Burroughs Don't Play Guitar - Islamic Diggers
  9/  Tider - Nuuk Posse
  10/ Subnubus - Mouse on Mars
  11/ The Pure Land of Illusions - David Shea		

          Tracks 1 and 2 recorded at Greenpoint Studio, Brooklyn, New York
          Tracks 1 and 2 produced by Bill Laswell

(1) Percy Howard: singing, words, sample discovery; Richard Kazanjian (Kaz): bass; Greg Cain: percussion, samples, keyboards; Steve Sullivan: guitar, synths; (2) Bill Laswell: bass, beats, sounds.

          1996  -  Sub Rosa (Belgium),  SR100  (CD)

Note: See also Bill Laswell's 'Oscillations' and Nus' album 'All the Verticle Angels' for further references.



---



REVIEWS :
The elite Belgian label Sub Rosa specializes in music of an experimental ambient nature, and has in the past released a number of great compilations (most notably the Myths series), as well as individual releases by such major underground musicians as Bill Laswell and Mick Harris, and lesser known -- but equally innovative -- bands like Mouse On Mars and Lilith. Aiming for a multi cultural and diverse listening experience, Sub Rosa's Underwood compilation generally follows the label's high standards of quality, containing a couple of truly outstanding tracks, but also a few less fortuanate inclusions.

Of the highest order are the pieces by Mouse On Mars and Mick Harris. As befits the name Mouse On Mars, the music of this band is a particularly weird and spazy brand of synthetica. More than ten minutes long "Subnubus" consists of a wealth of melodic fragments and sounds that weave in and out amongst each other in unpredictable patterns. The piece literally has a life of its own, and is painted from a very rich palette of warped and manipulated sounds. Less unique, perhaps, but equally compelling is Mick Harris' contribution "Tap." This track too is of extended length, and sounds like Evanescence-era Scorn. Carried by Harris' hallmark deep dynamic percussion, the song is underscored by simple but effective synth harmonies, various other sound effects thrown in here and there, as well as a voice-sample urgently repeating: "Will you listen to me."

Underwood also offers a series of dance-ambient tracks by Bill Laswell, Scanner, Seefeel and Silk Saw. Laswell's "Faktura" is a playful affair, with an accelerated beat, a variety of flutes and other wind instruments, and, naturally, Laswell's signature bass-groove. Although the piece does not measure up to the best of this prolific musician's creations, it is nonetheless one of the better tracks on the compilation.

The other three of these "ambient" pieces are more electronically oriented, often with brief appearances of instruments indiginous to more exotic geographical regions weaved into the arrangements. The pieces are all on the minimal and repetitive side, but do have nice presence and are soothing to listen to. Laibach's "Crtomir" is anything but soothing. The piece balances on the edge of hoakiness -- as is part of this band's style -- with grand, dramatic orchestral samples en masse, and the subtle crackling as of an old vinyl record aubible in the background. Not bad in itself, the piece does break rather forcefully with the general mood and sound of the compilation.

Islamic Diggers and David Shea both flirt with the genre of world music. "Burroughs Don't Play Guitar" is deeply funk-reggae inspired with heavy reliance on echo effects. The piece has a dazed dance atmosphere that initially is quite compelling, but, since the piece never really goes anywhere, leaves a stale aftertaste. David Shea's "The Pure Land of Illusions" is a sonic trip around the world in seven minutes, featuring everything from Asiatic religious horns and cymbals to African percussions and chanting.

Finally Sub Rosa has included two songs that seem totally out of place on this compilation. One is by Danish Nuuk Posse, who plays a hybrid of jazz and hip hop. To fans of this genre of music, the track undoubtedly has its appeal, since the band does manage to interweave these two genre elements rather nicely. However, in this context the 'freshness' of the song is irritating, and ruins the overall impression of the CD. Equally puzzling is the track by Nus, which sounds like a bad imitation of Joe Cocker, and by being the opening track on Underwood sets an inapropriate tone for what follows. As with Nuuk Posse, this track may have its qualities and appeals, but to the majority of this CD's listeners, it will most likely constitute nothing more than a misplaced and unwelcome irritation.

Michael C. Lund (courtesy of the Last Sigh website)
---