DINMACHINE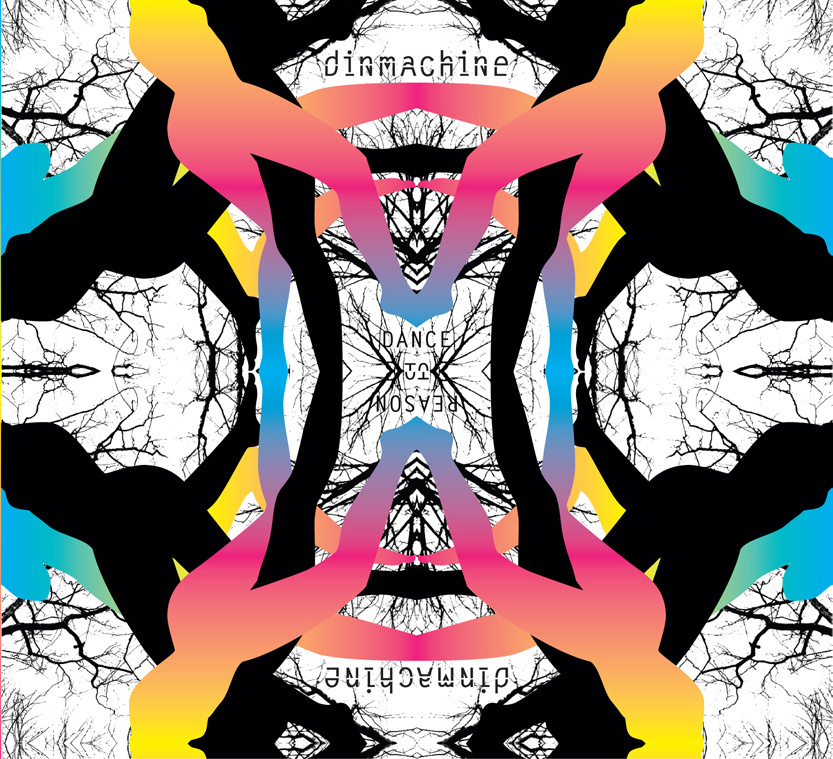 DANCE TO REASON

  1/  Sang Gween                                 (Schumacher)                  6.14
  2/  Minor Me                                   (Schumacher)                  4.53
  3/  Ground State                               (Schumacher)                  17.30
  4/  Recht Tik                                  (Schumacher)                  5.08
  5/  Tryad                                      (Schumacher)                  5.08
  6/  Lpse                                       (Schumacher)                  6.22
  7/  Telepath                                   (Schumacher)                  7.27
  8/  Fifth Bass                                 (Schumacher)                  4.37

          Recorded at Orange Music, West Orange, New Jersey
          Engineered by Robert Musso, James Dellatacoma and Sheldon Steiger
          Mixed by Bill Laswell
          Produced by Bill Laswell and Michael Schumacher
          Mastered by Michael Fossenkemper at TurtleTone Studio, NYC

Hari Ganglberger: drums; Nisi Jacobs: bass; Sean Moran: guitar; Michael Schumacher: synthesizers, piano, guitar; Avram Fefer: saxophone; James Fei: saxophone; John Ferrari: drums, percussion; Adam Rudolph: drums, percussion; Michael Gentile: flute; Jerome Harris: bass; Kato Hideki: bass; Taylor Levine: guitar; Karl Scherrer: guitar; Peter Zummo: trombone.

          2014 - Yocto Yotta (USA), Y-Y 111 (CD)



---



REVIEWS :
10 Listens is a music review series where Michael Durek listens to an album at least 10 times, taking notes along the way: the aim is to give a comprehensive picture of an album.
Places listened: PATH train; New York subway; walking in Jersey City, Manhattan, and Brooklyn; studio room in Jersey City; at my father's house in New Jersey; in Riverview-Fisk Park through a bass amp.
dinMachine's Dance to Reason.
When J. S. Bach was alive, he didn't limit himself to technology from 200 years before his own time. He employed the latest tools available, and praised the Cristofori pianoforte, the first true piano. I like to think that Bach today would've acquired a Seaboard GRAND—a soft-keyed electronic piano—and modular synthesizer systems when they entered the scene in the 1960s. To take inspiration from a master like him is to embrace innovation if it proves musically expressive. Fortified with modular synths and computer-generated effects, the Brooklyn-based three-piece experimental rock group dinMachine does just that with their full-length album, Dance to Reason.
Many of the tracks on Dance to Reason have recurring motifs and thematic elements—the interplay of rhythmic and melodic ideas and the movements within individual tracks remind me of classical music. The music showcases varied rhythms and off-beat accents, and—carried by various synths, Nisi Jacobs's electric bass, Hari Ganglberger's drums, and drum machines—many of the songs have funk or dance hooks. There are clean staccato guitar parts and 16th note bass parts that could easily be overdubs from a Jackson 5 session. Some of the melodies, particularly on "Telepath," have a chromaticism that is reminiscent of Jobim's reign during the bossa nova craze.
"Minor Me" is a good example of the synthesis of classical, rock, and electronic influence in dinMachine's music. I asked Michael J. Schumacher, the group's keyboardist and main composer, how many times he used the melodic theme in "Minor Me"—stretched, inverted, layered, or transposed. He quoted a scene in Godard's Breathless, in which Jean Seberg, as Patricia, asks the visiting writer Parvulesco, "How many women can a man love in this world?" Counting off all his fingers till there were none left, he smiles and says, "More than that." The theme, lasting about 10 notes, is based on the whole tone scale, and is woven together in many intricate ways. If you want to dip your toe into one track of the album, I recommend that you start with this one.
Woven together via a repeated chord progression with a mellow synth sound, the epic, 17´28? track "Ground State" uses licks and melodic fragments that could be at home in an electro-pop anthem. Harsh noise drones appear before long, reminding listeners that dinMachine is an experimentalrock group: noise may be a main feature of a track, not just a short intro. Hypnotic at times, and steadily rocking, I'm still not sure that this track has to be so long. That said, one highlight on "Ground State" occurs at the 11´46? mark, where a bagpipe-like sound plays frolicking major scale phrases over slowly pulsing bass notes and motorboat sounds. The last reoccurrence of the main chord progression, at the 15´ mark, left me uncertain on first listen. By the fourth listen, however, everything sounded in place.
Harsh noise drones appear before long, reminding listeners that dinMachine is an experimentalrock group: noise may be a main feature of a track, not just a short intro.
"Tryad" is more whimsical, beginning with a simple major scale piano melody. After playful antiphony with percussion, bass, and additional voices, the groove morphs and takes you away. A meandering modal guitar part builds in momentum and gains clarity until the phrase cuts off, looping like a broken record, while a new half-time rhythm creeps in behind. Mechanical birds and siren sounds then carry the melody. It always surprises me, but makes so much sense each time. On the seventh listen (while taking a bite of reheated pizza at my father's house) I thought to myself that this track contains the most splendid, innovative groove on the entire album.
One criticism I have of the disc has to do with the mix. In what is otherwise an impressive production that brings together so many different layers of sound, I was missing something in the balance of the bass and drums from song to song. I found myself adjusting the volume sometimes, or wanting more or less punch from track to track. For perspective, I also had to do this with the latest Jay-Z album, but that still jumped out at me. Another thing to mention is that the influences are indeed various: it's hard to pigeonhole this disc or fit it neatly into one genre. Above all, the album is imaginative, full of surprises and anything but bland and stale.
And 10 full listens later, it's still on my iPod.
Michael Durek (courtesy of the The Brooklyn Rail website)
---