AIYB DIENG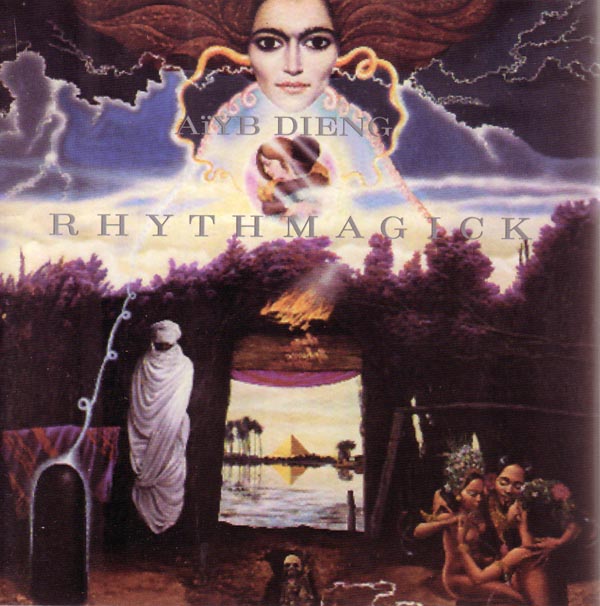 RHYTHMAGICK

  1/  Rhythmagick                                (Dieng,Sanders,Hassan)        4.01
  2/  Sabar                                      (Dieng,Laswell)               6.10
  3/  Takou                                      (Dieng,Gurtu)                 3.52
  4/  Daresalam                                  (Dieng,Sanders)               6.23
  5/  Boka Devotion                              (Dieng,Laswell)               6.08
  6/  Soweto Funk                                (Dieng,Laswell)               9.10
  7/  Touba                                      (Dieng,Gurtu)                 7.38
  8/  Dungal Dub                                 (Dieng,Laswell)               6.35

          Recorded and mixed at Greenpoint Studio, Brooklyn, New York
          Engineered by Robert Musso
          Assistant engineer: Layng Martine
          Produced by Bill Laswell and Aiyb Dieng
          Material Inc.: Tracy McKnight
          Axiom: Bill Murphy

Aiyb Dieng: chatan, talking drum, congas, bata, bass drum, jimbe, gongs, bells, cymbals, metals; Trilok Gurtu: drums, tabla; Daniel Ponce: bata, conga; Carlos Cordova: bata; Pharoah Sanders: tenor saxophone, metal and wood flutes; Bernie Worrell: Hammond B-3 organ, clavinet; Bootsy Collins: guitar, Space bass; Nicky Skopelitis: 6 and 12 string guitars; Bill Laswell: low bass, bowed bass, samples; Umar Bin Hassan: voice.

          1995 - P-Vine/Blues Interaction (Japan), PCD-5801 (CD)
          1997 - Subharmonic (USA), SD 7021 (CD)
          1999 - Masterplan (Germany), MP 42006 (CD)



---



REVIEWS :
More Material Magic
Rock-solid solo set of African jazz from the Material percussionist. As is often the case with this circle of musicians, the record is something of a Material jam session, with the usual suspects (Bill Laswell, Nicky Skopelitis, Bernie Worrell) joined by guests Bootsy Collins on space bass, Pharaoh Sanders on sax, and John McLaughlin collaborator Trilok Gurtu on percussion. Half the tracks are acoustic sets involving Dieng, Gurtu, and Daniel Ponce; the rest are group jams where everybody shines. Nothing as intense as, say, Memory Serves or Seven Souls, but groovy and heady just the same. Highlights are Dungul Dub; the fitting Soweto Funk, with one of Worrell's best Hammond solos; the title track, where Sanders doubles sax and ethnic flute over Umar Bin Hassan's beat poetry; and Boka Devotion, which closes with Bootsy leading the band into a quick run-through of McLaughlin's Marbles. Funky stuff.
Gareth Davies-Morris (courtesy of Amazon.com website)
---