FRED FRITH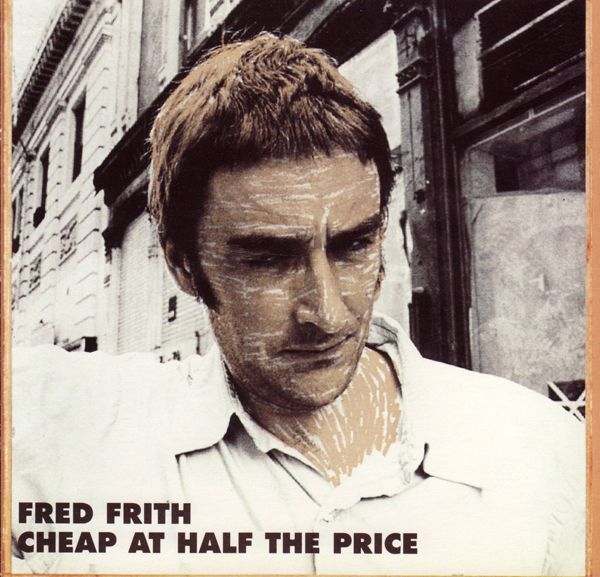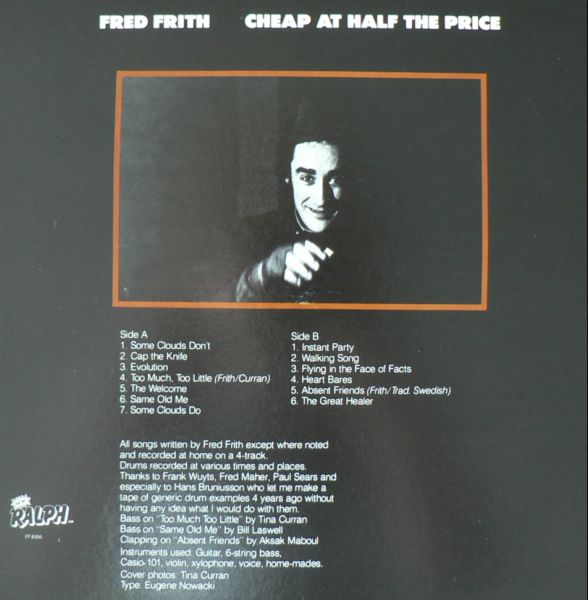 CHEAP AT HALF THE PRICE

  1/  Some Clouds Don't                          (Frith)                       3.12
  2/  Cap the Knife                              (Frith)                       2.47
  3/  Evolution                                  (Frith)                       3.21
  4/  Too Much, Too Little                       (Frith,Curran)                2.09
  5/  True Love                                  (Frith)                       2.58
  6/  The Welcome                                (Frith)                       2.28
  7/  Same Old Me                                (Frith)                       2.58
  8/  Some Clouds Do                             (Frith)                       2.49
  9/  Instant Party                              (Frith)                       1.53
  10/ Person To Person                           (Frith)                       2.20
  11/ Walking Song                               (Frith)                       3.13
  12/ Flying in the Face of Facts                (Frith)                       2.38
  13/ Heart Bares                                (Frith)                       4.56
  14/ Absent Friends                             (Frith,Traditional Swedish)   3.58
  15/ The Great Healer                           (Frith)                       2.07

          Recorded at home on a 4-track
          Drums recorded at various times and places
          Track 5 recorded at Noise NY
          Engineer on track 5: Kramer
          Track 10 recorded at BC Studio, New York
          Engineer on track 10: Martin Bisi
          Produced by Fred Frith

Fred Frith: guitar, 6 string bass, casio 101, violin, xylophone, voice, home-mades; Tina Curran (4): bass; Bill Laswell (6): bass; Aksak Maboul (12): clapping; Sheena Dupuis (5): voice; George Cartwright (10): saxophone.

          1983 - Ralph (USA),  FF8356  (Vinyl)
          1991 - East Side Digital (USA), ESD 80572 (CD)
          1991 - RecRec Music (Switzerland), ReCDec 903 (CD)

Note: Tracks 5 and 10 do not appear on the original vinyl.
Note: Track 5 can also be found on the Shimmy Disc compilation 'The 20th Anniversary of the Summer of Love'.
Note: Track 10 can also be found on Curlew's 'North America'.



---



REVIEWS :
Frith's last album for Ralph Records stepped back from the progressions of Speechless to a concoction of pop-like ditties and instrumentals recorded at home on a four track. And for the first time, Frith sings, in a strange high-pitched tone. A little more production and sound manipulation and this could almost be a Residents album, circa 1978. As a pop-song writer, Frith is okay; he shrouds socialist discussion in lyrics about dogs and insects while keeping the song structure simple and repetitive. "Too Much Too Little" and "Some Clouds Don't" are whimsical songs, simple beauty overshadowed by fear of Reagan-administration nuclear holocaust. Frith saw the danger in the upbeat early '80s as threatening to the lessons of history and a derailment to the cause; one wonders if the sunny moments of the album aren't actually one big joke. The instrumentals reside less in the pop vein, but like "The Great Healer" or "Heart Bares" they don't go further than moody experiments in Frith's home studio. Only "Absent Friends," a traditional Swedish melody rearranged by Frith, breaks that mold.

4 stars out of 5

Ted Mills (courtesy of theAll Music Guide website)
---