GIGI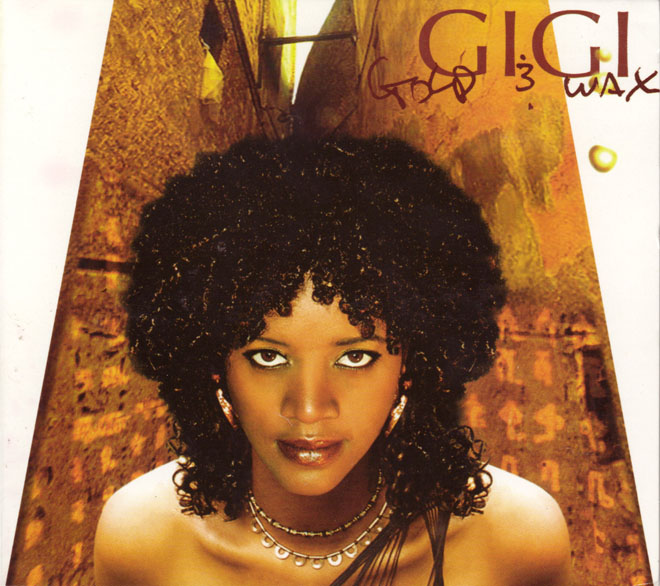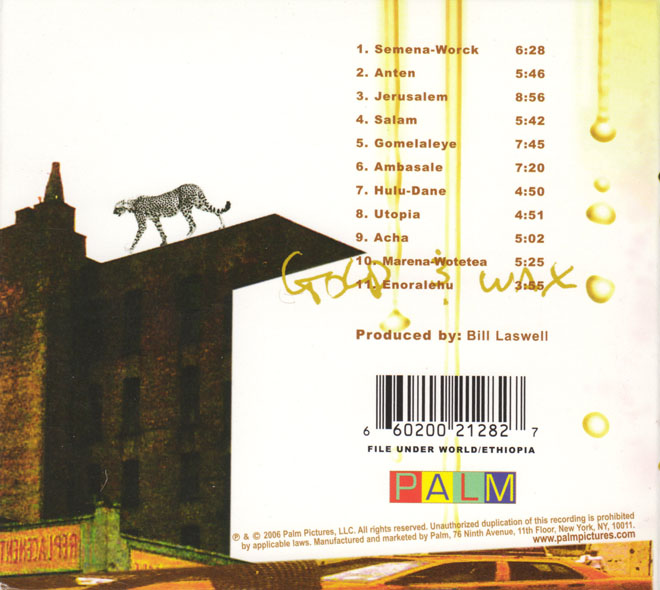 GOLD & WAX

  1/  Semena-Worck                               (Shibabaw)                    6.28
  2/  Anten                                      (Shibabaw)                    5.46
  3/  Jerusalem                                  (Shibabaw)                    8.56
  4/  Salam                                      (Shibabaw)                    5.42
  5/  Gomelaleye                                 (Shibabaw,Buckethead)         7.45
  6/  Ambasale                                   (Shibabaw)                    7.20
  7/  Hulu-Dane                                  (Shibabaw)                    4.50
  8/  Utopia                                     (Shibabaw)                    4.51
  9/  Acha                                       (Shibabaw)                    5.02
  10/ Marena-Wotetea                             (Shibabaw)                    5.25
  11/ Enoralehu                                  (Shibabaw)                    3.55

          Recorded at Orange Music Sound Studio, West Orange, New Jersey
          Additional recording at Kebena Studio, SPringfield, Virginia
          Engineered at Orange Music by Robert Musso
          Assistant: James Dellatacoma
          Engineer at Kebena: Abegasu Shiota
          Produced by Bill Laswell
          Additional Production by Abegasu Shiota
          Executive Producer: Chris Blackwell
          Artwork, Design, Photos: Petulia Mattioli
          Post-Production: Diego Corsi
          Cloud Chamber: John Brown
          East End Management: Tony Dimitriades
          Material Unlimited, France: Michael Lemesre
          Invasion: Steven Saporta
          Mastered by Michael Fossenkemper at Turtle Tone Studio, NYC
          Second: Alex Theoret

GiGi: vocals; Abegasu Shiota: electric piano, organ, synthesizer; Bernie Worrell: electric piano, organ, synthesizer; Nils Petter Molvaer: trumpet, electronics; Moges Habte: tenor saxophone; Assaye Habte: kirar, masinko; Buckethead: electric guitar; Bill Laswell: bass, guitar, synthesizer; electronic percussion; Robert Musso: acoustic guitar; Ustad Sultan Khan: sarangi, vocals; Karsh Kale: drums, tabla, electronic percussion; MIDIval Punditz: beat/sound constructionl; Serath "Skiz" Fernando : beat/sound construction; Foday Musa Suso: doussonnguni; Lili Haydn: violin; Aiyb Dieng: chatan, jembe, congas, bells; DXT: third stage Pro-Tools Navigator; Tigist Shibabaw: vocals; Teddy Shibabaw: vocals.

Horns arranged by Abegasu Shiota
Material Strings arranged and conducted by Karl Berger

          2006 - Palm Pictures (USA), PALMCD2128 (CD)



---



REVIEWS :
This cast wax technique leaves behind sculpted gold ;-)
Ever since I bought Gigi's first album in 2001 I've been hoping and praying for some new material. Well, this is worth the wait, and at least three listens before I go to bed tonight. Others have said the album covered familiar territory-- and in that sense they're right. They've also said the territory is good, so why not?-- right too!
This album is different too, though. It seems almost more upbeat and optimistic than the earlier GIGI album, yet there is a variety of sentiment as well.
Of the familiar territory-- I think Acha probably sounds the most like something I've heard on other Gigi albums. However, that being said-- its still lovely-- the high notes bubble into your ears like a gentle spring rain.
Of the new territory-- Gomelaleye. Gomelaleye might also be the standout song here on the first listen-- its haunting in a good way-- a woven combination of Gigi's masterful layered unfolding lyric story that builds over a driving backbeat that is pierced with sweet strings and cymbals. I think its the most complex piece I've heard from her yet.
The producers have probably smartly included a song here that is in English. Utopia will probably satisfy those Gigi followers who have been inarticulately humming her tunes with something they can follow more precisely. It might also provide her with something that can turn up more easily on the radio in the United States. It kind of reminds me of "I Will Follow" on Baaba Maal's Nomad Soul album.
I think Nomad Soul got Baaba Maal a bigger market. Hopefully this album will do the same for Gigi, her talent deserves that recognition, and the world needs to be reminded that there exists something exquisitely more sophisticated than the warblings of the next winning contestant on American Idol.
5 stars out of 5
Astrida Valigorsky (courtesy of the Amazon.com website)
..................................................
You wouldn't need me to tell you that of course if you were listening to the album as within seconds the heavy bass and dark production that is Laswell's trademark are evident. And he is not the only visitor on this album. Bernie Worrell, Ustad Sultan Khan, Nils Petter Molvaer and Karsh Kale join a varied cast of African musicians to create an album of unabashed fusion.
While other African artists have often been poorly served by these kinds of collaborations, for Ejigayehu 'Gigi' Shibabaw this is absolutely her world and she performs with absolute ease over a complex arrangement of shifting textures, beats and melodies. Her dusky vocals combine to create the kind of soundscape that would be just at home in a bar on a distant planet where alien scrap merchants blow their earnings on having a good time as a radioactive dust storm rages outside.
On 'Jerusalem' she creates a wistful anthem after the upbeat drum 'n' bass antics of 'Antem'. The strange thing about Gigi's work is that whatever she sings, you feel compelled to sing along — not withstanding the fact that you may not understand a single word she is saying.
With that in mind, there is one English-speaking track 'Utopia' — possibly the most treacherous trick to pull off on an album otherwise in a foreign language. If the subject matter of Utopia, children of the world and God sounds warning bells, you can relax, well at least you can after a few listens. This otherwise unpromising combination somehow gets under your skin, stripping you of your cynicism. Art is like that, invariably naïve but absolutely essential in a world of such appalling self-interest, which sees nations sacrificed to short term strategic interests or naked profiteering.
If you liked her debut, you will almost certainly love this one still more. If you like your Ethiopian sounds to be a bit more traditional, this is probably not for you but then again you might just find that nearly all the greats of Ethiopian music have been fusionists going back to the early years of Haile Selassie.
Damian Rafferty (courtesy of the Fly Global Music website)
..................................................
For someone whose career is still young, Ethiopian-born vocalist Gigi (née Ejigayehu Shibabaw) has a somewhat confusing discography. Her label, Palm Pictures, is billing this is as her second album. It's actually her third for Palm and her sixth overall. Her recording career really began in 1997, when she released both the studio album Tsehay and the disc that got her noticed, Éthiope/Chants d'Amour, a collection of traditional Ethiopian love songs recorded at a world culture festival in France and released in that country.
The following year, she moved to California and began carving out the foundation for her current style on One Ethiopia. Despite somewhat rinky-dink production values, the album evidenced her worldly travels as well as the already richly blended confluence of styles found in popular Ethiopian music for decades. Located on the Horn of Africa, the country is geographically at the brim of the Middle East, and the beguiling modulations of that region's music have seeped into the sounds produced by Ethiopian musicians, and by Gigi specifically. Also strongly present in the Ethiopian sound are jazz, R&B and funk. With over 20 volumes in the series, Buda's Ethiopiques collections are incredible and serve well to illustrate the undercurrent of Gigi's own sound.
One can almost forgive Palm for ignoring Gigi's career prior to her signing with them, for it was on 2001's Gigi that she really latched onto her own style. Or, perhaps more accurately, her own approach was then merged with the style of Bill Laswell, who has produced Laurie Anderson, Afrika Bambaataa, Iggy Pop, Herbie Hancock, Fela Kuti, and dozens of others, along with playing bass on countless other sessions and founding the band Material, an experimental dub-funk ensemble. His is not a hands-off approach, and all of Gigi's Palm releases are slickly produced world-music albums with elements of dub, house, and other modern textures.
One could also forgive Gigi's label for ignoring her second album with them, 2003's Illuminated Audio. This was clearly Laswell's project through and through [actually it was instigated by Chris Blackwell -- Dave]. Perhaps he didn't see his fingerprints clearly enough on Gigi, because its follow-up found him taking the original recordings and adding his own ambient dub flourishes, creating what are essentially completely new tracks for Illuminated Audio, a Gigi album by name only. Burying such a talented voice in echoes and synth washes was a foolhardy effort resulting in a mediocre release.
For Gigi's "long-awaited second album" Gold & Wax. Bill Laswell is back behind the glass and stirring the stew. Also on board is a stellar cast of supporting musicians, including keyboardist Bernie Worrell (a member of Parliament and Funkadelic, you've also seen him in the Talking Heads concert film Stop Making Sense), hip Norwegian jazz trumpeter Nils Petter Molvaer, and Indian-American percussionist/songwriter Karsh Kale. Given the daring nature of these musicians, Gold & Wax is a little disappointing, a little tame, a bit too rounded off at the edges.
Gigi is just into her early thirties, but her latest album feels tailored more to the Boomer crowd than to her cohorts. While the beats are reasonably contemporary, the skittery snare drum sound that seemed fresh in 1996 is now utterly safe 10 years on; likewise the long, stretching bass notes, and most definitely many of the ambient keyboard patches. Also, the record's Middle Eastern touches seem tacked on, rather than fundamental. Fortunately, Gigi's powerful, enchanting, and supple voice is able to cut through the arrangements often enough to make her album somewhat distinctive, but it still fails to rise above the vast middle ground.
Gigi is a very talented singer with a rich and restless musical background, but Gold & Wax suffers a little too often from stale and heavy-handed arrangements that squelch the prodigious talents of both her and her sidemen. The elements were all there, and my anticipation for this album was high. Ultimately, however, Gold & Wax is merely just fine.
5 out of 10
Michael Keefe (courtesy of the Pop Matters website)
..................................................
Poetic Perfection
Gigi's music is an authentic experience where the ancient and modern mingle in an intriguing soul infusion of rich rhythms and alluring and at times ethereal vocals. Gold and Wax is at times hypnotic, at times deeply sensuous and always captivating in its sophistication.
Gigi's voice melts into "Gomelaleye" as it merges with an electronic world. By the end of the song, you are heady from the sweet perfection of the warm soothing textures and Gigi's ecstatic vocals. In "Ambasale" she sings with such a clarity of vision that seems to float above the surging depths of an ever changing complexity. You can hear a world of cultural influences in her music, all while her voice remains firmly rooted in her heritage.
You honestly don't need to understand one word of Amharic to be completely entranced by each melodic rendition, although the layers of meaning may be hidden within the beauty. I love "Salam" and the images my mind forms as I imagine her singing this song out in an African night blissfully lost in her own ecstatic wild and sweet ziraleet.
Gold and Wax is an intriguing title because it takes much more heat to melt gold to purity than to melt pure wax. Gigi knows when to use her vocal strengths and when to soften the heat. She can whisper over a candle without melting the wax or take an ancient idea into her heart and melt it like gold to form contemporary beauty in "Utopia." This comforting song is filled with hope and draws on the idea of unity.
What comes across is a purity of sound that is exquisite especially when Ustad Sultan Khan plays the sarangi in "Hulu-Dane" where you have to take a deep breath, it is that beautiful.
After listening to this album for seven or eight times, new sounds emerge as if from an everchanging African sunset and merge with your mind and soul in the most intriguing of ways. At first the obvious appears and then the mysterious hidden element evolves and awakens and you are left with a sense of wonder.
As the wax melts away with the heat of the gold, Gigi's voice becomes the goldsmith creating precious treasures. She reveals the poetry of the Ethiopian heart and effortlessly mingles her voice with the musical artistry of Abegasu Shiota, Bernie Worrell, Nils Petter Molvaer, Moges Habte, Assaye Zegeye, Bill Laswell (electronic percussion), Robert Musso (acoustic guitar), Karsh Kale (drums), Aiyb Dieng, MIDIval Punditz and Lili Haydn (violin). Gigi's Gold and Wax is rare in beauty and an album you will want in your collection if you love world music.
5 out of 5 stars
Rebecca Johnson (courtesy of the Amazon.com website)
..................................................
It's been five years since Ejigayehu "Gigi" Shibabaw's self-titled debut, which brought a lot of deserved international recognition to the Ethiopian singer's ethereal, floating voice—not to mention the production values of her husband, Bill Laswell. In fact, Gigi's sound has become synonymous with Laswell's thick, rich production on subsequent releases as well, including the "reproduction and mix translation" of her debut on Illuminated Audio (Palm Pictures, 2003) and the collaborative "Ethiopian soul music" on Abyssinia Infinite's Zion Roots (Network, 2003).
If anything, Gold & Wax is true to the pattern, and that's a good thing, in a way. Gigi still carries the lilting melodies in characteristically understated fashion, shaping each phrase she delivers with an ear for the sound and flow of the greater whole. Her collaborators include a variety of globetrotting alternative music legends, like Norwegian trumpeter Nils Petter Molvaer and West African griot Foday Musa Suso, several of whom have been running with Laswell for quite some time. There's no way to know where each of Gigi's eighteen named collaborators actually perform. But in some sense that's a totally irrelevant question, since the overall sound is quite consistent and the individual voices comprise a nearly orchestral whole.
"Salam," which rides Bernie Worrell's organ foundation, harkens back to the "little big band" arrangements of funky Ethiopian pop groups from the '70s (some recently documented on Buda Musique's Ethiopiques series). As Gigi unwinds the thread of the melody, she pauses to trade off with brief horn fanfares. Her repeated chorus of "Salaam Alaikum" communicates peace and welcome. (Curiously, her passing mention of the late Ethiopian emperor Haile Selassie carries a double meaning relating to the Jamaican Rastafarian faith, which is dedicated to Selassie and was largely reponsible for the birth of reggae and dub styles. Laswell's heavy, low bass and detailed production persistently echo the deepest roots of dub.)
"Utopia," the only song with English lyrics, hints at the uplifting, celebratory messages in the rest of this music. Interestingly, its raw drum-n-bass foundation (as on "Anten" a few tracks earlier) manages to fit into an organic whole. The paced, nine-minute "Jerusalem" is a stew of fermenting sounds, some obviously electric and others acoustic, but quite pleasing overall.
Gold & Wax is an affable, friendly record which is easy to enjoy and detailed enough to reward repeated spins. It's no particular reinvention of the sound that Gigi has explored since she first appeared on record—and she needs to do that soon, lest she glue herself down in one spot. Maybe it's time for something new? Perhaps something not quite so, um, Laswellized? We'll see if Gigi can be bold enough to break her own mold.
Nils Jacobson (courtesy of the All About Jazz website)
---