UMAR BIN HASSAN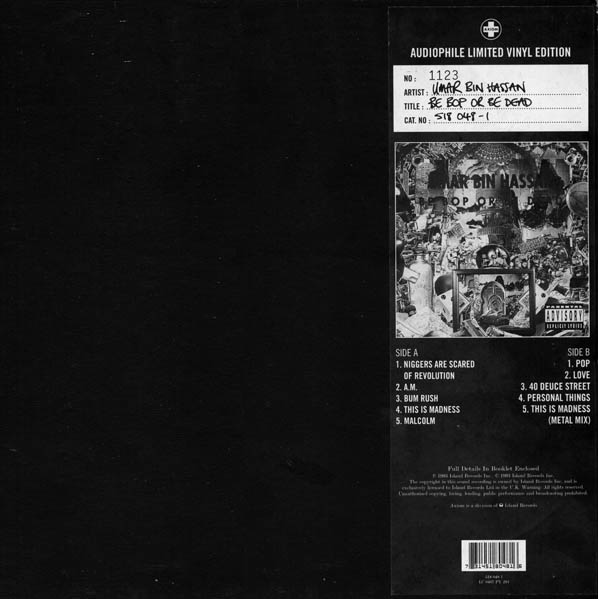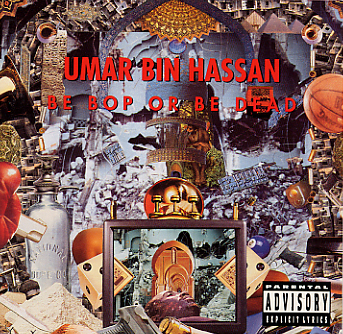 BE BOP OR BE DEAD

  1/  Niggers Are Scared of Revolution           (Hassan)                      5.23
  2/  Am                                         (Hassan)                      7.59
  3/  Bum Rush                                   (Hassan)                      5.29
  4/  This Is Madness                            (Hassan)                      5.27
  5/  Malcolm                                    (Hassan)                      6.23
  6/  Pop                                        (Hassan)                      4.41
  7/  Love                                       (Hassan)                      6.07
  8/  40 Duece Street                            (Hassan)                      3.48
  9/  Personal Things                            (Hassan)                      4.30
  10/ This Is Madness (Metal Mix)                (Hassan)                      5.33

          Recorded at Greenpoint Studio, Brooklyn, New York
          Engineering: Oz Fritz, Robert Musso and Bruce Calder
          Mixed at Greenpoint by Oz Fritz for High Velocity
          Assistant: Imad Mansour
          Produced by Bill Laswell
          Mastered at Masterdisk by Howie Weinberg
          Axiom: Peter Wetherbee

Umar Bin Hassan & Abiodun Oyewole: voices; Bernie Worrell & Amina Claudine Myers: Hammond B-3; Bootsy Collins: guitar; Bill Laswell: bass, beats; Foday Musa Suso: kora, dousongonni, percussion, voice; Buddy Miles: drums; Aiyb Dieng: chatan, percussion, congas; Guilherme Franco: congas, berimbau, percussion; Anton Fier: drum loops; ASANTE - Will, Warren, Pharoah & Andre: vocals.

          1993 - Axiom/Island (USA), PR12 6794-1 (Promo Vinyl)
          1993 - Axiom/Island (USA), 518 048-1 (Vinyl)
          1993 - Axiom/Island (USA), 518 048-2 (CD)
          2016 - Bill Laswell Bandcamp (digital only)

Note: The US vinyl is an Acappella version containing tracks 1-5, 8 and 9.



---



REVIEWS :
Distinctiveness: Yep.
Dopeness Rating: Phat man, phat, phat, phat. Phat+.
Rap Part: Hey, man, it's all about lyrics. Poetically Phat+. And that poetry reading style works. It ain't for everyone, I guess, but it works for me.
Sounds: That's Boosty on guitar, homey. What you think? Phat+.
Predictions: I'm not sure what there is to predict.
Rotation Weight: Long time, long time.
Message: If one is prone to understatement, one might just say "yes."

Tracks: 10 at 55:33
Label: Axiom
Producers: Bill Laswell
Profanity: Yeah, but it's all right.

Let me reiterate: I don't do non-HipHop reviews.

But, man, if The Last Poets aren't Hip Hop then what is? You tell me.

The Last Poets, of course, get much dap in the Hip Hop Nation as being in the forefront of Hip Hop (we're talking 1970, people), before it ever got its name. They were political, to say the very least, funky and had a vocal style that came off like a poetry reading.

I will defer to more knowledgeable sources for more info on the Last Poets. Professa Rap suggests the May 1992 issue of THE SOURCE for a good article on Gil Scott-Heron and the Last Poets, including "a good history of both, with a decent discography."

Speaking of Gil Scott-Heron, he remains probably the most well-known of the folks of that period. But, there was also Umar Bin Hassan (who used to call himself Omar ben Hassan, apparently). And it is he who has returned with Be Bop or Be Dead.

Now some of the tracks on this album are remakes, but the vocals have been re-cut. Umar is joined by Abiodun Oyewole, Bernie Worrell, Amina Claudine Myers, Bootsy Collins, Bill Laswell, Foday Musa Suso, Buddy Miles, Aiyb Dieng, Guilherme Franco, Anton Fier and Asante (Will, Warren, Pharoah, Andre).

So... let us begin.

We open with "Niggers Are Scared of Revolution."

                    "Niggers are scared of revolution
                     But niggers shouldn't be scared of revolution
                     Because revolution is nothing but change
                     And all niggers do is change"



This is, of course, a classic (copyright 1970, no less; man, I was--what?--one?). Umar's voice is strong and forceful throughout this five and a half minutes of non-stop lyrical pipe. The background music perfectly complements his style. Heavy drum-drum.

        "Niggers shoot guns and rifles on New Year's Eve
         A new year that is coming in
         Where White police will do more shooting at them
         Where are niggers when the revolution needs some shots?
         Yeah you know niggers are somewhere shooting the shit"



This is a very well written track and certainly among the best on the album.

                         "I love niggers
                          Because niggers are me
                          And I should only love that which is a part of me
                          I love to see niggers go through changes
                          Love to see niggers act
                          Love to see niggers make them plays
                          and shoot the shit
                          But there is one thing about niggers I do not love
                          Niggers are scared of revolution"



This track is probably worth the price of admission alone.

Luckily, we don't have to worry about it because "Am" follows immediately. What's interesting about these two tracks is that while one is from 1970 and the other from 1993 both speak with equal validity and forcefulness for either period.

                                        "Welcome!
                                         Welcome to the revolution
                                         where ex-CIA madmen go AWOL 
                                         in children's cartoons
                                         No deposit
                                         No return"

              "Bloated egos with small minds
               baptizing murder in the name of God
               and everything we hold sacred
               Mickey Mouse!  Donald Duck!
               Mickey Mouse!  Donald Duck!
               Forever let us hold our banners
               High!  High!  High!"



The music in "Am" does not create the same feeling of urgency as "Niggers Are Scared of Revolution." Instead it seems a bit sadder. Music written for a less urgent time, perhaps? Or just a sadder time?

                                "What happened to the rhythm?"

       "Somewhere I hear a revival
        Somewhere I hear Bop playing
        in the faces of old southern men
        full of northern pain"

                    "And I hear the voice of nature whisper
                     the victory is yours if you want it
                     The victory is yours if you want it"



Anyway, it's a damn good track. Eight minutes later, we move to "Bum Rush."

                            "The streets are calling
                             The streets are calling
                             There's always the street
                             From shoe shine boys to to big time
                             to trick or treat
                             Trapped in the silence of primal screams
                             abandoned buildings and part time dreams
                             The early signs became the later rage
                             The latest death at an early age
                             Young bold and unafraid
                             Number one tunes on the hit parade"



Umar is in top form on this track and so is the band behind him. More percussion, as in "Niggers Are Scared of Revolution," make this an exceptional piece.

                 "Uzis millimeters and Italian rags
                  Gucci watches and body bags
                  Designer jackets
                  Designer shoes
                  Old-fashioned bullets
                  with designer blues"



Damn.

Anyway, it all heats up again with "This Is Madness," another classic.

        "And I see Malcolm's spirit
         His eyes burning red black and green flames
         and crying tears of Thunderbird wine
         that seem to touch my lips
         and make me become thirsty for a taste of Freedom"



Again, the music lends a sense of urgency and a focused confusion to Umar Bin Hassan's words.

  "And my realities have turned into a stone figuration of Miss Liberty
   as she stands on the corners of the world selling herself
   to anyone with the head of George Washington on them
   And all the while he sits on a throne of eagle shit
   with DDT in one hand and a white tornado in the other
   wearing a crown of castrated Black dicks
   and reading the non-violent thoughts of Ghandi"



It becomes clearer why the latter day would-be inheritors of this style (from the Disposable Heroes of HipHoprisy to Professor X) fall short in one way or another (even when they're good). They lack the same urgency of voice because much of the urgency is in the cadence of the spoken words and the rhythms of energy in the music... both the vocalist's and the attending musicians'. There is an almost nervous energy here, but it maintains an odd feeling of promise quite unlike the cynicism of the 90s.

Anyway, "Malcolm" slows us down a little bit, but not much. This is an odd mixture what has come before with a subtle 1990s Hip Hop stylin'.

                              "They will respect my mother
                               They will remember my father
                               I have the flag... I have the flag...
                               It did not touch the ground"



But it works.

        "Trying to be taught what you already know"

                           "I love it so much I hate it
                            It scares me 
                            It fascinates me"

              "I love you brother
               I have always loved you
               I know that tune
               I grew up with that tune
               I love my people
               I love my people
               If they could just learn how to love themselves"



It works well, as a matter of fact.

"Pop," at four minutes and forty one seconds clocks in as one of the shortest tracks. It's also one of the only times that the msuic overpowers Umar.

                               "Brand new cars
                                Same old sleep
                                Brand new shoes
                                Same old creep
                                Brand new hello
                                Same old friend
                                Brand new goodbye
                                Same old end" 



I like the track, but it is a strange one. Again, there's that mixture of styles. It works, but it takes some getting used to.

The same is true of "Love," at least a little bit. The music doesn't jibe with Umar's style as well as the rest of the tracks do. It's quite disconcerting in a way, but then somehow it matches what I take as the disconcerting journey of the song.

                      "Hard laughter disguising softer fears"

         "One night I was truly seeking
          I was standing inside the rain
          As Love passed, it whispered
          'Time to leave the pain
          I'm here whenever you need me
          I am the beckoning call
          I can be your rise to glory
          or the madness before the fall'"



And, in fact, by the time the song ends, Umar's voice and the music seem in harmony again.

"40 Deuce Street" is the shortest track at 3:48. Nice muzak.

                  "40 Deuce Street is nothing new
                   It's always been there for me and you
                   For people who seek that fast road to glory
                   Who can open the book
                   but can't read the story"

                          "Premediated murderers of their own sanity"

                             "That is what I learned on 40 Deuce Street"



And this brings us to "Personal Things."

            "Time in becomes time out
             Group anxieties become personal doubt"



The music is especially good on this one. Makes you bop your head and rotate your shoulders, if you know what I mean.

    "Turned into robots through the power of suggestion
     We seek an answer and become the question
     Afraid we might die before we live
     Blessed with life but then afraid to give
     We want to be amorous, glamorous and larger than life
     Our cheap illusions become high priced strife
     Losing ourselves in times of despair
     Become self-defeatists of unusual flair"



It's a nice way to end the new stuff on the album.

                  "We confuse the normal and exhort the extreme
                   We make war reality and make peace a dream"



Damn good track.

And so it ends. The final track is "This Is Madness (Metal Mix)." It doesn't matter, it's still good, but I do prefer the interpretation of track #4.

Bottom line? This is the album to get. If you were like me, curious about the Last Poets, but unsure about what to do about it, pick this up. It's a good place to start.

And if you weren't curious, then buy it anyway. Break open the piggy bank and go pick up Me'Shell NdegeOcello's Plantation Lullabies and Umar Bin Hassan's Be Bop or Be Dead. Look for the first under "N" and the latter either under "H" or see if you find it where I did: under "L" for Last Poets.

Just about each track is a masterpiece of poetry and music. And the album gets better the more and more you listen to it. You've slept on 'em for too long already. It's time to wake up.

But that's just one Black man's opinion--what's yours?

Charles L Isbell, Jr. (courtesy of The Homeboy From Hell website)
---