HERBIE HANCOCK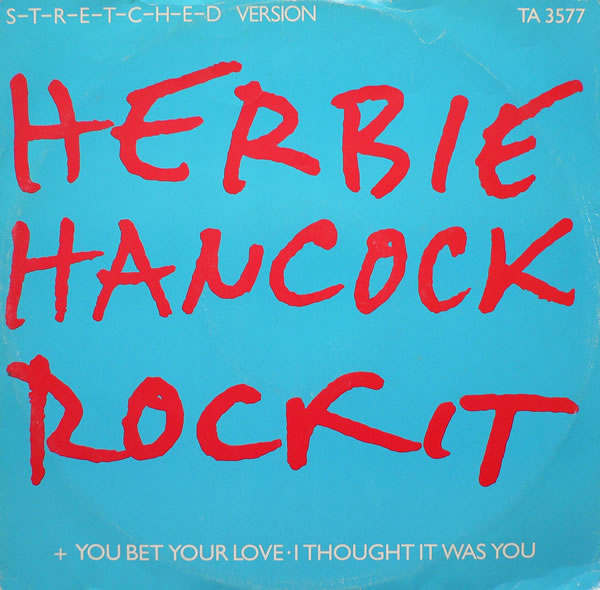 ROCKIT (S-T-R-E-T-C-H-E-D VERSION) (12")

  1/  Rockit (Long Version)                      (Hancock,Laswell,Beinhorn)
  2/  You Bet Your Love                          (Hancock,Rubinson,Willis,Cohen)
  3/  I Thought It Was You                       (Hancock,Cohen,Ragin)

          Basic tracks on track 1 recorded at OAO Studios, Brooklyn, N.Y.
          New York overdubs on track 1 recorded at RPM Studios, N.Y.C.
          Keyboard overdubs and additional recording on track 1 at Garage Sale
            Recording, Los Angeles, CA
          Tracks 2 and 3 recorded at THE AUTOMAT, San Francisco, CA
          Brass on track 3 recorded at The Village Recorder, Los Angeles
          Additional synthesizers on track 3 recorded at Different Fur Trading Co.,
            San Francisco
          Track 1 produced by Material and Herbie Hancock
          Associate Producer on track 1: Tony Meilandt
          Track 2 and 3 produced by David Rubinson & Friends Inc. and Herbie Hancock
          Associate Producer on track 2: Jeffrey Cohen

(1) Herbie Hancock: Fairlight CMI, Rhodes Chroma, Sennheiser Vocoder, clavitar, Dr. Click Rhythm Controller, E-mu 4060 digital keyboard, mini-moog; Bill Laswell: bass; Michael Beinhorn: DMX, synare, mini-moog programming; Grand Mixer D.ST.: turntables; Daniel Ponce: bata; (2) Herbie Hancock: lead and background vocals, Sennheiser Vocoder VSM 201, all keyboards; James Gadson: drums; Eddie Watkins: bass; Ray Obiedo: guitar; Bill Summers: percussion; Julia Tillman Waters, Maxine Willard Waters, Oren Waters & Luther Waters: background vocals; (3) Herbie Hancock: Oberheim Polyphonic synthesizer, Obie I, Yamaha CP-30, Hohner D6 clavinet, ARP 2600, Mini-Moog, ARP String Ensemble, Yamaha Polyphonic synthesizer and Sequential Circuits Prophet synthesizer, ARP Odyssey, Poly-Moog, Micro-Moog, acoustic piano, E Mu Polyphonic synthesizer, Rhodes electric piano, all vocals and background vocals, Sennheiser Vocoder VSM 201; Wah Wah Watson & Ray Parker, Jr.: guitars; Byron Miller: electric bass; Leon "Ndugu" Chancler : drums; Raul Rekow : congas; Terry Adams, Nathan Rubin, Lawrence Granger, Roy Malan, Linda Wood & Emily Van Valkenburgh: strings; Garnett Brown, Bobby Shew, Robert O. Bryant, Sr. & Maurice Spears: brass; Fred Jackson, Jr., Ernest J. Watts, David Willard Riddles & Jack Nimitz: woodwinds.

String, brass and woodwind arrangements by Herbie Hancock.

          1983 - CBS Records (UK),  TA 3577 (12")
          1983 - CBS (USA), CBS 25540 (12")

Note: This was an advance single from 'Future Shock'.



---



REVIEWS :
This 12" single was released in 1983 as an advance single for Herbie's album Future Shock, presenting its hit "Rockit." Even though the cover says that the track is featured in a "stretched version" (on the disc label, it's called the "long version"), this simply refers to the fact that there's also a three-minute edit of this track available. The version included here is exactly the album version of this Grammy-winning song which propelled Hancock onto the charts, made Bill Laswell an "in" producer, became the unofficial anthem of the breakdance craze, and presented the turntable as a solo instrument for the very first time. Not to mention that the accompanying video is justly considered a classic. The two tracks on the B-side are taken from Hancock's disco era: "You Bet Your Love" (from Feets Don't Fail Me Now, 1979) and "I Thought It Was You" (from Sunlight, 1978), an earlier hit. While the merits of Hancock's disco recordings are rather controversial, there's a lot to be said in favor of them — tight grooves, pioneering use of the Sennheiser Vocoder, and (on the second track) kicking horn arrangements can be witnessed here. Still, both of these tracks are the album versions too, which means that there's no real need to hunt this 12" single down.

4 1/2 stars out of 5

Chris Genzel courtesy of the All Music Guide website
---