TOSHINORI KONDO/BILL LASWELL/DALAI LAMA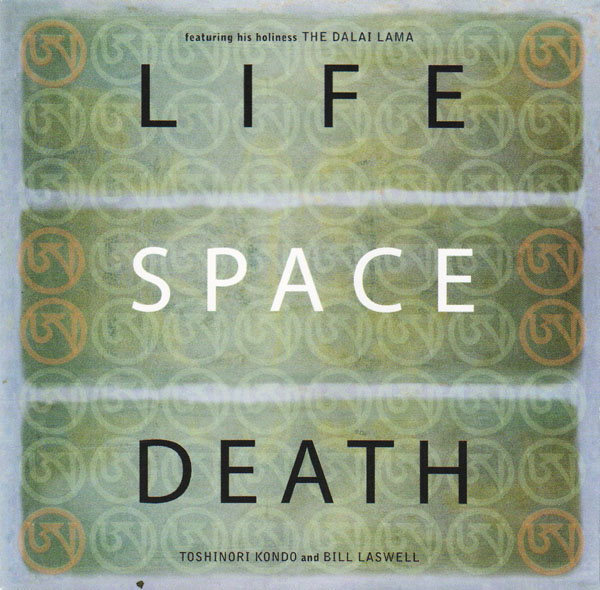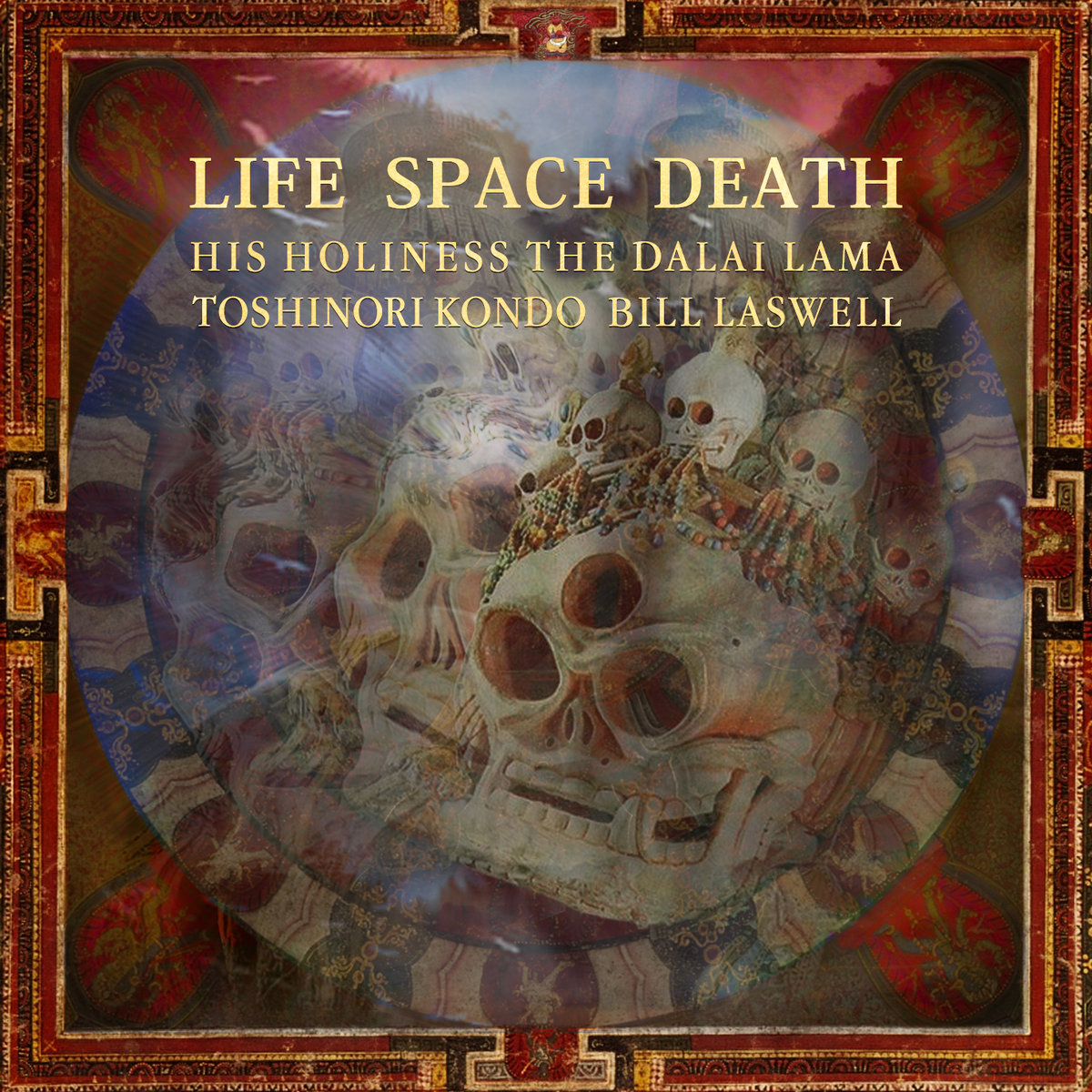 LIFE, SPACE, DEATH

  1/  Life                                       (Dalai Lama,Kondo,Laswell)    7.48
  2/  Space                                      (Dalai Lama,Kondo,Laswell)    6.33
  3/  Death                                      (Dalai Lama,Kondo,Laswell)    7.40
  4/  Mun Pa                                     (Laswell,Bernocchi,Kalimpong) 3.55

          Created at Orange Music, West Orange, New Jersey
          Engineered by Robert Musso
          His Holiness The Dalai Lama was interviewed by Toshinori Kondo in
            Bangalore, India
          Track 4 recorded live at Regio Theatre, Yourin, Italy
          Produced by Bill Laswell
          Track 4 concept: Eraldo Bernocchi and Petulia Mattioli
          Material Inc: John Brown
          Meta Production: Janet Rienstra
          Artwork for Bandcamp re-release by Yoko Yamabe @ Randesign
          Mastered by Michael Fossenkemper at Turtle Tone Studio, New York City

(1,2,3) His Holiness The Dalai Lama 14th: voice; Toshinori kondo: trumpet, electronics; Bill Laswell: bass, guitar, keyboards; (4) 7 Tibetan Monks (Kalimpong Monastery): horns, bells, vocals, drums; Bill Laswell: bass; Eraldo Bernocchi: guitars, electronics.

          2000 - ??? (Japan) (Mini-disk)
          2001 - Meta Records (USA), MT011 (CD)
          2016 - Bill Laswell Bandcamp (digital)

Note: This was released as a limited mini-disk in Japan for a limited time and contained only the first three tracks.



---



REVIEWS :
I am often telling my artist friends," writes the Dalai Lama, "that through my lectures I may reach a few thousand or maximum a hundred thousand people. But artists through music, painting or sculpture whether it is a constructive message or a destructive message can reach millions. Therefore artists can promote peace, love, compassion and harmony..."

Which thus explains why His Holiness chose to lend his voice to this decidedly constructive project navigated by Toshinori Kondo and Bill Laswell in what, on paper at least, looks like one of the unlikeliest releases of the millennium so far.

The three eponymous expositions by the Dalai Lama are rendered in short snippets among Kondo's emotive trumpet and Bill loping bass'n'beat loops. Kondo taped the interviews in Bangalore, India, in a manner that brings out the sonority and sheer humanity of this wise and gentle man's speech. Only thirty-five minutes, but thirty-five richly rewarding ones, and not just philosophically.

Somehow the texts merge harmoniously with Kondo's trumpet, whether electronically tweaked or full and bell-like, while Laswell makes the space surrounding them expand and pulsate, once even to a subtle reggae beat.

After sharing a good laugh at the end of the third track, neither Kondo nor the Dalai Lama appear on the fourth, which may or may not be called "Music". Instead, 'Charged' collaborator Eraldo Bernocchi takes over on guitars and electronics, overseeing a long, translucent ambient denouement featuring Laswell and "seven Tibetan monks" on bells, horns, vocals and drums.

What might have resulted in a mere curio in less capable hands is instead the best spoken-word album since Laswell's collaboration with William Burroughs, 'Seven Souls'.

Stephen Fruitman

..................................................

This collaboration between trumpeter Toshinori Kondo and bassist/producer Bill Laswell is an interesting fusion of the spiritual and the musical that ends up being more interesting musically than spiritually. The first three of its four long and untitled tracks consist of rich ambient atmospheres created by Laswell and Kondo, into which are woven recorded excerpts of speeches by the Dalai Lama on the subjects of life, space, and death. The "Life" and "Death" tracks both feature Laswell's typically melodic and funky basslines bumping along under Kondo's sometimes-heavily treated trumpet lines; the "Space" track is arrhythmic but no less lovely. The problem with these three tracks is not the music, but the spoken-word content, which tends toward inarguable banalities like "Time is always moving" and "As human beings, this planet is our only home." Surely the recorded archives of the Dalai Lama could have yielded more enlightening tidbits than these. The album's final and longest track consists of 14 minutes of instrumental ambience so gauzily insubstantial as to be almost inaudible. Not bad stuff, but hardly essential.

4 out of 5 stars

Rick Anderson (courtesy of the All Music Guide website)
---