LOUD APT.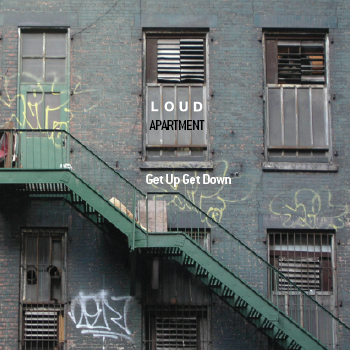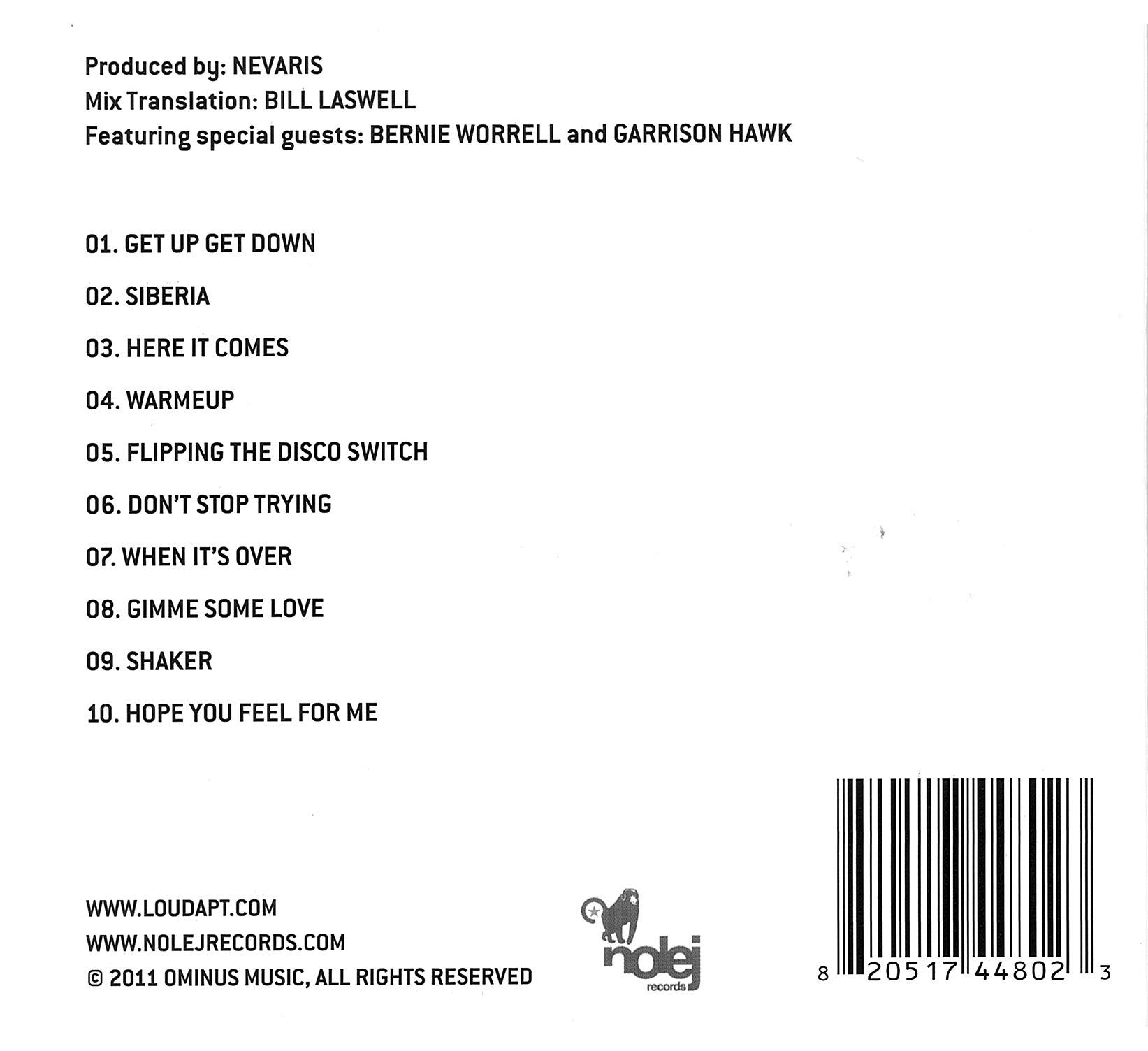 GET UP GET DOWN

  1/  Get Up Get Down                            (Nevaris)                     3.41
  2/  Siberia                                    (Nevaris)                     4.51
  3/  Here It Comes                              (Nevaris,Bromfield)           3.52
  4/  Warmup                                     (Nevaris)                     3.12
  5/  Flipping the Disco Switch                  (Nevaris)                     4.02
  6/  Don't Stop Trying                          (Nevaris)                     4.01
  7/  When It's Over                             (Nevaris)                     4.52
  8/  Gimme Some Love                            (Nevaris)                     3.08
  9/  Shaker                                     (Nevaris)                     4.32
  10/ Hope You Feel For Me                       (Nevaris)                     4.21

          Live studio recordings at The Cutting Room, Shelter Island Studios and
            Nolej Studios
          Bernie Worrell recorded at Orange Music, New Jersey
          Engineer: Robert Fillmore
          Engineer at Orange: Rober Musso
          Assistant at Orange: James Dellatacoma
          Pro Tools editing and overdubs: Nevaris
          Mix Translation: Bill Laswell
          Produced by Nevaris
          Mastered by Michael Fossenkemper

Nevaris: lead vocals, keyboards (2,3,5,7-10); Garrison Hawk: vocals (3); Bernie Worrell: keyboards (1,4,6); Kenny Grohowski: drums; Angel Rodriguez: percussion; Myles Bigelow: percussion (3,9); Jim Robertson: bass (1,2,4-7,10); John McFaul: bass (3,8,9); Matt Dickey: guitar (1); Al Street: guitar (1,4,5,6); Sergio Ortega: guitar (2,3,7-10); Shane verdi: guitar (3); Sita Frederick: background vocals (2,3,5,6,7,8); Ali Slous: background vocals (2,5,7); Sean Schulich: flute (3,5); Joe Beaty: trombone (5,6); John Beaty: saxophone (5,6); Eddie Venegas: violin (7); Prompt Strong: drum programming (2).

All songs arranged by Nevaris.

          2011 - Nolej Records (USA), ???? (CD)

Note: Bill Laswell does not play on this album.
Note: This is available on CD through Other Music and digitally through Bandcamp.



---



REVIEWS :
Ever since I first saw Loud Apt. grace the stage of Public Assembly in Williamsburg, Brooklyn, in 2008, I've been in love with their sound. It's a wonderful amalgam of funk, soul, groove, disco and swagger that always keeps my toes tapping, my head bopping and my soul filled with joy. And no matter where I might be listening to their tunes, I always feel as though I've been transported to New York City. There's just something about Loud Apt.'s sound that seems to evoke the vibrant landscape of the city that never sleeps.

Their latest record, Get Up Get Down, is a collection of tracks that works as the the upbeat soundtrack to the bustling lifestyle of the Big Apple. Throw your headphones on and walk around the hip streets of Brooklyn, the restaurant-lined avenues of Hell's Kitchen, the frenetic chaos of Times Square, the neighborhoods of Washington Heights or along the Highline — Loud Apt.'s music is made for urban exploration. And even if you're not in these areas, the music will paint you a vivid picture of the city with beach bass slap, guitar riff and drum beat, and that's even if you're driving through the rolling hills of Pennsylvania or the sleepy winter beachfront of New Jersey.

For those who've been following Loud Apt. for as long as I have, you'll notice that a number of cuts on Get Up Get Down are songs that the band has performed live for a number of years. So, the inclusion of tracks like "Siberia," "Shaker," "Flippin' The Disco Switch" and "Come With Me" are a welcome aural experience — these songs are long time staples of the band for a reason.

The album also includes newer tracks like "Don't Stop Trying" and "When It's Over" — both supercool additions to LA's catalog. "When It's Over" is especially interesting since it eschews from lead singer Nevaris' normal funk 'n' swagger vocals and evokes more an ethereal, free spirit, almost psychedelic style. It's a bold choice to include such a vocally disparate song on the album — a choice that you've got to both respect and appreciate.

Other stand out tracks on the album includes the title tracK, which is just a majestically funky track that gets your body moving. There's a brilliant musical climax in the song where a distorted organ and guitar come together competing for all the passion and energy in your being.

Personally, one of my all-time favorite Loud Apt. tracks is "Hope You Feel For Me." This is a pure party anthem, perfect for that hip NYC roof party. It's such an alive, fun anthem that you'd have to be the biggest bummer in the world not to want to get out there and dance.

Get Up Get Down is an album of music that captures the life, energy and excitement of New York City. It's the type of music that lift you out of the doldrums and make you remember how much fun music can be.

Bill Bodkin (courtesy of the pop-break.com website)
---