MUTINY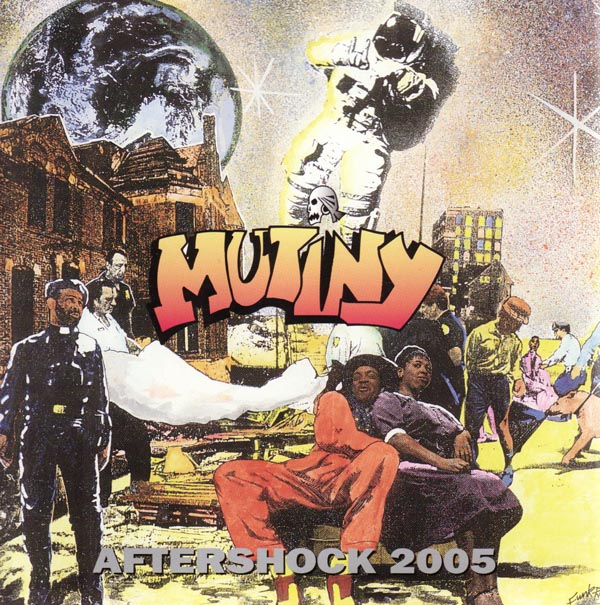 AFTERSHOCK 2005

  1/  The Growl                                  (Brailey,Nelson)              5.10
  2/  It's All Good                              (Brailey,Holmes,Forde)        5.20
  3/  No Choice                                  (Brailey,Velazquez)           4.25
  4/  Passion                                    (Brailey,Forde,Jones)         5.12
  5/  Tickin' Like a Time Bomb                   (Brailey,Ross,Velazquez)      4.47
  6/  Rock the Boat                              (Brailey,Champion)            2.51
  7/  2005                                       (Brailey,Forde,Holmes)        5.51
  8/  Desires                                    (Brailey)                     5.23
  9/  Moments                                    (Brailey,Day,Forde)           2.52
  10/ The Growl (Revamp)                         (Brailey,Nelson)              1.56

          Mixed and mastered at Greenpoint Studio, Brooklyn, New York
          Engineering and production: Robert Musso
          Engineering assistance and editing: Layng Martine
          Conceived and Constructed by Jerome "Bigfoot" Brailey
          Executive Production and Psycho Analysis: Bill Laswell
          Material, Inc.: Tracy McKnight
          Mutiny Maintenance: Bill Murphy

Jerome "Bigfoot" Brailey (except 9): drums; Kevon Wilkins, Skitch Lovette, Chris Beasley, Michael Hampton, Wilbur Harris and Jim Prideaux: guitars; DXT (1,3,7,10): turntables, sounds; Linn Washington (1,10): bass; Juan Nelson (1,4): keyboards; Nicky Skopelitis (2): guitar solo; Jeff "Cherokee" Dunn (2,4,7): bass; Bernie Worrell (3,4): keyboards; Alan "Quick" Flowers (6,8): bass; J Romeo and D-Tech (3,5): instruments; B.C. Seville and J Romeo (6): samples; Craig Day (9): keyboards; Fashe Forde (2,4,7,9): vocals; Kevan Wilkins (2): background vocals; Clarence Allen and John Burnett (3): vocals; Derrick Ross (3,5): vocals; Sean Salley (5): vocals; Brian Champion (6): vocals; J Romeo and Wilbur Harris (8): vocals.

          1995 - Black Arc/Rykodisc (USA), RCD 10334 (CD)

Note: Bill Laswell does not play on this album.



---



REVIEWS :
Carrying on with the Bill Laswell theme, (although in a minor way here), Jerome "Bigfoot" Brailey is the one time drummer with P-Funk, aswell as found on other projects by Bill Laswell, Lucky Peterson, Jah Wobble, Pharaoh Sanders James Blood Ulmer & even Snoop Dog; just to mention a few. He also wrote the 1976 legendary track 'Tear the roof off the sucker' (Mothership Connection).

Funk rock with a rock/pseudo metal feel this is an ok effort, but for those into this kind of funk rock/crossover should look more closely at the Laswell produced O. G. Funk posted a few months ago, which I believe is a far more solid effort.

Bill Laswell is credited here as 'executive producer & psycho analysis', Robert Musso, (who should never be overlooked), typically as engineer & also production, whilst Nicky Skopelitis Can be heard on guitar (trk 2). Desires (trk 8) is notably inspired by Eddie Hazel. Vocal duties are shared around, but more often left in the hands of Fashe Forde. I can't really fault the drumming of "Bigfoot", but maybe his songwriting talents aren't quite up there with his drumming skill. Just out of interest Jerome "Bigfoot" Brailey was inducted into the rock & roll Hall of Fame in the late 90's.

courtesy of the Moog Power blog

..................................................

Jerome "Bigfoot" Brailey's comeback project is something of a disappointment. Brailey is a disaffected Parliament/Funkadelic alumnus, and living proof that you can leave P-Funk but you can't leave it alone; Brailey's band stands solidly on the foundation that George Clinton built. That's not a criticism, by any means, just an observation — after all, what funkster doesn't stand on that same foundation? But no matter how impeccable his pedigree, Brailey's work on this album is definitely hit-and-miss. Hits include the album's opening track, an instrumental funk workout called "The Growl" that features brain-searing turntable work by DXT, and the relentless "No Choice," which kicks serious groovacious booty but features obnoxious and stupid gangbanger lyrics. (Lyrics are consistently weak on this album — "Passion is the stuff that dreams are made of," he informs us on one track. "If you want it bad enough/You just have to get real tough.") Misses include the relentlessly pedestrian "It's All Good" and the portentous but threadbare apocalypse of the title track ("Will we be alive/In 2005?"). Overall, this album is good for three or four solid entries on a party tape, but that's about it.

Rick Anderson (courtesy of the All About Jazz website)
---