METHOD OF DEFIANCE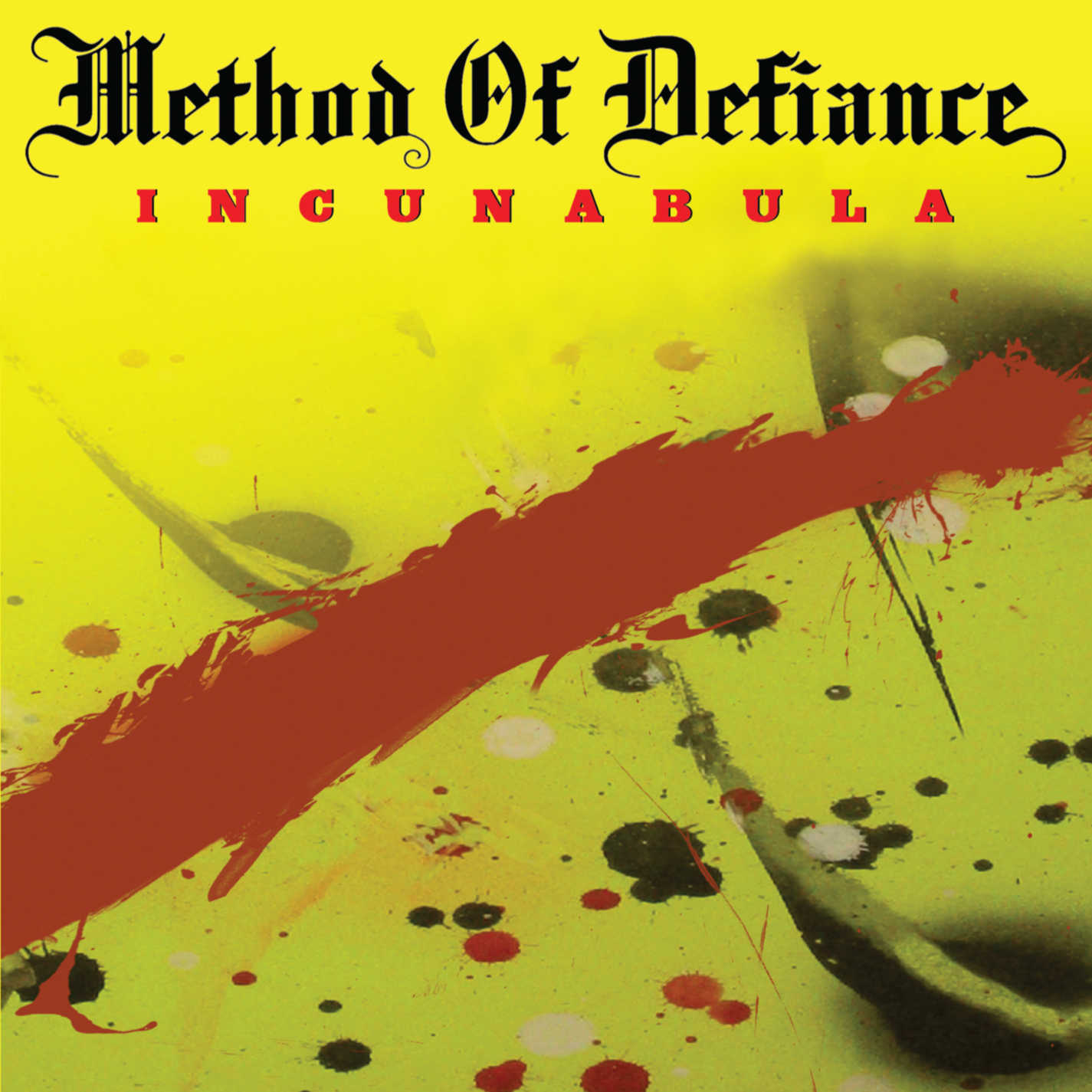 INCUNABULA

  1/  Code Woo - Condensed Fiction/              (Worrell/Kirk)                3.55
                 Volunteer Slavery
  2/  Anachronizer (Asteroid B449)               (BL,Krush,Kondo,BW,Licata)    10.43
  3/  Quantum Echo (Sub/Conscious)               (Laswell,Worrell,Licata)      5.23
  4/  Umi No Soko                                (Laswell,Kondo)               8.29
  5/  Codeplan Armoured (Simulation Assassin)    (BL,Krush,Worrell,Licata)     8.05
  6/  Shadows of Woo (Re-Entering)               (Worrell)                     3.33

          Recorded and mixed at Orange Music, West Orange, New Jersey
          Engineer: Robert Musso
          Second: James Dellatacoma
          Produced by Method of Defiance
          Executive Producer: Giacomo Bruzzo
          Package Design by John Brown @ Cloud Chamber
          M.O.D. Technologies: John Brown 
          M.O.D. Japan: Yoko Yamabe
          M.O.D. Technical Support: Dave Pak at Play X Play
          M.O.D. Digital Support: Dave Brunelle (Silently Watching)
          Mastered by Michael Fossenkemper at Turtle Tone Studios, New York

Bill Laswell: bass, efx; Bernie Worrell: keyboards; Guy Licata: drums, percussion; Toshinori Kondo: electric trumpet; DJ Krush: turntables; Dr. Israel: dub efx; Herbie Hancock (2): electric piano.

          2010 - M.O.D. Technologies, MD0003 (USA) (CD)



---



REVIEWS :
Bill Laswell...his Methods are Defiant...
Though this cd is allegedly an instrumental remix of Method of Defiance's 'Jahbulon', it has about as much similarity as a missionary does to the missionary position. And, for me, that's a great thing, 'cause this is some of what Bill Laswell does best - produce, remix and reconstruct tracks to create entirely new compositions, textures and moods. And, for fans, it does not disappoint.
Whereas 'Jahbulon' is pretty much a traditional reggae album in every sense of the word (read my review), 'Incunabula' is an otherworldly vision of varied styles that Laswell and cohorts have explored before, many times in fact, but continue to mine gold and diamonds from and keep listeners alternately on edge or lulled into meditative states that never border on sleep. Bernie Worrell's organ introduces us to the first track before giving way to 'Anachronizer (Asteroid B449)', a dark and dangerous foray into the hyperkinetic black hole of Drum n Bass terrain similar to the best tracks on the first two M.O.D. releases, 'The Only Way To Go Is Down' and 'Inamorata' (read my review). Herbie Hancock provides a blistering Fender Rhodes solo, fueled by Guy Licata's demanding and challenging live drums and programs that's certainly not for the faint of heart. Toshinori Kondo's muted Miles' style of ethereally haunting trumpet is gorgeous and wraithlike, DJ Krush adds a great breakdown with turntable solo and effects, and as the track progresses, there's an amazing duel solo between Herbie's piano and Guy's drums that's reminiscent of the legendary exchanges between Herbie and the incomparable Tony Williams (RIP). The cd pays for itself right there, IMHO. A tremendous and thunderous outing by all involved.
Most of the remainder of the cd is of the techno-ambient / illbient space-dub soundscapes we've heard before in various incarnations, yet never gets old for me. Laswell always finds a way to keep things interesting in this realm, and it's made more enjoyable thanks to Dr Israel's dub EFX and Kondo's unearthly trumpet cries. And Bill's bass is darkly dub, buoyant yet bottomless, dreamy and soul-infesting. Ladies and gentlemen, we have a winner here... Method of Defiance is back.
5 stars out of 5
Anthony C. Rubbo (courtesy of the Amazon.com website)
..................................................
Method of Defiance (MOD) is one of bassist/producer/conceptualist Bill Laswell's most recent – and perhaps most significant – musical projects. Apparently Method of Defiance is a "musical, sonic, aesthetic, mind and body experience, at once structured, spontaneous, precise, random, brash, beautiful and above all unforgivable."
This could be Bill Laswell's entire musical aesthetic: a no-bounds, no-holds barred assault that – like the best in jazz (electric and otherwise) – goes where his heart and spirit take us. Sometimes it falls within some sort of genre classification. But if it does, it sure doesn't stay there long. Sometimes there's a melody. Sometimes there's a groove. But life isn't always melodious and it isn't always groovy. Neither is Bill Laswell's music.
MOD is structured to be a conspiracy, an antidote to the "business of music" that locates trends and manufactures the most lucrative product. It's crafted to be malleable and never easily pegged as one thing or another, at least not for long. The obvious reference point is the dub music that Laswell has long expressed a fondness (and a signature) for. But there's enough jazz, funk, rock, avant garde and any number of other easily marked genres to keep listeners alert and occupied.
Method of Defiance is a Bill Laswell collective that started with Inamorata (OHM Resistance, 2007) **(editors note - the first MOD release was called The Only Way to Go Is Down on Sublight Records - Silent Dave)**, a Laswell concept that teamed such drum n bass superstars as Submerged, Paradox, Fanu and Evil Intent with jazzers John Zorn, Byard Lancaster, Craig Taborn, Dave Liebman, Pete Cosey, Graham Haynes and Nils Petter Molvaer.
By the time of MOD's next disc, the little-known Nihon (RareNoise, 2009), Laswell solidified the concept into a group project featuring himself on bass, former P-Funk man Bernie Worrell on keyboards, the remarkably interesting Toshinori Kondo on electric trumpet, Guy Licata on drums and Doctor Israel on vocals, electronics and dub.
While Worrell and Kondo had appeared on the earlier Inamorata, MOD seemed to be a solidified version of Laswell's inspired Tokyo Rotation, also occasionally featuring Kondo, and a grouping (in its many forms) that – at least as far as I am aware – has not yet recorded as Tokyo Rotation (though plenty of videos of the group in performance can be seen on YouTube).
In October 2010, MOD issued Jahbulon, the first recording on Laswell's recently launched MOD Technologies label. The album consists of ten tracks, led by vocalists Dr. Israel and Hawkman, combining Laswell's trademark penchant mix of rock, dub, reggae and electronica. A month later, MOD Technologies issued Incunabula, said to be an instrumental version of Jahbulon, but really an album unto itself and far superior to its more-strongly oriented dub brother.
Amazingly, Incunabula reunites the MOD of Nihon, enhanced only by adding the turntables of DJ Krush, and comes up with something just as good, if not better (Nihon featured a seven-song studio set enhanced by an even better live performance of the group on DVD).
Opening with Bernie Worrell's "Code Woo – Condensed Fiction/Volunteered Slavery," a solo piece for organ and electronic keyboard effects, there is a strong sense of the way Elton John began his epic Goodbye Yellow Brick Road with the powerful opus "Funeral for a Friend." It's a magnificent way to announce what's to come.
(As an aside, "woo," which is enticing someone to get what you want, has long been a Worrell theme, developed on his first album, the 1978 P-Funk production All The Woo in the World, and even used as part of Worrell's "Woo Warriors" touring band. Also, Rahsaan Roland Kirk's uncredited "Volunteered Slavery" dates back to Worrell's 1990 Funk of Ages album, coincidentally produced by Bill Laswell, and can also be heard briefly on Nihon.)
What comes next is the explosive and decadently hard-edged "Anachronizer (Asteroid B449)," a rip roaring, kick-ass jam credited to Laswell, Kondo and Worell. Seemingly an updated variant of the Miles Davis/Joe Zawinul classic "Great Expectations," "Anachronizer (Asteroid B449)" finds this group at its best with each of the players providing worthy electric and fetchingly electrified commentary.
A pleasant surprise on this track (only) is hearing the gorgeous electric piano improvisations of Herbie Hancock, who with Chick Corea was one of the two electric pianists on the original 1969 recording of "Great Expectations" (issued on the Miles Davis album Big Fun and included as part of The Complete Bitches Brew Sessions).
Herbie Hancock, of course, also crafted the 1983 hit "Rockit" with Bill Laswell's assistance and Laswell went on to oversee many of Hancock's records (Future Shock, Sound-System, Village Life, Perfect Machine and Future 2 Future), feature Hancock on productions for Manu Dibango, Sly & Robbie, Mick Jagger and Mandingo and even spotlight the pianist on Last Exit's The Noise of Trouble ("Blind Willie") and MOD's Inamorata ("Panepha"). "Quantum Echo" returns MOD to its dub heritage with a strong lead right out of an Ennio Morricone western and a fairly intoxicating trumpet solo from Kondo that again suggests Morricone's plaintive trumpet work on Un uomo da rispettare (1972) and even Frantic (1988). "Codeplan Armoured (Stimulation Assassination)" isn't terribly dissimilar, funking up what sounds like an outtake from a dub remix of a Morricone theme. But MOD give a weighty significance to the music with some inspired and interesting interplay, proving these guys are a good working unit – not just some cover band or a bunch of guys that exploit other people's talents to cover a lack of their own.
"Umi No Soko" is a quiet reminisce of Miles Davis and Gil Evans' 1960 classic Sketches on Spain imaginatively reimagined, not entirely unlike Miles Davis and Marcus Miller's 1987 soundtrack to Siesta. The moody instrumentation here even closely resembles Siesta. But it should be said that Kondo, Laswell and Worrell bring something to this re-envisioning that make it worthwhile and, perhaps, even more of a notable contender for a sketch on Sketches than Davis himself provided on his own Siesta.
Bernie Worrell's closing "Shadows of Woo (Re-Entering)" features the keyboardist alone again, naturally, on electric piano providing a surprisingly sweet melody that is as soulful as it is bluesy, but ends just as it seems to turn into something for the band to do something with. And surely at 40 minutes, Incunabula seems to end far sooner than a typical CD today would. It certainly finishes well before any listener would think this band had said everything it had to say.
It's a little uneven, suggesting whole separate discs of "Anachronizer" styled jams, another of "Quantum Echo" or "Codeplan Armoured" dub and another of "Umi No Soko" jazz. And it's surprisingly short for a band with such talent and great ideas. But Incunabula is certainly worth tracking down, even if it feels like it's just not enough of any one thing.
Douglas Payne (courtesy of the Sound Insights blog)
---