RUSSELL MILLS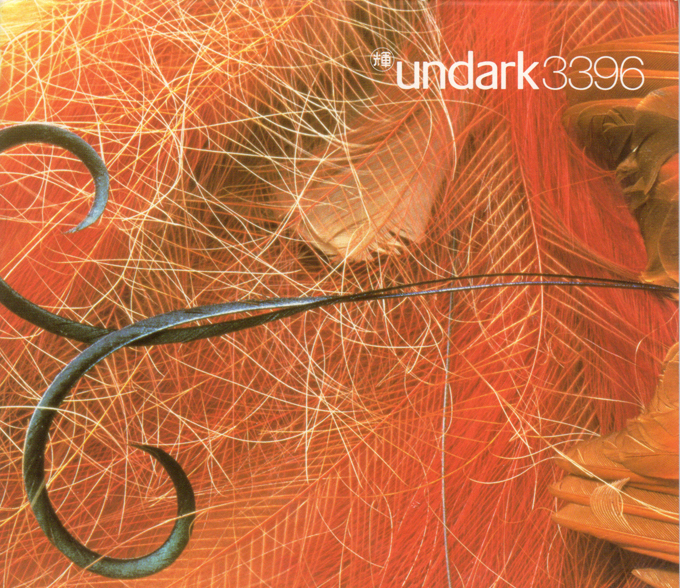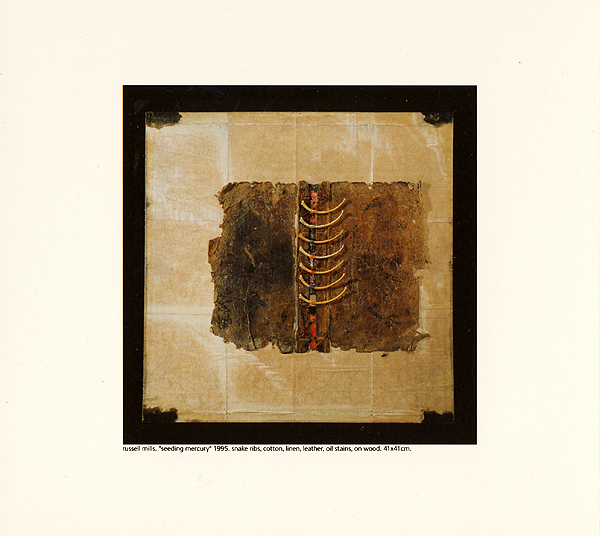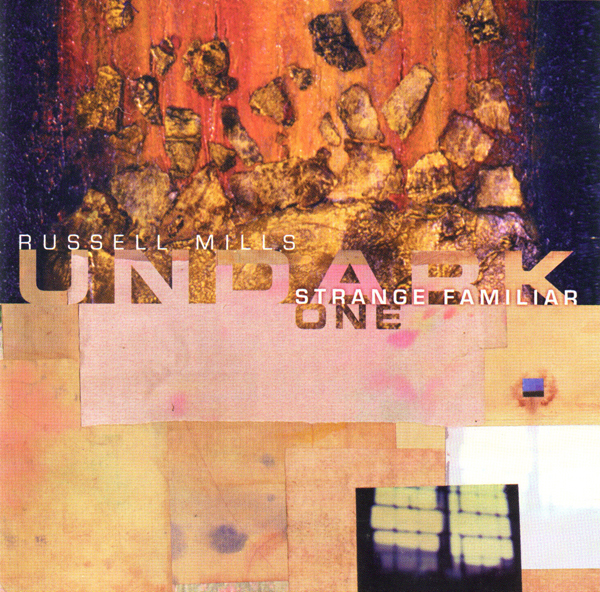 UNDARK

  1/  Red Scatter                                (Mills,B. Eno)                7.25
  2/  Ice In the Sleeve                          (Mills)                       7.00
  3/  Stone's Eggs                               (Mills,Brook)                 14.34
  4/  Blood Is Climbing                          (Mills)                       8.54
  5/  Rain In Our Room                           (Mills)                       10.51
  6/  How Safe Is Deep?                          (Mills,Sylvian)               7.38
  7/  Underground Kite                           (Mills)                       8.59
  8/  Her 200 Bones                              (Mills)                       6.53

          Recorded and mixed at Square Centre Studios, April-July, 1996
          Sculpted and produced by Russell Mills with Tom Smyth and Will Joss 
            of Miasma
          Cellists recorded at St. Anne and St. Agnes Lutheran Church, London

Russell Mills: bowles, bells, blood flow frequencies, field recordings, hippocopter, palette knives, piano wires, lion and elephant roarers, flotsam and jetsam, the shed method; Miasma: anchors, undertows, nifty didgets throughout.

WITH THANKS TO THE FOLLOWING FOR SUPPLYING AND ALLOWING USE OF SPECIALLY CREATED SOUNDS - Michael Brook: infinite guitar; Declan Colgan: synthesizer programming; The Edge: chase guitar; Brian Eno: select-a-bonk rhythm and sonics; Roger Eno: cloud Drones; Robin Guthrie: ziggurat rhythm; Bill Laswell: wolf bass, steam bed, drones; Kevin Shields: sulphur, zugzwang guitars; David Sylvian: lyrics, larynx, lumen; Hywel Davies: ghost cellos; CELLISTS - John Kirby, Vicki Miller, Ingrid Perrin & Julie Spencer.

          1996 - em:t recording ltd. (UK), em:t3396 (CD)
          2000 - Bella Union (UK), BELLACD (CD)
          2000 - Instinct Records, INS 526-2 (CD)

Note: The original issue of this album was titled 'Undark', by Undark. The re-releases were released under Russell Mills' name, as they were originally intended to be.



---



REVIEWS :
Russell Mills is better known for his album covers, classics like Eno's On Land Ambient 4, or David Sylvian's Gone To Earth. Until this disc came along I was not even aware that he dabbled in music, though with his heavy duty acquaintances it would have been only a matter of time before a release like this came along. Would I have bought this if great artists like Brian Eno, David Sylvian, Michael Brook or Bill Laswell to name but a few names, had not contributed. Mills is also helped by two members of Miasma, an outfit that again I am not familiar with. The bottom line is that this is a great album. It's taken me awhile to get around to reviewing this as it is not an easy album to define.

What you get is 8 pieces of moody, ambient, textural and occasionally beat oriented music. If an album had to be labeled as organic ambience this would be it for me. Forget track 1 even though it has its moments and go straight to track 2, a piece called Ice In The Sleeves. It starts wit Michael Brook's familiar infinite guitar sound and is hypnotic and trance like in composition. This has class(ic) written all over it and is a killer track. Track five, Rain In Our Room, is my least favorite. Why? Too much noise and confusion. It seems out of place and inappropriate for the caliber of musicians who are here. (But they're only having fun I hear you say). Same with the last track, Her 200 Bones, but at least there is some sense of melody here and again you get Brook's distinctive signature mark on this track. I had forgotten how much I respect him. David Sylvian sings on a couple of tracks and he again asserts that with his chilling voice he is a force to be reckoned with. There is also some haunting cello work by a quartet recorded in various churches throughout London, scored by Hywel Davies. Dark and moody and slightly disturbing, but still a highlight of this release.

Russell Mills plays bowls, piano wire, lion and elephant roarers, frequencies (blood flow), utilizes field recordings and various bits and pieces.

I don't know much about the label, except that I have always liked their covers. This is my first foray into em:t and I am impressed by what I hear.

Hans Stoeve (courtesy of the Nadabrahma website)

..................................................

Conceived and designed by tactile-visual artist Russell Mills, and constructed and produced by the Tom Smyth and Will Joss of Miasma, this disc forms a virtual studio collaboration, with sampled components provided by various artists hardwired into the structure.

In addition to Mills, who supplies the sounds of bowls, bells, blood flow frequencies, hippo-copter, he likes Bill Laswell (wolf bass, steam bed and drones), Michael Brook (infinite guitar, declan colgan, Brian (select-a-bonk rhythms) and Roger (cloud drones) Eno, The Edge (chase guitar), Hywel Davies (ghost cellos), David Sylvian ([sappy and tiresome] lyrics, larynx and lumen) and others provide custom-created idiosyncratic sample fodder (whether these were made pre-or post-production is unclear) that are woven into a dense and lurching post-dance, semi-industrial, benign-illbient series of para-pop tone poems sure to excite the synapses and, often enough, cause the brain and ass to twitch, perhaps independently.

This product is either a departure from or evolution in the em:t catalog, which has been quietly producing some amazing, intriguing and baffling listening spaces over the past few years. em:t recordings have a way of spreading themselves sublimely over the time and range of any given disc: each product seems to straddle an enormous span of sonic, compositional and procedural space, running the gamut from cold and empty subspace to hot and impenetrable solid funk, and is apt to transition without a moment's notice. Undark is probably more even in this regard, even if that just means less panicked trips to the volume control. There is a lulling predictability or inevitability in this nonsensical conversion of visual media thoughts into banging, throbbing, pulsing pop structures that imparts a dangerous sense of security and subseptibility: the underlying strata of structural madness is then allowed to invade and percolate freely into the mind and body almost immediately. Conversely, most em:t products tend to be time-released doses, instead of jolts. Whether this is a good thing or bad thing I'm not sure: I've come to rely on em:t releases to stretch their own structural envelope and my own listening thresh hold. While this release really does not do much of either, it is immensely enjoyable and intriguing nonetheless. (It also revealed my apparent lack of ability to distinguish between Brook's and the Edge's guitar treatments: one is supposedly the mentor or influence of the other, although I can't remember what this situation is.)

There are also more recognizable "isms" on this disc than on any other em:t product I have encountered. Only of some Woob compositions have I been able to peg a sequence or style to any one particular artist or person. Here, the Laswell- and Sylvian- and Eno-esque signatures are stamped hamfistedly all over the place; Laswell's idiot bass riffs, Sylvian's deathly, sappy, anachronistic crooning, the Edge/Brooks droning guitars, Eno's semi-funk rhythms: de ja vu all over again. Not that there's anything wrong with that: these are some of my favorite people, and I consider it my job and pleasure to saturate myself with their endless vocabularies: it's just a shocker as I've come to look upon em:t as kind of an exploratory vacation away from the ordinary output of these artists. One track, Stone's Eggs, is almost a textbook example of a Michael Brooks/RealWorld-type track (with some Divination-style Laswell bass lines thrown in), and is such a bit... mediocre. And the otherwise finely ambient How Safe is Deep cut is fatally wounded by Sylvian's horrid vocals.

Where this disc shines is on the more industrial, funky tracks like Ice in the Sleeve and Red Scatter, or the Scorn/Silksaw-like Underground Kite, or the beaty album centerpiece, Rain in Our Room. Imagine a combination of the vastly strange funk of recent Woob (the track from Woob 2, Woobed, comes to mind, and I was surprised, after hearing this, that Paul Frankland had nothing to do with this track), the insectile hissing beats of Autechre (Chatter comes to mind), with again, of course, the funky requisite bass of Uncle Bill, with some U2 rock anthem garnish on the side. Tasty.

Larry Molmud (courtesy of the 90.3 fm kazu website)
---