MATERIAL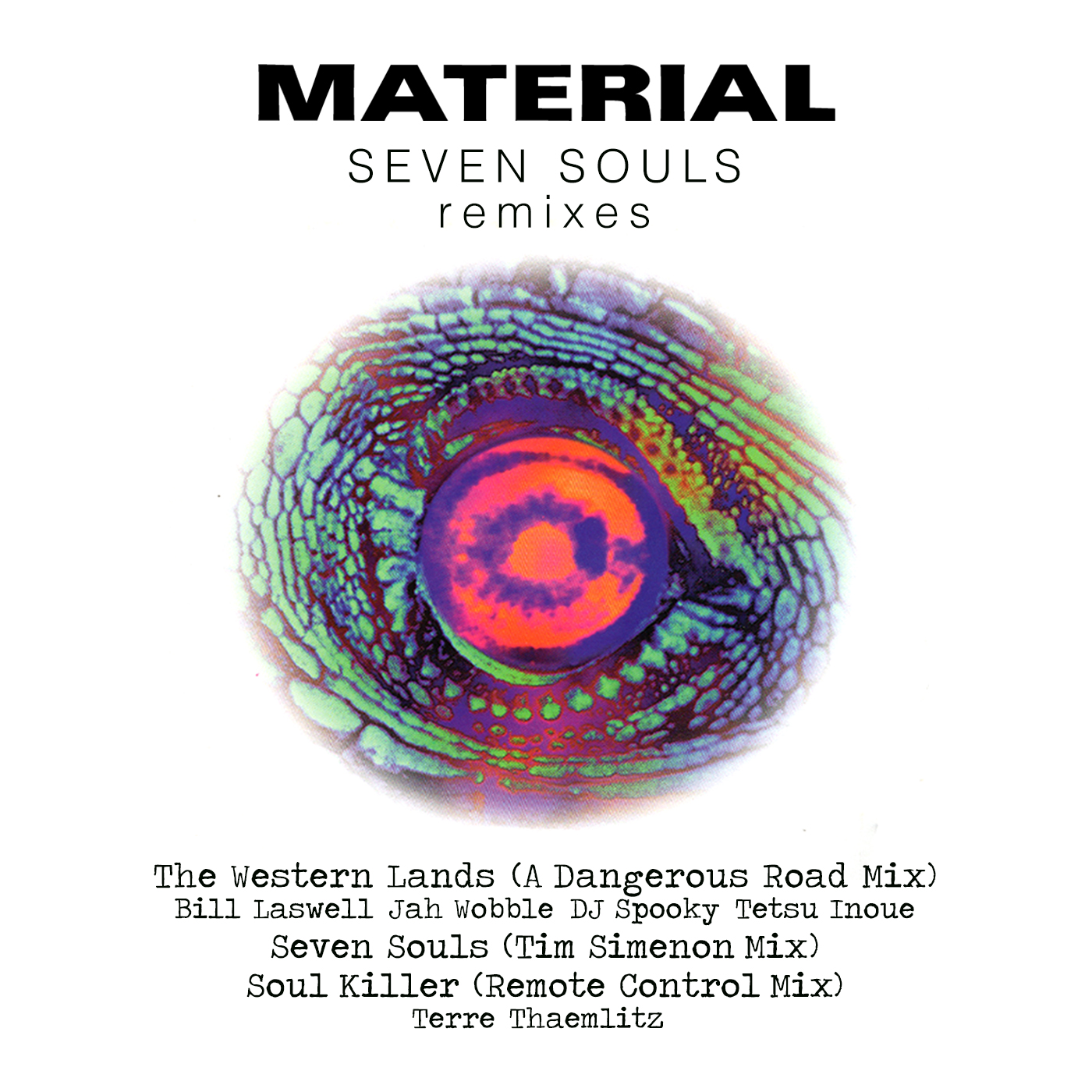 SEVEN SOULS REMIXES

  1/  The Western Lands (A Dangerous Road Mix)   (Laswell,Skopelitis,Burroughs)8.31
  2/  Seven Souls (Tim Simenon Mix)              (Laswell,Burroughs)           7.06
  3/  Soul Killer (Remote Control Mix)           (Laswell,Burroughs)           8.15

          Recorded at Platinum Island Studio and B.C. Studio, New York
          Track 1 remix recorded at Greenpoint Studio, Brooklyn, New York
          Track 2 remix recorded at Eastgate Studios, London W10
          Engineer at Platinum Island: Robert Musso
          Assistant at Platinum Island: Oz Fritz
          Engineer at B.C. Studio: Martin Bisi
          Engineer on track 1: Robert Musso
          Remix engineer on track 2: Q
          Drums: Artie Smith
          Produced, arranged, tweaked and enhanced by Bill Laswell
          Business: Tony Meilandt
          William S. Burroughs vocal production: James Grauerholz
          Additional production and remix on track 2 by Tim Simenon
          Additional production and remix on track 3 by Terre Thaemlitz


William S. Burroughs: voice; (1) Jah Wobble: bass; Bill Laswell: bass samples; Nicky Skopelitis: guitars; Tetsu Inoue: electronics; DJ Spooky: noise; Robert Musso: processing; (2) Don Hoss: remix programmer.

          2016 - M.O.D. Technologies Digital (USA), MODDS000031 (digital)

Note: These were reviously released on the expanded Triloka version of "Seven Souls".



---



REVIEWS :
[culled from a review of the original re-release] The version of The Western Lands, remixed by Inoue and featuring additional bass by Jah Wobble, DJ Spooky contributing various 'noises' and Tetsu on electronics is a fine remix. There is an aggressiveness here that I like. Unfortunately with the remix of Seven Souls from Tim Simenon, it doesn't do all that much for me except make me reach for the remote time and time again. The drums tend to overpower the lyrics for me and being quite partial to the original I prefer to keep my memories as they are, that being that Seven Souls was an original and powerful idea and still carries a lot of weight and ideas for me. Thaemlitz's contribution is ethereal and mysterious, almost ominous. Some nice guitar samples evoking imagery of Morocco or somewhere equally as exotic. Voice manipulation as well. Basically a great track. (Must check out more of his material when i think of it.)

Hans Stoeve (courtesy of the Nadabrahma website)
---