MATERIAL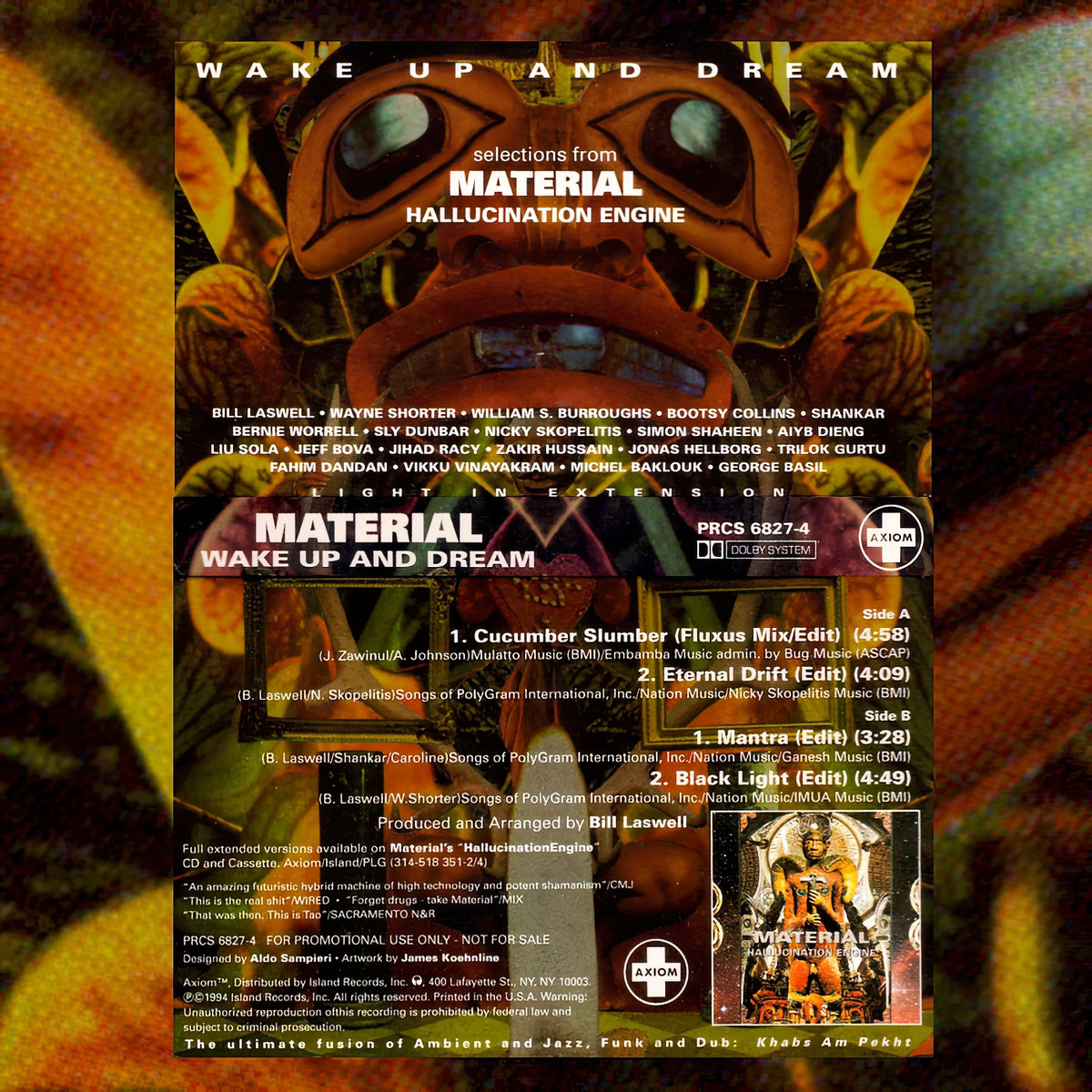 WAKE UP AND DREAM (single)
These edited versions are from promotional cassette (not for sale) for Hallucination Engine.

  1/  Cucumber Slumber (Fluxus Mix/edit)         (Zawinul,Johnson)             5.01
  2/  Eternal Drift (edit)                       (Laswell,Skopelitis)          4.12
  3/  Mantra (edit)                              (Shankar,Caroline,Laswell)    4.48
  4/  Black Light (edit)                         (Laswell,Shorter)             3.27

          Recorded at Greenpoint Studio, Brooklyn, New York, Platinum Island, NYC,
            Krypton Studio, NYC, Media Arts, Madras, India
          Engineers: Robert Musso, Oz Fritz and Martin Bisi
          Mixed at Greenpoint Studio, Brooklyn, New York
          Engineer: Robert Musso
          Track 3 engineered by Oz Fritz
          Assistant: Imad Mansour
          Produced and arranged by Bill Laswell
          Mastered at Masterdisk by Howie Weinberg
          Remastered by James Dellatacoma at Orange Music, West Orange, NJ
          Administration for Material Inc.: Tracy McKnight
          Axiom: Peter Wetherbee
          Artwork by James Koehnline

Bill Laswell: basses, beats, loops, samples, etc.; Wayne Shorter: soprano and tenor saxophones; William S. Burroughs (5): voice; Liu Sola: voice; Simon Shaheen: violin, oud; Nicky Skopelitis: acoustic and electric six and twelve string guitars, coral sitar, baglama, Fairlight; Bernie Worrell: electric piano, Hammond B-3 organ; Bootsy Collins: space bass; Shankar: electric violin; Sly Dunbar: drum kit; Jeff Bova: synthesizers; Jihad Racy: ney; Jonas Hellborg: acoustic bass, fretless electric bass; Zakir Hussain: tabla; Trilok Gurtu: tabla; Vikku Vinayakram: ghatam; Fahim Dandan: voice; George Basil: qanoun; Michael Baklouk: daff, tambourine; Aiyb Dieng: chatan, congas, percussion.

          2023 - Bill Laswell Bandcamp (Bassmatter Subscription Exclusive)



---