SAMPLE COLLECTION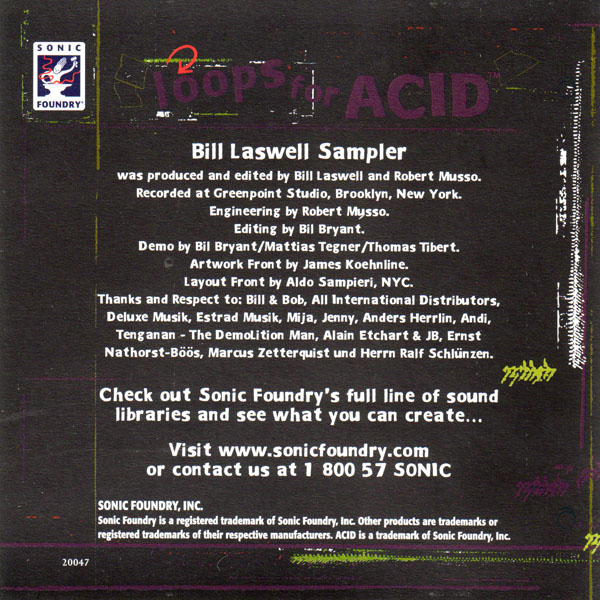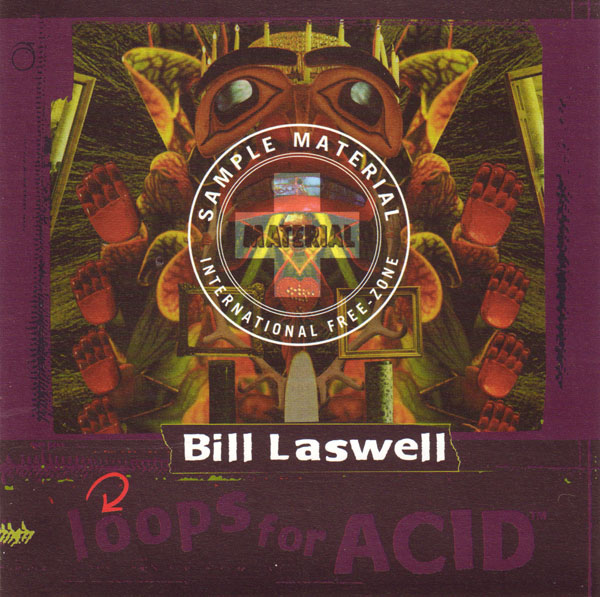 SAMPLE MATERIAL: INTERNATIONAL FREE-ZONE
"A Sonic Collage based on the sound libraries of visionary New York producer Bill Laswell. The Laswell/ Material cadre have produced a stunning array of music that criss-crosses, combines and destroys genres and barriers, transcending towards a new edged, multi-directional musical freedom. The concept behind SAMPLE MATERIAL is to remain true to the Material vision by providing you with the broadest spectrum of unique Samples available on any Sampling product. From Ambient Soundscapes to FX-ed Beats, from Funk Guitars to Ethnic Grooves, there is a multitude of inspiration to be found on this disk.

The CD is divided into four areas: Zone Ambient, Zone Rhythm, Zone Instrument and Zone Sound. The Rhythmic and Instrument Loops have been set to whole beat increments of 10 (90,100 BPM...) which makes this product easier to use and compatible with other Sounds Good products which adhere to this system.

The documentation for this product is delibrately vague at times to encourage experimentation with the Material. Although we have provided the tempos, we do not want this particular product to appear like a construction kit, where you might add a certain Bass Line with a Guitar Loop because they have the same key and tempo. This is not what Sample Material is about; it's about experimentation and musical exploration. The World section contains 36 samples from many different instruments, but the booklet does not indicate what they are, because these sonic snapshots will trigger an inner cinema more than 'Kora - 85bpm - D# demented' will. This is Aural Ammunition for a New Edge.

Nothing Is True. Everything Is Permitted."

(From the back liner notes)

Each track (except 1) is divided into 12 sections, e.g. 12 loops/samples the exceptions are track 10 (6), 23 (11), 35 & 45 (9), 42 (8). The individual loops/samples are not listed.

  1/  Demo
  2/  Ambience 1
  3/  Ambience 2
  4/  Ambience 3
  5/  Ambience 4
  6/  Ambient FX 1
  7/  Ambient FX 2
  8/  Ambient FX 3
  9/  Ambient FX 4
  10/ Environments 1
  11/ AmbiGroove 1
  12/ AmbiGroove 2
  13/ AmbiGroove 3
  14/ AmbiGroove 4
  15/ MetaLoops 1
  16/ MetaLoops 2
  17/ MetaLoops 3
  18/ TeknoZone 1
  19/ TeknoZone 2
  20/ Street Groove 1
  21/ Street Groove 2
  22/ Street Groove 3
  23/ Street Groove 4
  24/ Tabla 1
  25/ Tabla 2
  26/ World Groove 1
  27/ World Groove 2
  28/ World Groove 3
  29/ Top Loop Perc 1
  30/ Top Loop Perc 2
  31/ Bass Loops 1
  32/ Bass Loops 2
  33/ Bass Loops 3
  34/ Bass Licks 1
  35/ Bass Licks 2
  36/ Bass FX 1
  37/ Bass FX 2
  38/ Guitar Loops 1
  39/ Guitar Loops 2
  40/ Guitar Loops 3
  41/ Guitar Licks 1
  42/ Guitar Licks 2
  43/ Clavinet Licks 1
  44/ Clavinet Licks 2
  45/ Clavinet FX 1
  46/ Organ Licks 1
  47/ Organ Licks 2
  48/ Organ Licks 3
  49/ Synth Licks 1
  50/ Synth Licks 2
  51/ Flute Licks 1
  52/ World Licks 1
  53/ World Licks 2
  54/ World Licks 3
  55/ KaosFX Zone 1
  56/ KaosFX Zone 2
  57/ KaosFX Zone 3
  58/ KaosFX Zone 4
  59/ KaosFX Zone 5
  60/ Scratch+Tape 1
  61/ Tape FX 1
  62/ Tape Start Hits 2
  63/ Tape Start Hits 3
  64/ Dub Hits 1
  65/ Kiks 1
  66/ Snares 1
  67/ Snares 1
  68/ Perc Hits 1
  69/ Perc Hits 2
  70/ Perc Hits 3
  71/ Perc Hits 4

          Sampling Material
          Recorded at Greenpoint Studio, Brooklyn, New York
          Produced for Sounds Good AB by Bill Laswell and Robert Musso

          1996 - Sounds Good, SG007 (CD)



---



REVIEWS :
Note - Every track has 12 samples, except tracks 10, 35, 42 & 45...

Zone Ambient - The CD proper starts off with 4 tracks of Ambience. The first track has the longest samples, around 20 seconds each, of alien, ethereal, soundscapes, that constantly move and evolve through their duration. Some are very slow, others have a kind of dripping, wind or distorted chime like sound to add an effect. All are dark and foreboding. Totally excellent.

The remaining three tracks have somewhat more shorter duration, down to around 10 seconds. These carry on the general dark alien kind of feel, with some new effects as well as those on track 2, insect like, sounds, distant alarms, analog like bleeps and chirps, swirling effects, industrial type noises and so forth. A few rather feel like they've been cut off in their prime, so some looping may be in order if you want a longer effect.

Tracks 6-9 gives us 48 samples of Ambient FX. where have all manner of unusual sounds, many up in the 10-20 second range. Some sound like the effects used in the earlier section, without the background ambience. Others are almost soundscapes in their own right, but the space, alien, science fiction film soundtrack type sounds continue. Ethereal like pads, weird alarm like sounds, analogue like static, deep throbbing tones, slow vaguely chime/choir like pads, synthetic machine like rhythms. Some could be looped to form whole ambience type tracks on their own, or dropped in. These are really good, I couldn't find one I'd call bad.

The section winds up with 6 Environment samples, fairly short samples samples of real (or incredibly good synthetic !) ambient effects of birds, rain forest or traffic (must be New York by the number of horns being sounded !). After that really most excellent of starts we move on to :

Zone Rhythm - The section kicks off with 4 tracks of Ambigrooves , these are loops that have a BPM of 70-120, 36 of the samples have BPM's of 90 or 100. These as you can guess by the title, are loops suited to a sort of ambient track, there are a few straight orthodox percussion samples, but the more interesting ones use a whole variety of sounds, shakers, toms, bongos, clicks, synthetic percussion, sorts of, well, aquatic sounding ambience and tones. There are a whole host of slightly unusual sounding loops here, generally very good indeed. The only downside is that many of the loops feature background tones, which some people may find restrictive as the loops sound very full.

Next we have three tracks of Metaloops, which have BPM's of 70-130, which contain a number of differing effects, though more straight percussive in the main. There are (light) industrial like loops, hip hop, bongos, vaguely Kraftwerk like, rock almost, shift from style to style, genreless almost. Once again though there are some good ones, though a few a rather anonymous.

Teknozone, offers us 24 techno loops of 130-170 BPM's, sounding pretty good, maybe just lacking definition a little,they're all pretty busy. Maybe needing some careful EQ or layering with sharper kick to bring a bit more cutting bite to them.

Moving on we have 4 tracks of Street Grooves, all bar two and the fills at 130 BPM. Not what you might expect these are "bucket band" sounds, featuring some more unusual sounds, one presumes buckets feature a lot, with some light metallic sounding percussive effects on top. Certainly a bit different, they're really very effective.

Tabla's are the next offering, two tracks of 90-100 BPM loops, that do rather sound alike, sort of thing you could layer over another loop to add an extra dimension.

This is followed by more unusual effects in the 3 World Grooves tracks, here we have a whole mixture of "World" instruments, at BPM's of 90-130, we have Chatans, Ghatams (new one to me), Talking Drums, Surdo's, Congas, Djembe's, Dumbeks and Wood percussion. Once again there are some very good effects here, I particularly liked the Surdo's could be right out of a film like Zulu. Whilst never being able to compete with a specialist CD, if your looking to add a more unusual percussive effect you should be able to find material here to use.

The section round out with two tracks of top loops , assorted, generally quite light in effect, loops of cowbells, shakers, scrappers and the like designed either to add a light percussive effect or layer with another loop to add an extra dimension.

Review courtesy of Sounduser.com
---