SPECTRE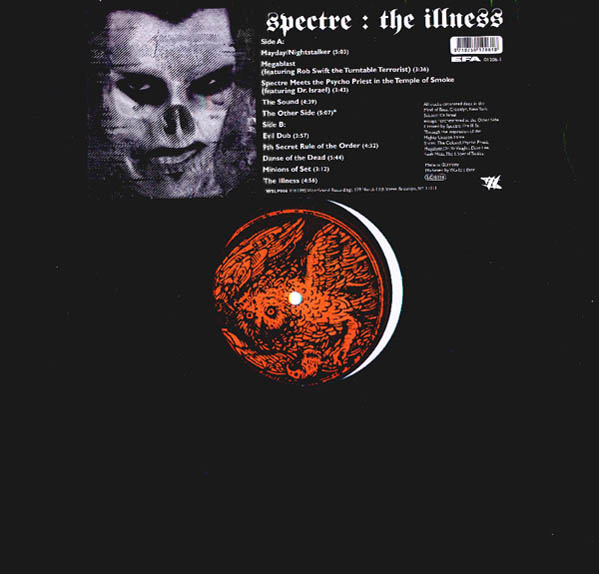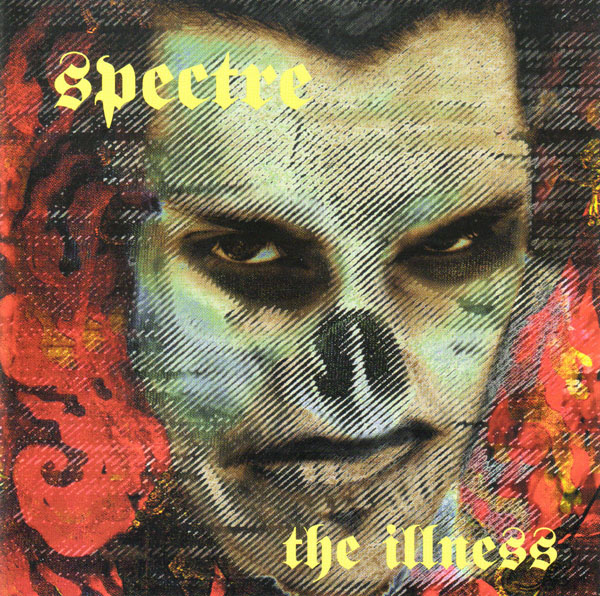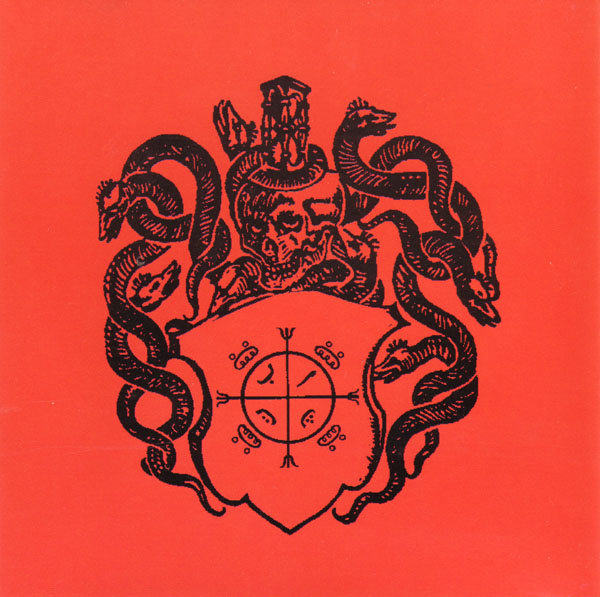 THE ILLNESS

  1/  Mayday/Nightstalker                        (Fernando)                    5.03
  2/  Megablast                                  (Fernando)                    3.36
        featuring Rob Swift the Turntable Terrorist
  3/  Spectre Meets the Psycho Priest in the     (Fernando)                    3.43
                  Temple of Smoke
        featuring Dr. Israel
  4/  The Sound                                  (Fernando)                    4.39
  5/  The Other Side                             (Fernando)                    5.07
  6/  Evil Dub                                   (Fernando)                    3.57
  7/  9th Secret Rule of the Order               (Fernando)                    4.32
  8/  Danse of the Dead                          (Fernando)                    5.44
  9/  Minions of Set                             (Fernando)                    3.12
  10/ The Illness                                (Fernando)                    4.56
  11/ Intermezzo                                 (Fernando)                    1.41
  12/ Elephant, Mosquito                         (Fernando)                    2.27
  13/ Crooked                                    (Fernando)                    4.51

          All tracks detonated deep in the Mind of Bass, Crooklyn, New York
          Track 5 orchestrated at the Other Side
          Track 11 found in the Red Zone
          Created by Spectre, The Ill St.

Spectre: beats, sounds; DJ Rob Swift (2): cuts; Psycho Priest (3): sounds; Dr. Israel (3): sounds; Bill Laswell (7): intro voice.

          1995 - WordSound Recordings (USA), WSLP006  (Vinyl)
          1995 - WordSound Recordings (USA), WSCD006  (CD)

Note: The vinyl release does not contain tracks 11-13.



---



REVIEWS :
"Get some EVIL In Your Life!"
This is an album of Electronic dub with a capital E for EVIL! On this cd you will find some of the most evil and sinisterly dirty music you will ever hear. Most albums of electronic dub are designed as chill out albums but i wouldn't want to try it with this one as pissing yourself because the music is giving you the fear never looks good. Admittedly there is a certain kind of 'Hammer horror' quality to a lot of the tracks on this album which does make you laugh but when you have basslines as insistantly satanic as that on the first track 'Mayday/nightstalker' you find yourself sitting on the edge of your seat having a severe case of the willies. When you are not uncontrollably skanking that is.
This album does contain vocals in places but mostly it's just some bloke mumbling darkly about the wonders of being very stoned in a classic dub fashion. The exception to this is track nine 'Minions of Set' where some bloke introduces the members of the band who are apparently 'Bringing it too you filthy as f**k', meanwhile a slow dirty breakbeat rolls along over another of the most claustrophobic and frightening basslines you will ever hear.
Spectre have got the rare talent of making a tune roll along forever with not much happening, but without it getting boring or repetative. Most of the tracks here consist of a filthy drum loop, a sinister bassline and a selection of dirty sounding wierd loops and sounds. If you listen closely you can hear that these tracks were obviously improvised live as sounds drop in and out where they sound 'right' instead of being tightly regimented by programming on a computer sequencer.
The best track on this album is track eight, 'Danse of the dead'. This track starts out with a comedy Darth Vader sample about the dark side and then drops into one the the finest breakbeats i have ever heard. I don't know where they nicked this loop from but i want it. You get a bassline, some sirens fading in and out, a couple of classic reggae loops and thats it for 6 minutes. It doesn't sound like much but minimalism is what this kind of music is all about. If you can pull it off as they have done here then it tends to sound better than something that's gone masses of unnecessary arseing around in it.
Also worth a mention is the title track 'The Illness'. This track is glacially slow and laid back. The snare drum on this track is so loud compared to the rest of the tune that it just demands all of your attention, combine this with the fact that it's running slightly behind the rest of the track and you find yourself feeling very nervous without quite knowing why. It's just sheer genius.
My copy of this album features three bonus tracks on the end. The first two are alright but not up to the quality of the rest of the album. The third extra track is another fearsome slice of evil dub with odd voodoo percussion and bizarre vocal echoes vaulting around the mix.
This album is about as dirty and sinister as electronic music gets and i cannot recommend it highly enough. Obviously it won't be to everyones taste but if you like any kind of electronica and you want something a bit different then you can't go far wrong with this. Be aware that there is another Dub group called spectre who may or may not be the same people, although this album is american and the other spectre is written by a spanish bloke. Who knows?
Originality: 4/5
Quality and consistency of tracks: 4/5
How does it rate alongside the competition: 5/5
crustypaul (courtesy of the Ciao! website)
---