NICKLEBAG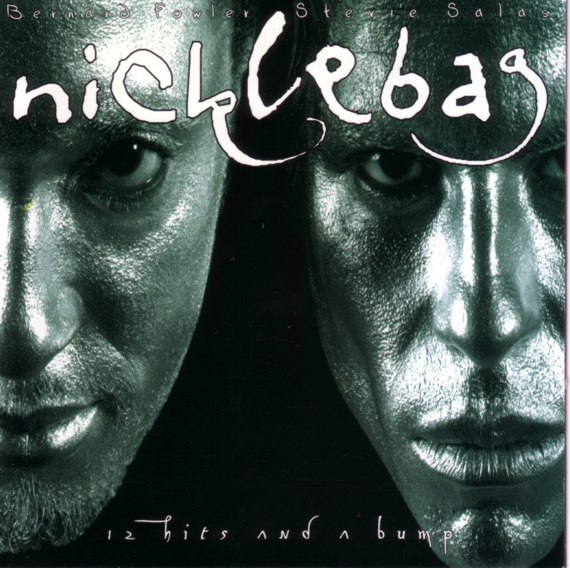 12 HITS AND A BUMP (aka MAS FEEDBACK)

  1/  Love Song (All Up In My World)             (Salas,Fowler)                4.40
  2/  Hit It and Quit It                         (Funkadelic)                  3.36
  3/  I Will                                     (Salas)                       4.55
  4/  Indanee                                    (Salas,Fowler)                0.35
  5/  Turning the Other Way                      (Salas,Fowler)                4.38
  6/  Too Many Mountains (Big Daddy Mix)         (Salas)                       5.26
  7/  Sweet Thang                                (Covay,Salas,Fowler)          3.31
  8/  Don't Know Why I Love You                  (Wonder)                      6.03
  9/  Grow                                       (Salas,Fowler)                4.37
  10/ Repetition                                 (Salas,Fowler,Smith)          3.37
  11/ Soul Search (Mother Mix)                   (Salas,Huxley)                3.37
  12/ Win                                        (Bowie)                       4.57
  13/ Hots On For Nowhere (Bump Track)           (Page)                        3.54
  14/ Soul Search (Bonus Bump/Nicklebag Mix)     (Salas,Huxley)                7.13

          Recorded at Estudio 19, Mexico City, Ambient Sound, Stanford, CT,
            Greenpoint Studio, Brooklyn, NY, Spa Studios, New York City, Rockett
            Plant, Burbank, CA, Pacifique, North Hollywood, CA, Scream, Studio 
            City, CA and Drive By, Hollywood, CA
          Produced by Stevie Salas and Bernard Fowler
          Associate Producer, Spiritual Adviser and Ouija Board Consorter, The 
            Killer: Bill Laswell

Stevie Salas: guitars, background vocals; Bernard Fowler: lead & background vocals; SPECIAL GUESTS - Ron Wood: slide guitar; Doug Wimbish, T.M. Stevens, John DeServio, Carmine Rojas, Lon Hillier & Darryl Jones: bass; Dave Abbruzzese, Brian Tichy & Darryl Jones: drums; Bernie Worrell, Jeff Bova & Rei Atsumi: keyboards; Dave Friendly, Brian Tichy & Jullette Prater: percussion; Lisa Fischer, Josephine Wood, Ronnie Wood, Darryl Jones, Chuck Leavell, Alan Carrasco, Graham Wilson, Dave Rouze, Studio 19 Staff, Mexico City Limo Drivers & Tracy: background vocals and Mexico City Party Crowd.

          1995 - Canyon (Japan), PCCY-00771  (CD)
          1996 - Iguana Records (USA), 574-2 (CD)
          1997 - Lizard Group (USA), LG002-2 (CD)

Note: Bill Laswell does not play on this album.
Note: The 1997 version is called MAS FEEDBACK.
Note: The 1997 version contains only 10 of the 14 tracks credited to Bill Laswell.



---



REVIEWS :
Not bad, just not distinguished
I bought this album because I am a fan of Stevie Salas' guitar playing. This record has some heavy sounding riffs in it that I've never heard him play before, which is kind of cool, but his trademark funk sound is absent here. Also, his solos are a little more restrained than on his own records and thus a little boring. Granted the music is not bad, not at all, it's just a little boring compared to Salas' solo albums.
Bernard Fowler is a decent singer but he seems to get lost on the last track here, the mellow Soul Search. Some of the heavier songs remind me of sub-par King's X, which isn't necessarily bad (Now THAT'S a great band!).
There are some decent songs on here. I'm a big Stevie Wonder fan so it's cool to hear Don't Know Why I Love You filled with guitar. Love Song, Too Many Mountains, and Repetition have some nice moments and a few of the guitar riffs slam.
All in all, 12 Hits and a Bump is an OK album but it just lacks stand out tracks. Everything sounds nice and safe and there aren't any exciting moments so I can see why the band went unnoticed and made no impact. This is a rather expensive import, so I'm glad I got mine used at a bargain price. If you want to hear Salas guitar scream (and him sing!) check out his record Back From the Living.
3 stars out of 5
courtesy of the Amazon.com website
..................................................
Electric Ladyland revisited
Criminally underexposed hard rock from the late 90s. Steve Salas was the guitar whiz from Color Code, while Bernard Fowler has sung with the Stones and Ryuichi Sakamoto. They're backed up here by Bernie Worrell (Funkadelic / Talking Heads) and produced -- loudly -- by Bill Laswell. Quite a cast! Between Fowler's soulful shout and Salas shredding like Hendrix, this is really a lost gem. The sound initially recalls Living Color, but Hendrix, Cream, Robin Trower, and especially the Physical Graffiti / Presence - era Zeppelin all echo though Nicklebag's funky yet very heavy sound. More obscure black hard rockers like Sound Barrier and Mother's Finest ploughed similar ground but these guys go much further, delivering "Wind Cries Mary"-style ballads in "Don't Know Why I Love You" and "Turning The Other Way," prog metal in "Grow" and "Love Song," and classic riff rock in "Repetition" and "Sweet Thang" (the album's marvelous "should've-been-a-single"). They even do some respectable covers, including Bowie's "Win" and Zep's "Hots On For Nowhere." The album was reissued in a different sequence as Mas Feedback (minus those covers but with a nice take on "I Am The Walrus" instead). Highly recommended in either version, if you can find it.
5 stars out of 5
Gareth Davies-Morris (courtesy of the Amazon.com/A> website)
---