ABIODUN OYEWOLE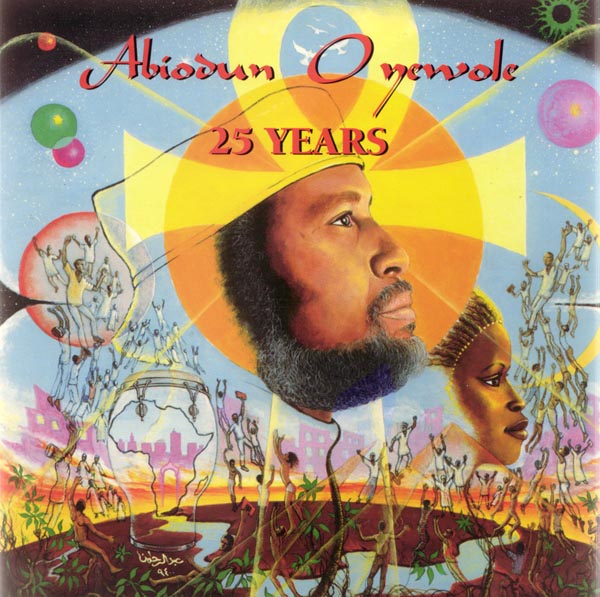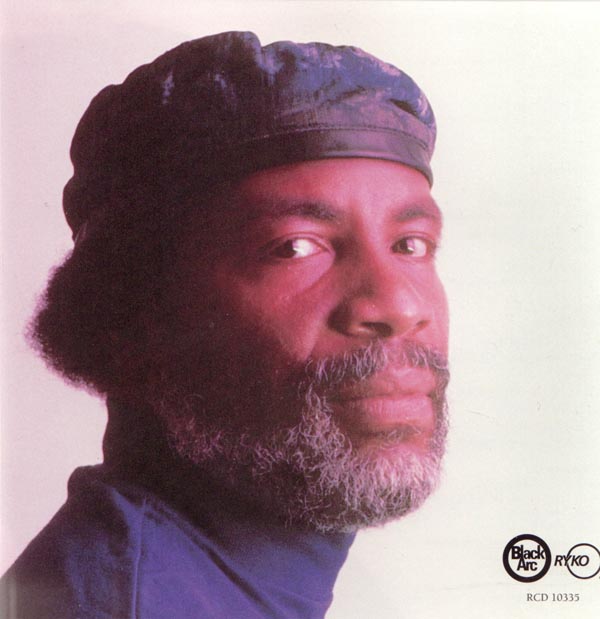 25 YEARS

  1/  When the Revolution Comes                  (Oyewole)                     4.14
  2/  Sample This                                (Oyewole,Musso,Hassan,Laswell)5.54
  3/  Brown Sugar                                (Oyewole,Laswell)             5.11
  4/  Dread Brother                              (Oyewole)                     6.36
  5/  Festival                                   (Oyewole)                     3.35
  6/  Son's Rising                               (Oyewole,Laswell)             4.08
  7/  Brothers Working                           (Oyewole,Musso)               4.08
  8/  25 Years                                   (Oyewole,Laswell)             5.52

          Recorded and mixed at Greenpoint Studio, Brooklyn, New York
          Engineering: Robert Musso
          Assistants: Layng Martine and Imad Mansour
          Produced by Bill Laswell
          Business administration: Tracy McKnight/Material Inc.
          Axiom: Peter Wetherbee/Bill Murphy
          Mastered by Howie Weinberg at Masterdisk

Abiodun Oyewole: voice; Umar Bin Hassan: voice; Don Babatunde: congas, percussion, bata; Aiyb Dieng: chatan, talking drums, congas, percussion; Bill Laswell: bass; Brandon Ross: guitars; Ted Daniel: flugelhorn, hunting horn; Pharoah and Andre (Asante): background vocals.

Guitar and horn arrangements by Henry Threadgill.

          1995 - Black Arc/Rykodisc (USA), RCD  10335 (CD)



---



REVIEWS :
Distinctiveness : Always.
Dopeness Rating : Um. Phat+.
Rap Part : Phat+. Lyrical Steak.
Sounds : Solid, Phat stuff. Jazz-Funk and with a more relaxed mode than your usual fare.
Predictions : Headz ain't ready for what they got. In a perfect world, all y'all would be rushing to your favorite music shop and buying two copies. In this world, well, I doubt it.
Rotation Weight : It's medium but consistent. You won't play it all day every day for a month, but then you also won't stop playing it after the initial joy wears off. You'll listen to it every once in a while for many years.
Message : Of course.

Tracks : 8 tracks. Wow. At 39:58. Wow.
Label : BlackArc/RykoDisc. Produced by Bill Laswell, of course.
Profanity : Naw.

So, anyway, where was I? Oh, yeah.

In my last few reviews, I noted some rumblings of discontent from the crowd about the state of hip hop: record companies pressure their groups to reproduce whatever style is popular for the moment. Thus, the market no longer supports much experimentation or even much in the way of a variety of styles. As a result, there is no evolution.

That's the argument, anyway.

I bought much of this argument about six months or so ago, but lately, I've come to the happy conclusion that it just ain't true. So far, 1996 has been an exciting year. We've seen the beginnings of real new blood and the next generation of creative hip hop artists. Lately, I've decided to spend some time reviewing some of these innovative youngbloods.

And that brings me to The Last Poets.

Yes, The Last Poets.

Let me tell you about them.

The Poets were originally Abiodun Oyewole, Alafia Pudim and Omar Ben Hassen with Nilaja on percussion. They were formed, legend has it, on Malcolm X's birthday in Harlem in 1968. Their first album was The Last Poets. You can still find this album on CD if you look hard enough and, to be honest, it's well worth looking for. Much of that stuff is as fresh--on both the political and musical tip--as any stuff you're likely to hear today. They remain heavily sampled and quoted and well-respected by those with any sense of hip hop history.

If you move beyond the early Last Poets stuff, you can still find many of them active today. Omar, for example, released Be Bop or Be Dead in 1993 as Umar Bin Hassan. The Poets themselves just released an album called Holy Terror last year. Gil Scott-Heron, another Poet-era, um, poet has also released some stuff over the last couple of years. And what was true in 1970 is true in the 1990s: they remain musically interesting, lyrically strong and politically relevant.

And that's the point. Despite being around for more than 25 years, The Poets have managed to remain as fresh as--and indeed fresher than--many of the newest rappers on the block.

One of my favorite poets is Abiodun Oyewole. Oyewole's voice was always guarenteed to be commanding and interesting. In particular, it was his opening of The Last Poets with the oft-sampled "Run, Nigger" that really got me into the group. Because of this, I'd been looking for an Oyewole joint for some time. Finally, my search is over. Recently, I got a copy of 25 Years. It's a fairly new release, and copyrighted in 1995.

Anyway, after listening to it a while now, I can say several things:

His voice is still commanding.

His skill is still amazing.

His lyrics are still poetic and fresh.

He's more than worth listening to.

His politics are still the most unnerving of his fellow poets.

You should buy his album.

That's the summary. Here are the details :

25 Years features Abiodun Oyewole on voice (naturally), but it also features the voice of his fellow poet Umar Bin Hassan (of "Niggers Are Scared of Revolution" fame). Don Babatunde is on congas, bata and other such percussion things; Aiyb Deng also does general percussion and seems to specialize in the chatan, talking drums and the congas; Bill Laswell does double duty as producer and bass player; Henry Threadgill is on horn and guitar arrangements; Brandon Ross is on guitar; Ted Daniel is on flugelhorn and hunting horn; and background vocals are provided by Pharoah and Andre.

25 Years opens with the classic "When The Revolution Comes."

                "I understand that time is running out"

            "When the revolution comes
             Jesus Christ is going to be standing
             on the corner of Malcolm X Blvd and 125th street
             trying to catch the first gypsy cab out of Harlem"

         "You'll know its revolution
          preacher pimps gonna split the scene
          with communion wine in their back pockets"



This was good stuff in 1970 and it's good stuff now, dammit. And I'm not just talking about the lyrical content, I'm talking about the musical niceness behind Oyewole's voice.

      "When the revolution comes
       When the revolution comes
       But until then
       You know and I know
       niggers will
       party and bullsh*t
       and party and bullsh*t
       and party and bullsh*t
       and party and bullsh*t
       ...and party
       Some might even die
       before the revolution comes"



  "Blood will run thru the streets of Harlem
   drowning anything without substance."



Anyway, there are some strong statements buried within this stuff. In fact, like a lot of the best Last Poets stuff, the song carries an undercurrent of anger that is feels quite liberating. That's fine with me. On the other hand, I'm not so sure what he means by some of the stuff he says. For example :

              "When the revolution comes
               women are gonna look like women
               and men are gonna look like men
               again
               when the revolution comes"



All I can do is cock my head to the side and say, "eh?".

In any case, "Sample This" comes up next. Oyewole is joined by Umar Bin Hassan.

                    "I'm gold chain
                     and stupid pain
                     selfish brain
                     spirit layin'" 

                              "Supreme self-esteem
                               gotcha walking with a lean
                               Just can't stand too tall
                               you might just fall
                               and they'll call ya small
                               so that's why you live a lie
                               and try to deny you can fly"



This is another good track and musically sounds even better than our first track. The backbeat feels very jazzish and funky; definitely something to groove to on a Sunday afternoon.

    "As sweet and fine
     as a juicy black kiss
     I really wish you'd sample this"

                          "From the plantation to the prison"

              "You say you rap about Black
               is that a fact?
               Because you cuss and fuss
               and don't even trust yourself?
               'Cause you bitin' what I'm writin'
               from a last poet; you don't even know it"



Next up is "Brown Sugar". It's a bit of a departure.

                                   "Brown sugar
                                    honey bun
                                    lady chocolate supreme"



This is, well, a love poem.

                           "Let me sing you a song
                            about the world I will build
                            where we both will belong"



There's not a lot of testosterone going on here, let me tell you, but it still sounds pretty good.

             "Sometimes there is snow
              and the waters turn ice"



Definitely a late Sunday afternoon jam.

Anyway, we're back to more familar ground with "Dread Brother." This is an especially good track.

                                "Hey, mon, what's happin' Brother?"

                 "He was hanging out in the village of discontent
                  wallowing in the misery of life as a blunt
                  drenched in the rain
                  tourists would take pictures of his sculptured frame
                  and of course his dreds
                  His multi-dreds locked
                  into a fashionable front of fabulous phonies faking freedom
                  He looked so fierce with his ear pierced"

        "Just another with some dreds
         Never heard what Marcus Garvey said"



I think the point of this song is pretty obvious, even from this small sample, but just in case you don't get it, let me break it down for you: he ain't too impressed with you dreds-as-fashion-statement folks.

                     "Can't you hear Marley in your hair
                      Bob should take his guitar 
                      and beat the sh*t out of the
                      Brother and Sisters who lock their hair
                      but don't really care"



The muzak is very nice on this one, by the way; it's very funky and jazzy. It complements Oyewole perfectly. By contrast, "Festival" is all percussion and voices.

        "What a pleasure to behold
         The gold they stole
         and the story of a people that
         ain't never been told"



But that sounds nice, too.

                        "In the doorways and subways and airways
                         of every breath we take
                         the stench of our failures invades our nostrils
                         when we're walking through the wastelands
                         but today
                         there was a festival"



In fact, this a really a very good effort.

"Son's Rising" is up next. Of the eight songs on 25 Years, this is the only one I don't particularly like. I mean, it's okay and everything, but it's easily the weakest track.

    "Son's Rising all over earth
     We gave him birth"



Hmm. I think I'll move on. "Brothers Working" is next.

                      "I wanna work with you, Brother
                       I mean, I really do
                       I wanna help you build your dream
                       Excite the world with your soul
                       And share the power that only we can
                       have if we work together
                       I wanna work with you, Brother
                       take that pain that you carry in your heart
                       that pain that hangs from your lips
                       that pain you show in your eyes"

            "I wanna help you Brother
             learn how to love yourself"



Much better. This song, like "Festival" and "Dread Brother," reminds me of what I really liked about the early Last Poets. Holy Terror, even with all of the Last Poets involved, sounded like everyone on the album recorded their bits seperately. "Brothers Working," sounds more like all the artists are in the same room, groovin' off of one another. This could be an illusion, but it doesn't matter. It feels right.

This is one of the things that makes this album work.

And so we come to the title track.

                                  "I had a plan for power
                                   that I declared in verse"

                           "We've got to do more than survive"

                 "Now the poets today
                  rappers they say
                  relatin' educatin' communicatin'
                  their own way
                  it seems ego comes first
                  with a big money purse
                  gold chains, fly dames
                  while the conditions get worse"

       "The years have come and gone
        and nothin' much has changed"



Umar Bin Hassan joins Oyewole on the mic for an extended verse.

                        "No one has said it or done it better than us
                         You, me, we are the last hope of those who
                         cringe in the corners of themselves"



It sounds good, too.

Huh. Eight songs. And that's it.

So what's the bottom line?

Well, on the muscial tip, this is a mellower sound than, say, The Last Poets, but not much mellower than Be Bop or Be Dead. But that's about as close as 25 Years ever comes to being mellow. In the end, it's Oyewole's voice and his words that carry the show... and they are far from mellow. Deliberate maybe... but hardly mellow. It's just a damn good album. And more to the point, it sounds as good and as fresh as our freshest young hip hop headz.

Okay, so what's bad about this album?

Umm... it's too damn short. Oh, and I didn't like one of the songs. There, that was easy.

And, well, to be honest, this clearly isn't everyone's cup of tea. My guess is that you serious-hardcore headz will resist liking it. That's too bad, because I think it has a lot to say to you. Still, that's just this album, not the Poet-flow in general. If after reading this review, you're worried about 25 Years, try The Last Poets instead. Well, at least read the review, okay? You owe it to yourself.

As for the rest of you, just go buy 25 Years. Then follow your hardcore fellows and check out The Last Poets and Holy Terror, both by The Last Poets, as well as Be Bop or Be Dead by Umar Bin Hassan. Then buy those. You might also want to check out by some Gil Scott-Heron. In particular, I'd suggest Spirits... which I'll probably be reviewing any minute now.

Got it?

Good.

But that's just one Black man's opinion--what's yours?

Charles L Isbell, Jr. (courtesy of the The Homeboy From Hell website)
---