YOKO ONO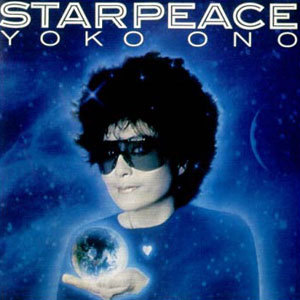 STARPEACE

  1/  Hell In Paradise                           (Ono)                         3.27
  2/  I Love All of Me                           (Ono)                         3.53
  3/  Children Power                             (Ono)                         2.26
  4/  Rainbow Revelation                         (Ono)                         3.17
  5/  The King of the Zoo                        (Ono)                         3.10
  6/  Remember Raven                             (Ono)                         2.12
  7/  Cape Clear                                 (Ono)                         4.52
  8/  Sky People                                 (Ono)                         3.46
  9/  You and I                                  (Ono)                         3.01
  10/ It's Gonna Rain (Living on Tiptoe)         (Ono)                         3.42
  11/ Starpeace                                  (Ono)                         3.17
  12/ I Love You Earth                           (Ono)                         2.40
  13/ Imagine                                    (Lennon)                      ?.??

          Recorded at Right Track Recording, New York City
          Track 13 recorded live in Budapest, Hungary 1986
          Produced by Bill Laswell and Yoko Ono
          Track 13 produced by Yoko Ono

Yoko Ono: vocals; Bernie Worrell and Jeff Bova: keyboards; Eddie Martinez: guitar, guitar synthesizer, electric sitar; Shankar : violin; Robbie Shakespeare: bass; Sly Dunbar: Syn drums, Simmons drums, percussion; Tony Williams: drums, Simmons drums, Gretsch drums; Aiyb Dieng and Daniel Ponce: percussion; Anton Fier: Paiste percussion; Tony Levin: whistle; Bernard Fowler and Yolanda Lee Lewis: background vocals; Nicky Skopelitis and Clive Smith: Fairlight programming; Nona Hendryx (1,11): background vocals; Sean Ono Lennon (11): vocals; (13) Yoko Ono: vocals; Steven Scales : percussion; Leigh Foxx : bass; Philip Asheley: keyboards; Benny Gramm: drums; Jimmy Rip: guitar; Mark Rivera: keyboards.

          1985 - Polydor/Polygram (USA), 827 530-1 Y-1 (Vinyl)
          1997 - Rykodisc (USA), RCD 10423 (CD)

Note: Bill Laswell does not play on this album.
Note: Track 13 only appears on the Rykodisc re-release.
---
REVIEWS :
Ono enlisted a lot of trendy mid-'80s talent on this release, including co-producer Bill Laswell, keyboardist Bernie Worrell, ace reggae rhythm section Sly Dunbar and Robbie Shakespeare, drummer Tony Williams, and drummer Anton Fier. The result sounded overly fussy, with reggae riddims, world-beatisms, funk, and synthesizers bouncing around in counterpoint to Yoko's vocals. Ono made a conscious effort to provide a positive, optimistic lyrical outlook (it's already easy to forget that the title is a rebuke to the Star Wars defense scheme). The main problem, though, is not the production, but the material, which is often imbued with a kind of sappy utopianism. Ono was clearly making an effort to be more accessible to a wider rock audience; her avant-garde vocal mannerisms, although not entirely absent, are largely suppressed in favor of more conventional pop phrasing. One has to say, though, that she sounds more convincing expressing rage and catharsis than feel-good philosophizing with a touch of new age. The CD reissue adds a previously unreleased live 1986 version of John Lennon's "Imagine" that, to be blunt, does no credit to either the composer or the interpreter.

Richie Unterberger (courtesy of the All Music Guide, via the Get Music website)
---