MACEO (PARKER)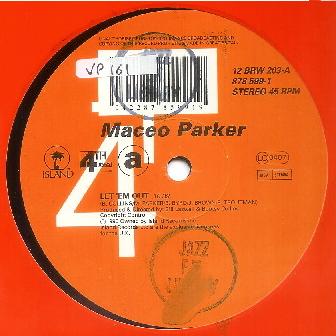 LET 'EM OUT (12")

  1/  Let 'Em Out (edit)                         (BC,Parker,Byrd,JBrown,RT)    3.26
  2/  Let 'Em Out (album version)                (BC,Parker,Byrd,JBrown,RT)    8.58
  3/  Sax Machine (Bonus Saxed Version)          (Collins,Parker,Byrd)         4.52

          Recorded at BC Studio and Platinum Island
          Produced and directed by Bill Laswell and Bootsy Collins
          Edited by Rob Fraboni

Maceo Parker: alto sax, organ, vocals; Fred Wesley: trombone; Bobby Byrd: vocals; Bootsy Collins: guitar, bass, synthesizers, drum programs, vocals; Joel "Razor Sharp" Johnson: synthesizer, vocals; Jeff Bova: synthesizer; Bernie Worrell: synclavier; Nicky Skopelitis: fairlight; Timothy "T-Bone" David: percussion; Carolyn Stanford: background vocals; Arnenita Walker: background vocals.

          1990 - 4th & B'Way/Island (USA), PR 515-0 (12")
          1990 - 4th & B'Way/Island (UK), 12 BRW 203 (12")

Note: Tracks 2 and 3 appear on Maceo Parker's 'For All the King's Men'.
Note: The UK version substitutes 'Tell the World' for the 'Let 'Em Out' edit.
Note: Bill Laswell does not play on this album.



---