LEE 'SCRATCH' PERRY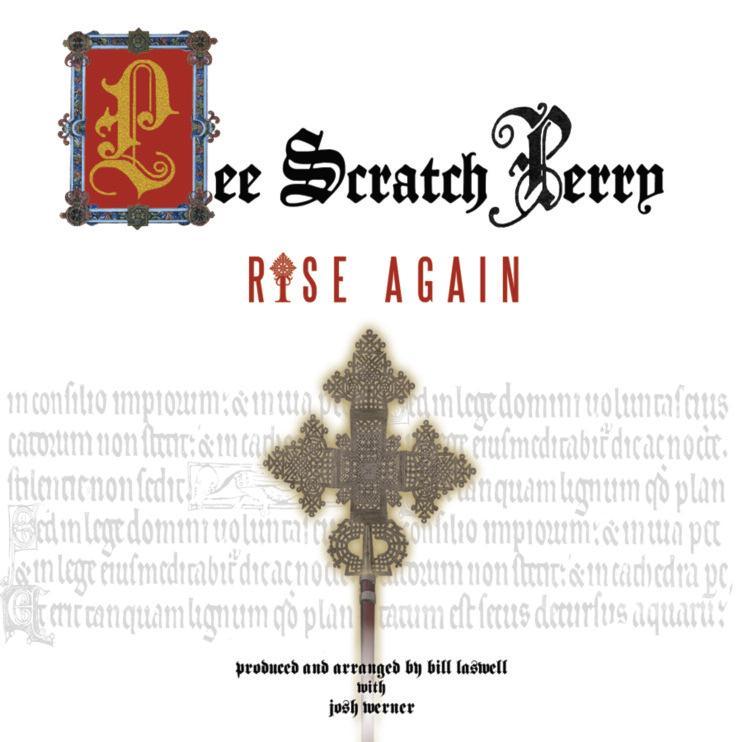 RISE AGAIN

  1/  Higher Level                               (Perry,Laswell,Werner)        3.51
  2/  Scratch Message                            (Perry,Laswell,Werner)        4.06
  3/  Orthodox                                   (LP,Laswell,Werner,Shibibaw)  4.12
  4/  Wake the Dead                              (Perry,Laswell,Werner)        5.09
  5/  Rise Again                                 (Perry,Laswell,Werner)        4.14
  6/  African Revolution                         (LP,BL,JW,Bloomfield,Shibibaw)4.02
  7/  Dancehall Kung Fu                          (Perry,Laswell,Werner,Henry)  5.33
  8/  E.T.                                       (Perry,Laswell,Werner)        5.10
  9/  House of God                               (Perry,Laswell,Werner,Henry)  4.07
  10/ Butterfly                                  (Perry,BL,Werner,Adebimpe)    3.52
  11/ Inakaya (Japanese Food)                    (Perry,Laswell,Werner)        6.01
  12/ House of God (remix)                       (Perry,Laswell,Werner,Henry)  4.34

          Recorded at Orange Music Sound System, West Orange, New Jersey
          Engineered by Robert Musso
          Assistant engineer: James Dellatacoma
          Produced and arranged by Bill Laswell with Josh Werner
          Executive Producer: Giacomo Bruzzo
          Package Design by John Brown @ Cloud Chamber
          M.O.D. Technologies: John Brown
          M.O.D. Japan: Yoko Yamabe M.O.D.
          Technical Support: Dave Pak
          M.O.D. Digital Support: Dave Brunelle (Silently Watching)
          Mastered by Michael Fossenkemper at Turtle Tone Studio, New York

Lee 'Scratch' Perry: vocals; Bill Laswell: bass, efx; Josh Werner: bass; Aaron Duggan: guitar; Aiyb Dieng: percussion; Bernie Worrell: keyboards; Eligayehi "Gigi" Shibibaw: vocals; Dr. Israel: vocals, dub efx; Hawk: vocals; Hamid Drake: drums, congas; Guy Licata: drums, percussion; Sly Dunbar: drums; Dominick James: guitar; Steve Bernstein: trumpet, alto horn; Peter Apfelbaum: tenor saxophone, flute; Jahdan Blakkamoore: vocals; Tunde Adebimpe: vocals; Gintus Janusonis: drums; Borahm Lee: keyboards; Wes Mingus: guitar.

          2011 - M.O.D. Technologies (USA), MOD0007 (CD)
          2013 - M.O.D. Technologies (USA), MODLP007 (2x12")

Note: "House of God (version)" is available digitally and on the 2x12" only.
Note: The vinyl edition comes with a code for a download of an exlusive track, "Weeping Willow".



---



REVIEWS :
At 75 years of age, Lee "Scratch" Perry should be declared a living cultural treasure and receive the protection and reverence usually reserved artists only after they are long dead. The only other musician of his age that comes close to matching Scratch's output and longevity is Willie Nelson.

Long considered one of the most innovative producers in popular music, Perry is perhaps best known for helping Bob Marley launch his career in the late '60s. He was also responsible for many stylistic breakthroughs in recording and is often credited with inventing dub music and pioneering the field of sound sampling. Over the past four decades, he has produced and played on literally thousands of records — each marked by Perry's highly individualistic approach, characterized by his refusal to be held back by the technological limitations imposed by the primitive Jamaican recording studios of the day. Since he famously torched his Black Ark recording studio in a fit of pique in the '80s, Perry has changed his focus from production to performance and today is primarily known as a singer and songwriter whose surrealistic stream-of-consciousness rants have earned him flocks of admirers who wouldn't usually give reggae music the time of day.

Perhaps Lee Perry — like Willie Nelson — has never heard of retirement as Rise Again, his long anticipated collaboration with Bill Laswell, the respected New York producer, is his sixth album of new material to be released in little more than three years. Such a prolific pace of releases might suggest that the material on Rise Again; would be subpar, bottom of the barrel songs left over from other sessions, but nothing could be further from the truth. Rather, Rise Again is the Lee Perry record that his fans have been waiting for, and much of the credit for this rests with Bill Laswell. Laswell, of course, is no stranger to dub as his catalogue of reggae-inspired releases attests, but for this outing he has wisely opted to tone down his own trademark sonic manipulations and has instead constructed a set of soundtracks that pay tribute to the style of music Perry produced in his late '70s heyday. Beautiful swooping horns, understated guitar and crunching drum and bass rise and fall from the speakers as the septuagenarian singer offers up some of his most inspired lyrics in years. Songs like "Higher Level" and "Wake the Dead" are every bit the equal of the best solo work he's recorded and evidence a care and attention to song craft that has not always been present in his recent work. The dub-heavy "ET" and "Butterfly" are masterworks of the form, and more dancehall influenced numbers like "African Revolution" and "House of God" demonstrate how far ahead of his time Perry was when he began creating music so many years ago.

There's not really a bum track on the whole record, so it's difficult to pick a favorite, but for fans of both Perry and Laswell, "Orthodox" would surely be a contender. On that song, Laswell creates a soundtrack that expresses his love for Coptic music by bringing the famed Ethiopian singer Gigi Shibabaw onboard to duet with Perry on this soaring tribute to African theocracy. Other musical guests include P Funk's Bernie Worrell on keyboards, the legendary Sly Dunbar on drums as well as TV on the Radio's Tunde Adebimpe on vocals. Each of these studio veterans play and sing their hearts out to help make this the best new reggae record of the year so far. Rise Again is an indispensible recording from one of the world's most important living artists.

Douglas Heselgrave (courtesy of the Paste Magazine website)

..................................................

CD Pick of the Week - May 8, 2011

It's hard to overestimate the influence of reggae producer and dub pioneer Lee "Scratch" Perry. The techniques he perfected in his ramshackle Black Ark studio in Jamaica in the early 1970s, often using only a four-track recorder and the most basic of effects, really did take music to a new place and offer a new way of hearing sound. In the current parlance, Perry was a game changer.

That said, it's harder to chart the exact spread of his influence. It remains in reggae and its offshoots – everything from Lovers Rock to dubstep – and it's clearly present in the work of punk bands like The Clash (he produced their 1977 single Complete Control) and hip-hop acts such as The Beastie Boys, with whom he collaborated in 1998.

But trawl through the work of bands as varied as UB40, Orange Juice, P.I.L, Simply Red, The Slits and Culture Club – and in particular the covetable dub "versions" that often featured on their 12-inch B-sides – and it's hard not to see it there, too, courtesy of younger producers like Dennis Bovell and Steve Levine.

Moving on a decade, would The Orb have been The Orb without Lee Perry? Would Massive Attack or Underworld or Primal Scream?

Perry turned 75 earlier this year, though with less fanfare than seems his due. In part, his orneriness is to blame. Difficult, eccentric and wilfully obtuse, he currently lives in Switzerland, an appropriately bizarre home for the Sun Ra of dub. So, in place of a celebration of his 75 years in this galaxy we have a collaboration instead: Rise Again, which teams Perry with the inestimable Bill Laswell and an army of contributors that includes P-Funk legend Bernie Worrell, TV On The Radio frontman Tunde Adebimpe, Ethiopian singer Gigi Shibabaw (also Laswell's wife), rapper Hawkman and jazz drummer Hamid Drake. It's quite a line-up.

Shibabaw's fluting vocals and Hawkman's toasting aside, it's Perry's now rather thin voice which fronts Rise Again. But it was never really about the words with him, so you can forgive him lines like "Japanese food, give you good mood" (repeated like a mantra on Inakaya), and a list of lyrical obsessions which runs through kung fu and Prince Charles to vampires and vegetarianism. Best just to let Laswell and his stellar crew recreate the sound of the Black Ark – and enjoy the musings of one of the 20th century's true originals.

Barry Didcock courtesy of the Herald Scotland website

..................................................

The most startling thing about this album is the fact that something like this hasn't been done before. How can it be that two of the foremost exponents of extraterrestrial bass-oriented music -- reggae producer and inscrutable solo artist Lee "Scratch" Perry and ubiquitous producer and bassist Bill Laswell -- have failed to collaborate on an album before now? This meeting brings out the best of them by, paradoxically, tempering both of their wildest tendencies. Perry's sing-song declamations are quirky as always, but not as flat-out crazy (not to mention childishly scatological) as they have been in other recent contexts; Laswell's bass is just as bottomless and as richly melodic as it usually is, but his tendency toward discursive improvisational chaos has been reined in for purposes of maximum groove production. On the other hand, Laswell has fully indulged his tendency to bring in lots of high-powered and voluptuously funky collaborators, with the result that he and Perry have help from the likes of Senegalese percussionist Aiyb Dieng, P-Funk founding father Bernie Worrell, Brooklyn dubmaster Dr. Israel, reggae legend Sly Dunbar, and the always alluring Ethiopian singer Ejigayehu "Gigi" Shibabaw (whose vocal performance on "Orthodox" is one of the album's highlights), among others. The results are just wonderful: while Perry discusses such favorite topics as his space-alien status ("E.T.") and his role as a divine messenger to the world ("Scratch Message"), Laswell and crew build earth-shaking grooves with a contrastingly soft, spacious dubwise ambience on such standout tracks as "Wake the Dead" (check out the great horn chart, courtesy of Steven Bernstein and Peter Apfelbaum), the soca-flavored "African Revolution," and the dancehall romp "Dancehall Kung Fu." Those who are missing Perry's more whimsical side should check out the crazily dubwise "Inakaya (Japanese Food)." And the program is rounded out by a digital-only remix of "House of God." Hardcore Perry fans will probably be divided on this one, but nevertheless, it's not difficult to conclude that Rise Again is one of his most satisfying releases of the past ten years.

4 stars out of 5

Rick Anderson (courtesy of the All Music Guide website)
---