PRAXIS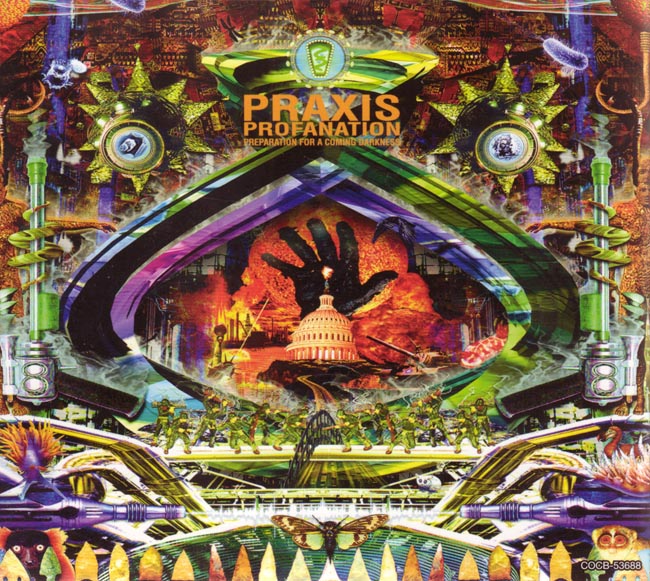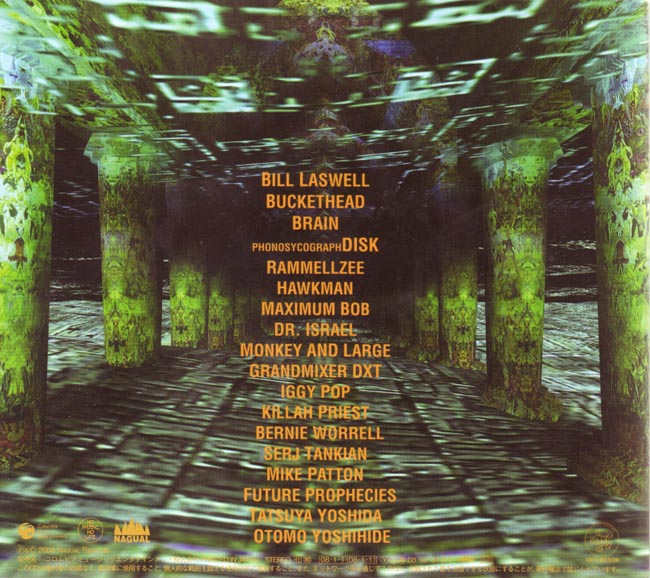 PROFANATION: PREPARATION FOR A COMING DARKNESS

  1/  Caution                                    (Laswell,Rammellzee)          1.58
  2/  Worship                                    (Laswell,Hawkman,Maximum Bob) 3.38
  3/  Ancient World                              (Laswell,Israel,Monkey,Large) 3.25
  4/  Furies                                     (Laswell,Pop)                 4.45
  5/  Galaxies                                   (Laswell,Reed,Buckethead)     4.27
  6/  Sulfer and Cheese                          (Laswell,Tankian)             4.44
  7/  Larynx                                     (Laswell,Patton)              2.31
  8/  Revelations Part 2                         (BL,Rammellzee,Buckethead)    5.19
  9/  Ruined                                     (Laswell,Yoshida)             4.07
  10/ Garbage God's                              (Laswell,Rammellzee)          2.45
  11/ Babylon Blackout                           (Laswell,Buckethead,Brain)    5.12
  12/ Endtime                                    (Buckethead)                  4.58
  13/ Wedge                                      (Laswell,Buckethead,Brain)    3.04
  14/ Subgrid                                    (Laswell,Buckethead,Brain)    9.57

          Created at Orange Music, Orange, New Jersey
          Engineer: Robert Musso
          Assistant Engineer: James Dellatacoma 
          Drums and Amps/Set Up: Artie Smith
          Produced and arranged by Bill Laswell
          Executive Producer for M.O.D. Technologies: Giacomo Bruzzo
          Front + Back Panels: James Koehnline
          Art Work + Design: John Brown @ Cloud Chamber
          M.O.D. Technologies: John Brown
          M.O.D. Japan: Yoko Yamabe
          M.O.D. Technical Support: Dave Pak at Play x Play
          M.O.D. Digital Support: Dave Brunelle (Silently Watching)
          Mastered by Michael Fossenkemper at Turtle Tone Studio, NYC

Bill Laswell: electric bass, sounds; Buckethead (except 9): guitars; Brain (1,2,4,5,6,8,11,12): drums; Rammellzee (1,8,10): voice; PhonosycographDISK (1,5,7,8): turntables; Hawkman (2): voice; Maximum Bob (2): voice; Dr. Israel (3): voice; Monkey & Large (3): beats; GrandMixer DXT (3,10); turntables; Iggy Pop (4): voice; Killah Priest (5): voice; Bernie Worrell (5,8,11,12): keyboards; Serj Tankian (6): voice; Mike Patton (7): voice; Future Prophecies (7): beats; Tatsuya Yoshida (9): drums; Rawthang (10): beats; Otomo Yoshihide (11): guitar.

          2007 - Nagual Records/Columbia Records (Japan), COCB-53688 (CD)
          2011 - MOD Technologies (USA), MOD0005 (CD)
          2013 - MOD Technologies (USA), MODLP005 (2x12)

Note: Tracks 13 and 14 only appear on the M.O.D. Technologies CD.



---



REVIEWS :
Interesting, but not the Praxis we know and love
For the first 15+ years of Praxis's musical career, they have been best known as the underground instrumental phenomenon that has managed to incorporate funk, metal, jazz, and experimental sounds into one cohesive and brilliant package. Profanation: Preparation for a coming Darkness, as well as being the newest studio release from the group in over ten years, goes in an entirely different direction from any previous outing by adding a plethora of vocalists to the mix. Buckethead fans will instantly compare Profanation to the guitarist's 2005 release on Serjical Strike Records, "Enter the Chicken" which also featured a vast array of diverse vocalists contributing to a primarily instrumental artist. However Profanation manages to be a completely different animal utilizing practically the same concept.
The album opens with the pulse pounding "Caution" featuring the vocals of Rammellzee albeit masked by a robotic effect, a powerful opener that unfortunately dies out at a mere two minutes. The next track, and one of the standouts, "Worship" features the vocal stylings of Hawkman as well as Deli Creeps vocalist Maximum Bob. Other standouts on the album include "Furies", one of the more unique and stylistic collabs courtesy of Iggy Pop. "Sulfur and Cheese" featuring System of a Down frontman Serj Tankian boasts smooth relaxing passages as well as an all out System of a Down-esque chorus in 7/8 timing. The instrumental "Endtime" is perhaps the closest the album comes to resembling anything of the old Praxis with its atmospheric jammy quality.
Profanation has been one that has been anticipated for quite some time now, and ultimately the product delivered will be a complete surprise to anybody expecting the Praxis experience we have come to know and love. The album certainly features a number of great collaborations, although some of them clearly working better than others, and the production values are at their best. However the fact that a band so well known for their instrumental work have crossed into a territory where there is a lot less focus on the actual instrumentation may leave a bit to be desired for some. The diversity of the vocalists is cetainly appreciated, however instead of a solid mix that flows seamlessly, Profanation sounds more like it can't make up it's mind about where it's going as far as the sound is concerned. Also the fact that most of the metal element has been replaced with a more DJ/Hip hop type sound may be an instant turnoff for some fans as the cuts featuring this style stick out like a sore thumb amongst the others.
Moral of the story, bands evolve, and Profanation is proof. This will certainly be an album to split the fans down the middle as some will consider it the band's best while others will profess their longing for the old school Praxis. As long as you abandon any expectations you had for Profanation, it should go down as a great listen.
3 stars out of 5
M. Ryan Fairbanks (courtesy of the Amazon.com website)
..................................................
Praxis is Back!
Given the dynamic history of the band's previous work, "Profanation" will surprise even the most devoted Laswell and Buckethead fans. That being said, this record takes a wide range of vocalists, instrumentalists, and genres of music and (in typical Laswellian fashsion) integrates them into a coheisive satisfying whole. Some of the stand out pieces are "Furies" (Iggy Pop), "Sulfer & Cheese" (Serj Tankian), "Ruined" (w/ Ruins drummer Tatsuya Yoshida), & "Babylon Blackout" (Otomo Yoshihide). There also seems to be some common themes running throughout the lyrics (and the cover art). Check it out for yourself and make the connection. My only real complaint is that Bootsy is not anywhere on the album...Now that is a real shame.
5 stars out of 5
M. Cimino (courtesy of the Amazon.com website)