TRANSONIC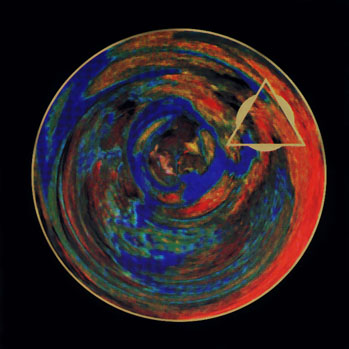 FUTURE PRIMITIVE

  1/  Future Whispers                            (Musso)                       7.48
  2/  Wandering Star                             (Musso)                       8.53
  3/  Gone Beyond                                (Musso)                       7.16
  4/  Flow Cycle                                 (Musso)                       9.04
  5/  Astral Isolation                           (Musso)                       7.16
  6/  Fields of Air                              (Musso)                       9.23

          Recorded at Greenpoint Studio, Brooklyn, New York
          Produced, engineered and mixed by Robert Musso

Bill Laswell: bass; Umar Bin Hassan (3): words; Robert Musso: guitars, samplers, processing.

          1995 - FAX +49-69/450464 (Germany), PS 08/81 (CD)



---



REVIEWS :
The most recent addition to the Transonic series begins with >Future Whispers<. This is the sound of wind drifting down cave tunnels, past the millenium-old cave paintings, over the tops of bones... With Robert Musso at the helm, sounds are both in crisp detail and soothingly blurred. Instruments are manipulated, rotated, and smeared, much like the cover art for this one. Coming forward gradually is an old western desert steel guitar... shall we ride horses? Or should it be camels? I like the sound of this, much like the spacey ethnodubs >Time Wave< or >Time Span Zero< from the 1st album in the series, "Downstream Illusion." The familiar padded yet punchy bass kicks return to the scene, but this time added attention is given to the more meditational side of the music. Musso's fascination with the aesthetic qualities of African and middle eastern sounds culminates in stone age psi-fi tonal patterns up through the trancey yet peaceful >Wandering Star<. Also some stunning effects displays toward the end of that one. The border between songs 1 and 2 is not really clear. The third track >Gone Beyond< is more or less a recording of a peaceful ceremonial atmophere and features about 80 seconds of some thoughtfully spoken words from Omar Ben Hassan. >Flow Cycle< which is also on the Fax "Genetic Drift" compilation, cuts loose with a weaving multitom jam session which is coupled to the unrelentless bass of Bill Laswell. Both musicians somehow manage to preserve the calm meditative posture of the previous 3 tracks amidst all the drumming. The next song, >Astral Isolation< starts out as the name suggests, a soft yet distinct breeze of layered harmonics. Then a thunderous drum circle pounds out a primal ritual rhythm. After a few moments of this, we are switched over to a more tribal dub trail. Again, we slide unnoticeably into the final song, >Fields of Air< which is also with Laswell playing bass. At once prehistoric and alien, the various loops of Future Primitive seem to mix and match without ever becoming overwhelmingly bass heavy or wind-tunnelly. My impression of this disc is that Virtual Current was an easy ride by comparison, and this one moves as gently but is a bit more shadowy and ambiguous in terms of overall mood. Quality-wise I'd have to say that it remains at least on par with "Downstream Illusion." The long hiatus after the October 9th 1995 release date suggests there won't be a Transonic 4, but I for one wouldn't mind another. And anyway how long was it between Silence II & III? Thankfully, we have things like Possession and Sacred System to tide us over in the meantime. Perhaps with the recent conclusion of the Outland project, Laswell and Musso can find the time to add another album to this great lowridin' cultural spaceman series.
---