HENRY THREADGILL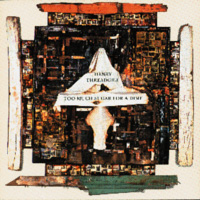 TOO MUCH SUGAR FOR A DIME

  1/  Little Pocket Size Demons                  (Threadgill)                  10.49
  2/  In Touch                                   (Threadgill)                  8.49
  3/  Paper Toilet                               (Threadgill)                  5.39
  4/  Better Wrapped/Better Unwrapped            (Threadgill)                  13.05
  5/  Too Much Sugar                             (Threadgill)                  2.58
  6/  Try Some Ammonia                           (Threadgill)                  12.23

          Recorded at Sorceror Sound, New York
          Additional recording at Greenpoint, Brooklyn, New York
          Mixed at RPM Studio
          Engineering: Oz Fritz for High Velocity
          Assistant at Greenpoint: Imad Mansour
          Produced by Bill Laswell and Henry Threadgill
          Coordination for Material Inc.: Tracy McKnight
          Axiom: Peter Wetherbee
          Management for RUBad, Inc,: Pauline Bilsky
          Mastered by Tony Dawsey at Masterdisk

Henry Threadgill: alto saxophone; Mark Taylor: french horn; Brandon Ross: electric guitar, acoustic guitar on (5); Masujaa: electric guitar; Edwin Rodriguez & Marcus Rojas: tuba; Gene Lake: drums (except 5); Dorian L. Parreott II (2,4,6): tuba; Larry Bright (2,4): drums, cymbals on (5); Leroy Jenkins & Jason Hwang (2,4): violin; Simon Shaheen (2,4): violin, oud; Johnny Rudas (2,4): culo e puya, fulia; Miguel Urvina (2,4,5): culo e puya, fulia; Mossa Bildner & Arenae (2): vocals.

          1993 - Axiom/Island (USA), 314-514 258-2 (CD)
          2016 - Bill Laswell Bandcamp (digital)

Note: Bill Laswell does not play on this album.



---



REVIEWS :
A Breath of Fresh AIR
As "free" as this album is, it's layered in a single theme or two. I guess that's how I like my jazz--living, breating, but not without a purpose. This may not be Threadgil's greatest album, in terms of what he gets attention for, but it's certainly my favorite, and one of my favorite jazz albums ever, which is why it makes this list.
As "avant-garde" as this work is, it's got roots that go into older jazz; as far back as the 1920's, even, with some of those squeals from the trumpets. However, it was recorded in the early 1990's, so it has a nice personality, as far as keeping the music interesting and original. The guitars use distortion, and are heard almost constantly, sometimes offbeat and confused, and sometimes leading the entire cacophony of sound forward.
"Little Pocket Sized Demons" introduced me to Threadgil's genious, and it's still my favorite track off of this album. The drums sound unbelievably fresh and crisp (I think they warrant the use of those words, and excuse them all at the same time). "In Touch" brings us to something even more panicky with it's seemingly muted brass chords, and choppy drum polyrhythms. It abruptly stops for a beautiful vocal piece; it makes me think of Vienna, in slow motion. If that track represents Vienna, then "Better Wrapped/Better Unwrapped" represents west Africa, or maybe Syria, and it's all very affectionate and often spooky.
The twelve minute plus track "Try Some Ammonia" ends more somberly than anything on the whole disc, and for that I love it. It wraps up my favorite jazz record of the last 15 years or so. And hey, I may not be up to date on current jazz movements, but I'm sure not many would come close to making me feel like this album does.
5 stars out of 5
animate ~ "Rob" (courtesy of the Amazon.com website)
---