TRANSONIC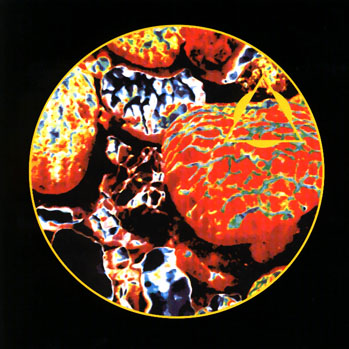 VIRTUAL CURRENT

  1/  Whirlpool (Slow Spiral of Clouds)          (Musso)                       25.37
  2/  Wheel of Heaven                            (Musso)                       24.56

          Recorded at Greenpoint Studio, Brooklyn, New York
          Produced, engineered and mixed by Robert Musso

Robert Musso: guitars, samplers, processing; Bill Laswell (2): bass.

          1994 - FAX +49-69/450464 (Germany), PS 08/67 (CD)



---



REVIEWS :
This is a disc to sit down and relax to. There are no quick surprises or sudden changes from moment to moment. Just press play and "kick back for a few" type of recording. The original Transonic CD was a great mixture of influences, from spacey to ethnic, while remaining unmistakably dubbed out. This time around we get 2 25-minute pieces, >Whirlpool (Slow Spiral of Clouds)< and >Wheel of Heaven<. A section of >Whirlpool< was included on the Ambient Cookbook/Fax Compilation, which might only mislead one into thinking the track is beatless. On the contrary, both songs drift in and out of beats and through nebulous tonal atmospheres. Track 1 features a pleasant repeating pattern of guitar notes which seems to imitate an MC Escher staircase, somehow defying common logic but doing so without drawing attention to itself (for some visual aid go here: weber.u.washington.edu/~kassad/escher/Asc+Des.gif). Also present are the cloudy waves of sound which makes the listener feel like they're swimming around in obscurity, breaking up clusters of rhythm. Both songs are solid, though if I had to pick one I'd go with >Wheel<. It starts out a little murky and mysterious for a while, almost gloomy, and then the rhythm works its way in. The guitar in this track took some warming-up time for me, but I've learned to accept and appreciate its conservative role in the song. Transonic stays minimal without sounding undernourished or sparse. Each element in a Transonic song holds enough weight so that if you were to remove that element there would be a drastic change in overall sound and structure. The elements themselves deserve attention, as sounds seem tweaked until "just right." Nothing groundshaking on this release (except the Bass), but definitely something more for fans of the first release "Downstream Illusion" and dubster/triphopper enthusiasts.
---