DANIEL ZAMIR/SATLAH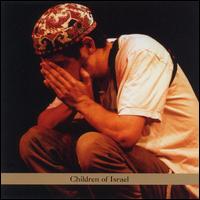 CHILDREN OF ISRAEL

  1/  Zemer                                      (Lavry)                       5.04
  2/  M'emek L'giv'ah                            (Nardy)                       3.57
  3/  Aley Giv'ah Bagalil                        (Nardy)                       3.12
  4/  Ma Yafim Haleilot                          (Unknown)                     5.47
  5/  Shir Sameach                               (Zeira)                       6.18
  6/  Ma Omrot Einaich                           (Zeira)                       4.46
  7/  Re'ach Tapuach Odem Shani                  (Heiman)                      4.17
  8/  Yesh Li Gan                                (Nardy,Traditional Kurdish)   3.13
  9/  Shir Hashomer                              (Omer)                        4.10
  10/ Poem 50                                    (Zamir)                       3.40

          Recorded by Robert Musso June 5, 2002 at Orange Music, New Jersey
          Assistant: James Dellatacoma
          Mixed by Bill Laswell June 17 - 18, 2002 at Orange Music
          Produced by John Zorn and Bill Laswell
          Associate Producer: Kazunori Sugiyama
          Executive Producer: John Zorn
          Mastered by Scott Hull at Classic Sound, NYC

SATLAH - Daniel Zamir: soprano and alto saxes; Shanir Ezra Blumenkranz: bass; Kevin Zubek: drums; with Marty Ehrlich, Ned Rothenberg and John Zorn: alto saxes; Paul Shapiro and Anat Cohen: tenor saxes; Doug Wieselman: baritone saxes.

All arrangements by Daniel Zamir/Trio production by Satlah
Track 10 arranged by Daniel Zamir
Repertoire: Ruth Zamir

          2002 - Tzadik (USA), TZ7169 (CD)



---



REVIEWS :
A great work to rival the Masada Quartet
That's right - Danny Zamir & Satlah's "Children of Israel" ranks up there with all ten of the Zorn/Douglas/Cohen/Baron Masada recordings - from "Alef" to "Yod". On the previous Satlah recording, the live "Exodus", the Satlah trio was showing how it could merge beautiful melodies and fiery soloing with a solid, impassioned rhythm section. "Dynamic" is the best word to this trio when they're cooking. On "Children of Israel" there's more of the same, except this time the material is mostly reworkings of Israeli classic songs performed with an enthusiastic, almost martial beat. But what puts this recording above "Exodus" are Danny Zamir's arrangements for an accompanying five-piece sax section (made at Zorn's request). The five saxes support the trio, so it never turns into six-sax blowing session. And the arrangements are amazing - the harmonies will floor you. The best example of this is in the tune "Re'ach Tapuach Odem Shani" which has an amazingly beautiful arrangement. Zorn brings his alto to "Ma Yafim Haleilot", otherwise the other saxes are Marty Erlich and Ned Rothenberg on altos, Paul Shapiro and Anat Cohen on tenors and Doug Wieselman on baritone. Danny Zamir takes soprano and alto sax solo honors and is more-than-ably supported by Shanir Ezra Blumenkranz on bass and Kevin Zubek on drums. If you're a Masada fan, don't miss this one.
5 stars out of 5
Douglas T. Martin (courtesy of the Amazon.com website)
..................................................
idea, not quite pulled off
Saxophonist Danny Zamir first came to my attention in 2000 when he released his first album for Tzadik, 'Satlah' - a trio with bassist Shanir Ezra Blumenkranz and drummer Kevin Zubek (and John Zorn guesting on a few tracks). At the time it didn't really grab me, too much like a "Masada-lite" perhaps?
A little while later and I stumbled across Zamir's 'Children Of Israel', a recording of the same trio playing arrangements of Jewish melodies, with a horn section of 5 saxophones (and again, the obligatory guest appearance by Zorn). The odd lineup, which features the likes of Marty Ehrlich and Ned Rothenberg, piqued my curiosity, and encouraged me to give this guy another chance.
Well unfortunately for these ears, Zamir misses the mark again. Tzadik's description of 'Satlah' which mentions "elements of Masada, Steve Coleman, Ornette and David Sanborn" is probably about right, but sadly I'm hearing more of the sheen of Sanborn here, and none of the grit of Ornette and Zorn... to the point that Zorn's contribution sticks out like a very sore thumb. With that sheen in mind, it's also somewhat surprising to note that the sax section is so lacking in precision. Of course a bit of imperfection is effective, but in this case the trio is quite tight and polished so it is unlikely that the high level of sloppiness you can hear in the sax section was the desired effect.
Ultimately I still enjoy the concept of this album, but all the little elements just don't fit together well enough. For example Zamir's playing is technically brilliant, though I must say far too cheesy for my tastes. His solos seem to be trying to cram in as many notes as possible, without much consideration for melody at all. Then there's the arrangements, which are nice enough, but then ruined by the aforementioned sloppy execution.
Seems like the whole affair could have probably been improved greatly with a bit more attention to detail (and perhaps rehearsal?). Some nice moments here and there, but I probably won't be returning to it too often.
2 1/2 stars out of 5
bimwa (courtesy of the Amazon.com website)
---