BUSTIN' OUT THE MATERIAL WORLD
by David Fricke, Melody Maker 11/28/81
"We completely confuse people and they think that's one of the most wonderful things about us. We move ahead. Fuck them if they're still in the same space where we were yesterday."
--- Michael Beinhorn
It seems like only yesterday. In fact, it's last April. At New York's now-defunct Hurrah, where a sparse but self-consciously hip crowd drifts through the smoke and shadows like beatnik ghosts, a Massacre is in session. Avant-garde guitar strategist Fred Frith is firing on all six strings, slicing the murky air in front of the stage with sharp metallic chords and steely leads of alien composition. Beneath and behind him, bassist Bill Laswell and drummer Fred Maher - banging away with a vengeance and wisdom beyond his 18 years - hold tight to a gripping beat that for the most part seems 4/4 only by association.
Laswell, whose bass seems to speak in tongues, and (for the time being) Maher are actually two-thirds of another ensemble, New York fusion mavericks Material. Frith is a long-time friend and collaborator with Material. Together, they moonlight as Massacre. Tonight, they encore with a radically customized version of "Apache". Only a few days later, Material proper opens for James Blood Ulmer at the cavernous Manhattan disco Bonds. A group of musicians under that name play musical structures written for and associated with that name.
The constants are Laswell, Maher, and the third charter member, synthesizer player Michael Beinhorn. They are joined for this show by Material irregulars Sonny Sharrock. Billy Bang, and Olu Dara, all respected members of the city's jazz underground. The experience is daring. danceable, and emotionally exorcising. Within several months, Material surfaces again - sort of - at the Kitchen Arts Center. The crowd packing out the small Soho loft expect the mutant dance music of their independent EPs "Temporary Music I" and "II" and maybe even a salty taste of their surprise disco hit with Nona Hendryx, "Bustin' Out". Instead they become confused, in some cases even angry. Laswell. Beinhorn, a stunning octopus-like drummer named Charles K. Noyes and the imposing guitar front line of Frith. Sharrock, and British avant-celebrity Derek Bailey. take off in an unexpected evening of all-improvised music leaving the crowd eating their clouds of dust.
Thinking back on that show, Bill Laswell enjoys a good chuckle over the audience reaction to that gig. "Material is a name, a name that can be used for a lot of different functions", says Laswell, fielding questions over pasta and under his omnipresent battered black fedora in a Greenwich Village beanery. "it's a structure we can use. It's a way of selling things like records, a name people can relate to, saying 'Yeah, Material, I've heard of that.' It can be used to get musicians paid who never get paid for playing this type of music. And it's a sense of identity. Sure, it was originally conceived as a band, but it was conceived at the same time that all us were working with other people anyway. At no point did we say this is four people, this is band, we're gonna make it'.
So what is this thing called Material? For a group with such a chameleonic nature, that crossbreeds rock basics with radical jazz forms and nuclear urban bop, and whose singular determination to go their own way often borden on perversity. Running down Material's resume is probably the easiest way to introduce them.
Time put in with Daevid Alien's Gong, the house band at Giorgio Gomelsky's notorious Manifestival in New York in 1979, splinter groups, like Curlew, Deadline, and Massacre; impressive friends like Frith and Sharrock, art- punk guitarslinger Robert Quine, adventurous sax men like Byard Lancaster and Air's Henry Threadgill, new jazz youngbloods Billy Bang and Olu Dara, even Brian Eno with whom Material has some as-yet-unreleased sessions the names alone read like a roll call of cool, a shopping list of hip.
The point of this, of course, is not who Material know but what they accomplish together. The live shows are certainly illuminating teasers, given their infrequency and unpredictability. "Memory Serves", their stunning album debut on Island, is a more comprehensive primer on living in Material's world. Yet their scope and ambition is such that it took the core group - now down to Laswell, Beinhorn, and sound man Martin Bisi - and over half a dozen of their closest friends to record it.
"Material functions as a very strong structure for the musician," offers Michael Beinhorn, washing down his pasta with shots of Finlandia, his boyish good looks, thick head of tousled Black hair and quick, often satiric witch belie his vigorous, self-taught approach to synthesizer and utter contempt for those who can't keep up.
"We have our song structures and will present the structure to the musicians. If we know the musician is a strong soloist from the start, there are certain lines we will be using that will show them where to start from and suggest ways, of going. There are parameters, but there is always the freedom. If we have to teach them a line, they still have the freedom to take that line and work with it, around it."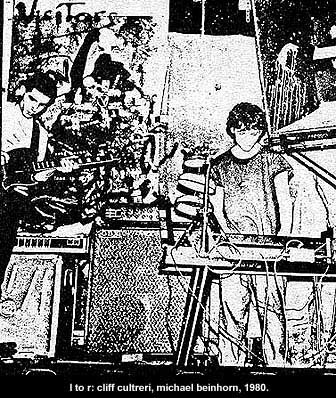 In the case of "Memory Serves", freedom is no ordinary word. there are awesome chops at work here - the inflammable guitar of Sonny Sharrock (a veteran of landmark sessions with Pharaoh Sanders and Don Cherry), Frith's foreign fretwork, the impassioned blowing of Threadgill and Dara, Laswell's aggressive yet eloquent bass, the tenacious multi-rhythmic overdrive of Fred Maher (who plays on seven of the eight tracks here). And even when the Musicians hold tight to the compositional outline, there is still an exhilarating sense of motion in the locomotive drive of the rhythm section and the conqueror spirit of the instrumental troops.
Yet the effect of "Memory Serves" is not that of some confused multi-genre hydra. Material's grasp of their chosen musics and their derring- do, written and improvised, generates an ambitious energy that takes a marvellous grafting of the blues form, Billy Bang's psycho-hayseed fiddling, and hyperkinetic boogie like "Upriver" out of the critics' lab and into the streets where it belongs.
"It's very direct," says Laswell of the piece. "It confronts the aesthetic of the blues, the emotion. A lot of people steal blues licks from Rory Gallagher, people who are playing Music and copying from the guy who copied from the guy who copied from and so on. I'm just interpreting the feeling, more so than copying the licks."
The story so far. "We met through Giorgio Gomelsky," Laswell begins. "He had a house in midtown Manhattan and I knew him from a long time ago because I had done some sessions where he was producing. As a result, I became interested in a lot of things he had produced in the past, like Magma and Gong. He had a room in big house that was open for rehearsing, so I put up a sign saying I was looking for musicians. That's how I met Michael and then Fred, our first guitar player Cliff Cultreri, and a lot of other people we still work with like Frith."
Together with Maher, Laswell, Detroit-born and a veteran of Midwest R&B road bands, and Beinhorn became the axis of Gomelsky's all-purpose Zu Band, backing up Daevid Allen at Gomelsky's new music Zu Manifestival and going on a 10-city tour with Allen and other Zu-associated musicians. Even at this stage, the Material-to-be was already playing musical chairs. As well as playing together as the Zu Band, Laswell played with the other three groups on the tour, Maher with two, and Beinhorn with one.
They eventually became Material out of what Laswell perceives as necessity. "We needed to change our name to separate ourselves from the other people we were working with. And our music has changed a lot. That tour featured primarily people involved in so-called progressive music. So we wanted to separate from that. And for a while after that, we were playing really minimalist stuff, very litte funk. That, in turn, changed."
As personnel came and went (Cultieri Ieft, Maher was replaced for a time by drummer Bill Bacon) and splinter groups began to form, Material started documenting their evolution on record. Comparisons of 1979's aptly-titled Temporary Music I" EP with Anglo prog-rock act Quiet Sun are not unfounded and Laswell notes with a laugh that guitarist Cultreri once boasted to him that he could play just like Phil Manzanera.
Beinhorn attributes the follow-up single "Discourse/Slow Murder" to their interest in rock, or at least their cracked perspective of it. Both "Temporary Music II" and the Ze single "Bustin' Out" tampered with funk, sabotaging it with avant-garde notions and abrasive jazz blasts.
"Those records were just experiments in how fast and how well you can make a record," Laswell concurs. "We were still going through our research and development phase. This album is really the first recording we've ever made."
It will hardly be their last. In addition to licensing out "Memory Serves" to no fewer than seven different record companies worldwide, Material have also established their own O.A.O. label after a song on Temporary Music I" to be distributed by the French Celluloid concern. Already projected for O.A.O. are five records of improvised music and Laswell has his own solo album on the back burner.
Michael Beinhorn has the last word: "We're going to have to create several other names in the future, really to supply the world with all great music and not call it all Matarial. We don't want to confuse people that much."