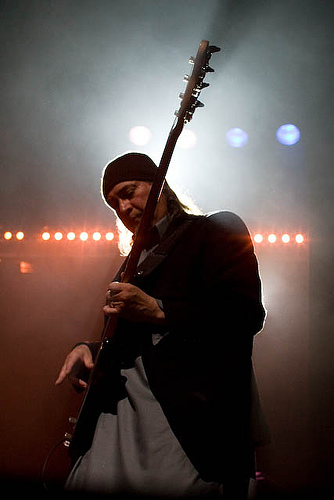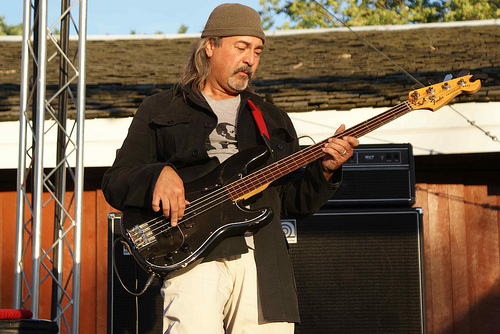 Since the late '70s, Laswell has relentlessly pursued the future with a stunning range of musicians and thinkers. A short list includes Herbie Hancock, Laurie Anderson, Tony Williams, Mick Jagger, Sting, Carlos Santana, John Zorn, the Dalai Lama, Pharoah Sanders, Yoko Ono, John Lydon, Bootsy Collins, Buckethead, Brain, Bernie Worrell, Karsh Kale, Afrika Bambaataa, The Last Poets, Zakir Hussein, Shankar, Ustad Sultan Khan, Sonny Sharrock, Toshinori Kondo, Nona Hendryx, George Clinton, Whitney Houston, Bachir Attar, the Jungle Brothers, William Burroughs, Paul Bowles, Sly & Robbie and dozens more from the Americas, Africa, the Caribbean, Europe, the Middle East and Japan. His willingness to take risks is unparalleled in the world of music--as is his ability to unite seemingly disparate voices.
A traveler from the time he was born, Bill Laswell's discography reads like a series of postcards from around the planet. A man in constant motion, his earliest years were spent on the road with his parents, moving frequently throughout the mid-west, eventually settling in Albion, Michigan when he was six. Barely a teenager Laswell began striking out on adventures of his own, riding the bus or hitchhiking to Ann Arbor, Detroit, Chicago, Toronto and Montreal. Sometimes his mission was just to see what existed beyond his home town but more often he was out to raid record shops or absorb live musicas a kid he was already deep into the titans of free jazz and fusion as well as blues, r&b and rock. Perhaps his most remarkable adventure around this time occurred when he made his way from Albion to Rhode Island for the Newport Jazz Festival to see Tony Williams' Lifetime, photos of which he keeps to this day.
High among Laswell's early influences was Miles Davis' electric period, 1969 to 1974. The swirling textures of songs such as He Loved Him Madly, In a Silent Way and Shhh/Peaceful-suggested to Laswell ways in which sheets of atmospheric sound and texture, rather than traditional ideas of rhythm, melody and harmony, could play the dominant role in musical creation. In later years, Brian Eno developed a somewhat similar concept, which he termed 'ambient' music, and it's no surprise that one of Eno's early ambient albums - On Land - was a collaboration with Laswell. Through future projects with Buckethead, Pete Namlook, Tetsu Inoue, Eraldo Bernocchi, Jeff Bova, Alex Hass, Jonah Sharp, Divination and Paul Bowles Laswell moved beyond his work with Eno to forge new ambient territories, sometimes dark and industrial while at others full of light and open space.
Davis opened other creative portals through which the young Laswell also passed. Albums such as On the Corner and Get Up With It suggested that under the right circumstances beats and prominent basslines could merge on equal footing with sounds from different cultures and genres. Respectful of Davis but having no desire to repeat the past, Laswell incorporated dub techniques, welcomed the jarring affects of randomness and created a heightened sense space to open the music still further. This mode of operation is audible in recordings of his own and in productions for others - Tabla Beat Science, Material's Hallucination Engine, the solo outing Hear No Evil, Ginger Baker's Horses and Trees and Middle Passage, the four albums he produced for Herbie Hancock, the Sacred System albums and a potent new direction in recent years, the music of Ethiopian-born Gigi. In 1998 Laswell created Panthalassa, a mix-translation of Davis' electric period, and turned young ears on to the music that previous generations had dismissed as an abomination. Finally, prime among Laswell's inventive cross-fertilizations is his work with William Burroughs, The Road to the Western Lands, perhaps the only spoken word album that can bend the intellect and move a dancefloor.
If his compositions and productions are unique, Laswell's own bass sound is equally so. Rather than squeezing out an excess of notes or high-end sounds more suitable to a guitar or other instrument, Laswell's vibe has more to do with repetitive low blows that grease the hips and cast spells on the mind. While one can hear echoes of the finest r&b, funk and Jamaican bassists in his playing it must be stressed that Laswell is not simply a conglomeration of those who have come before him - his overall sound is ultimately the product of years of playing, live and in sessions, with the finest musicians from around the world. Indeed, as a teenager Laswell's gigs were among the toughest a musician of any age might face; touring as far south as Alabama and Florida he played black music in predominantly black clubs where the customers could be merciless when disappointed. As a former bandmate noted, "There was only one way in and one way out of those places. I don't want to think about what would have happened to Bill if he messed up." Commenting on what these early gigs taught him, Laswell simply says, "If you're gonna do the real thing, you have to go to that school. It's not the other school."
Laswell's early training in r&b served him well in other beat-based forms of music. In the early to mid-eighties he organized projects with the pioneers of what was becoming hip-hop-Afrika Bambaataa, D.ST, Fab 5 Freddy, Phase II and others. His best-known work of this period was the 1983 classic he produced for Herbie Hancock, Future Shock, whose hit single Rockit thrust proto-turntablism upon a mass audience for the first time ever. Years later, 1999's Intonarumori cut through the commercial nonsense that much hip-hop had become and featured raw, artful rap from Flavor Flav, Killah Priest, Kool Keith and Rammellzee. Laswell's funk-related projects - particularly on his Black Arc label - shine new light on such greats as Bootsy Collins, Bernie Worrell, Eddie Hazel and George Clinton.
Catharsis - or what some might consider violent music - has also played a consistent role in Laswell's music over the years. The band volatile Last Exit, active from 1986 to 1989 left unsuspecting listeners at a loss for what these supposedly respectable musicians were doing onstage. Laswell notes, "Those were probably the most destructive years for all of us." On the other hand, saxophonist Peter Brotzman reflects, "I wouldn't trade those years for anything." Similarly, Painkiller, with John Zorn on saxophone, is another high decibel assault - but given the steady demand for live appearances in the United States, Mexico, Japan and Europe - Painkiller's extremes fill a universal human need. This is also the case with the enormously popular Praxis, featuring Buckethead, Brain and Bernie Worrell, and Massacre, started way back in 1981 with British guitarist Fred Frith. All these bands are unique entities but they all specialize in a sonic reaming of the psyche. Like fire, music can be a great cleanser.
Although Laswell has been at the core of so many influential bands and projects - Material, Massacre, Last Exit, Painkiller, Praxis, Divination - he resists the concept of a fixed musical situation. As such, with the exception of Last Exit, these are not bands in the traditional sense. Instead, they are forward-thinking collectives that value changes in personnel, set lists and sounds. As Laswell once put it, "I imagine the worst experience in the world would be being in a band and you play, what, no more than 100 songs in your entire life. All you really have is your relationship with musicians in the band and you hope it'll succeed, that people will like it. It was just a scary thought."
News
December 24, 2013
Bernie Worrell: 'Elevation: The Upper Air is out now! 11 outstanding tracks from the Wizard of Woo. Includes 3 originals as well as covers of tracks by Bootsy Collins, Miles Davis, John Coltrane, Santana and more. CD and digital only.
Soon to come will be the announcement of some of the future slate of releases. Rest assured, they are not just planned projects - they are albums that are either already in the can, or just finishing up.
Roy Powell's Mumpbeak is out now on RareNoise Records. Bill co-produced, mixed plays on it. CD and vinyl.
Master Musicians of Jajouka benefit album The Road To Jajouka is out now. Spearheaded by Medeski, Martin & Wood's Billy Martin, this album benefits The Jajouka Foundation which revolves around The Master Musicians of Jajouka. Bill contributes to one track. The album also features heavyweights like John Zorn, Flea, Ornette Coleman and Mark Ribot. CD and limited Vinyl.
If you don't already know, the MOD Technologies store is active. There you can order both physical product as well as digital. MP3 and FLAC. More to be added soon in addition to the label's releases.
previously...
Suphala's "Alien Ancestry" on Tzadik (featuring a Bill Laswell remix) was released October 22.
Tomas Doncker released "The Power of the Trinity...A Slight Return" at the beginning of September. This EP features Bill on two tracks and can be obtained through Tomas' Bandcamp site. There are CDs extant, but at the moment I'm not sure how you can obtain one as their not in wide circulation.
On the vinyl front: Praxis' "Profanation" was released on April 30. Lee Perry's "Rise Again" has been pushed back to May 28th. 2LP, 45RPM for the best quality we could bring you. Both contain codes to obtain digital downloads of the albums as well. The Praxis release will contain the original album in it's entirety - that does not include the two live tracks on the re-release because of time issues. The Perry release also contains the previously digital only single "House of God (version)". In addition, the purchase entitles you to a download of the new track "Weeping Willow" featuring Tunde from TV on the Radio.
Massacre has released a new album culled live shows in 1999/2000. It is entitled "Love Me Tender". After two hugely successful Massacre shows in Tokyo in April, there is the possibility of more to follow.
Randy Fredrix will be releasing his new album "True" digitally on May 14. It features Randy along with Jerry Morotta and Bill.
Bill's new take on Koyaanisqatsi is out now via MOD Technologies. 'Tuwaqachi' is Bill's director approved soundtrack for a re-edit of the movie. Unfortunately the movie is ONLY going to be seen during live performances. There is no arrangement to release the movie in conjunction with the new soundtrack, though Bill is able to release the music stand-alone. It will also be digital only due to these arrangements. I can say that it works great with or without the visuals, though. The usual suspects will have it and of course the MOD Tech store has it available as FLAC or high quality MP3.
The amazing album 'Ertale' by new Ethiopian group Jano is now out on CD!
Latest Discography Additions